Gary Neville believes Manchester United looked "toothless" in attack in their 3-0 defeat against Everton, and reiterated the importance of Michael Carrick's role to the side.
United slumped to their second successive loss at Goodison Park as they continued their poor run of results against the Toffees.
Their third defeat in a row at Goodison saw United put their hopes of a top four finish in jeopardy, but it was the nature of their performance which displeased Neville, speaking on The Gary Neville Podcast, the most.
"It was a strange game, and you would have thought that both teams had nothing to play for in some ways," Neville said.
"The atmosphere was strange all day long. Usually when Everton are beating Manchester United the place would be bouncing.
"United were toothless, and that is being kind.
"I didn't really see them try and dribble past a player, make any forward runs.
"At times they were not getting enough men in the box and the final pass was poor.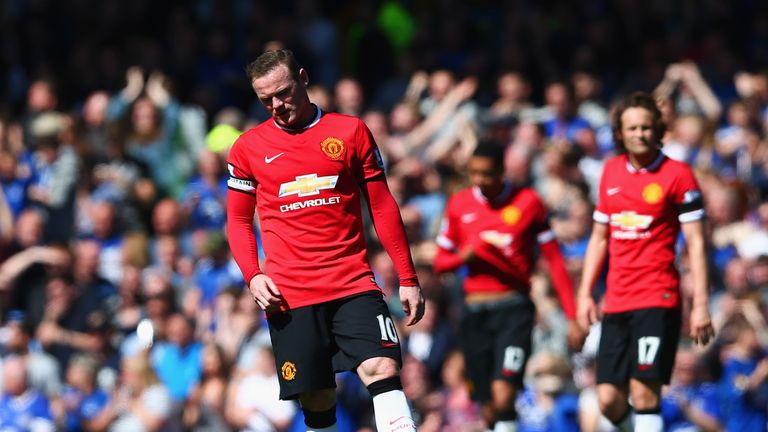 At times they were not getting enough men in the box and the final pass was poor.
"It is the worst I have seen United play for five or six weeks.
"They have been playing so well. Even in defeat at Stamford Bridge last week they played really well.
"Today it wasn't there. It was Everton who had the cutting edge. It was through Lennon, Lukaku and Mirallas when he came on who looked the ones most dangerous to break through either defence.
"For a long time United have had a good record at Everton but certainly not in the last three seasons.
"Last season was such a poor performance. I don't think United were that bad today, despite it being a worse result.
"Today United just didn't come to terms with how they had to play the game. They needed to show more urgency."
United looked vulnerable through the middle at Goodison without the injured Michael Carrick to protect the back four.
The influence of the England midfielder cannot be underestimated. United have won 72.2 per cent of the matches that Carrick has started but just 37.5 per cent of encounters without him in the team, and Neville feels United are a different side without the veteran.
"When Michael Carrick doesn't play, their record without him shows he is missed," Neville added.
"It is not just the control and composure, but it is his forward passes, he just moves the ball forward into good areas quickly.
"When United won the ball back today they didn't get the ball forward quick enough.
"Michael Carrick does that. Even if it is only a 10-yard pass, he gets the move moving in the right way.
"They miss him badly, they really do. It is no coincidence they have lost the last two games without him."
Download The Gary Neville Podcast from www.skysports.com/podcasts
Live Ford Saturday Night Football