Could Jamie Vardy play for one of the top clubs in the Premier League?
That was the question being debated by experts Jamie Carragher, Gary Neville and Peter Schmeichel on Sky Sports after the Leicester striker continued his record-breaking run in Saturday's 1-1 draw with Manchester United.
Vardy became the first player to score in 11 consecutive Premier League games - topping Ruud van Nistelrooy's 10-game run - as Leicester kept pace with United and Manchester City at the top of the table.
Speaking on his podcast after the game, Neville argued that the top six clubs in the Premier League should now seriously consider signing a player who scored only five league goals last season.
"I said on Monday Night Football last week, I think teams six to 12 in the Premier League would have been looking at him at the end of last season or early this season," he said.
"Now I think there will be teams higher up than that thinking: 'We haven't got a striker like him.'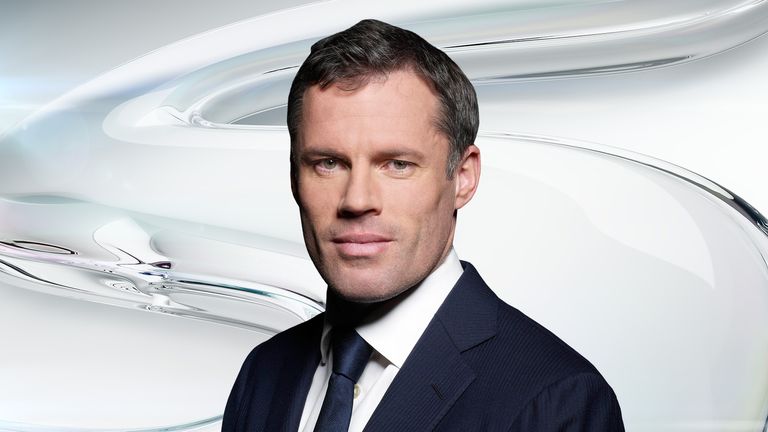 You look at Manchester United today and they could do with Jamie Vardy.
Carragher agreed with those sentiments, highlighting the pace and aggression he brings to the Leicester side.
The Daily Mirror has linked Vardy with a move to Chelsea, but Carragher feels he could help Manchester United step up a gear.
Speaking on Saturday Night Football, he said: "It's getting to the stage now where you watch Jamie Vardy and ask 'is it just a fantastic stage he's going to go through and is he going to come out of it?'
"You see reports this weekend of Chelsea getting linked with him. I think the top teams should be looking at this player.
"You look at Manchester United today and they could do with Jamie Vardy. They could do with that energy, that pace and that aggression in attack. They are lacking that.
"They are one of the biggest clubs in world football and pay huge fees for players, but they could do with Jamie Vardy - and not just Manchester United."
However, former United goalkeeper Schmeichel disagreed with Carragher, arguing that a player who is still not an England regular would not suit Louis van Gaal's team.
"I don't think he would fit in," he said. "I'd love to see Jamie Vardy move on and become stronger and play for England and start for England, but even that is a debate.
"This is the top scorer in England in the Premier League. He has just beaten this incredible record. He has just beaten Ruud van Nistelrooy, who is an unbelievable goalscorer and you are having the debate of should he play for England?
"Of course he should, but that's the kind of player he is. Would he fit into Van Gaal's way of thinking or Wenger's?"