Jamie Carragher says Rafa Benitez is the man to bring trophies back to Newcastle - if he can keep them up this season.
Benitez has 10 games to rescue the club's Premier League status after agreeing to replace sacked head coach Steve McClaren in a revised role of manager.
Live Ford Monday Night Football


If he succeeds, the Spaniard will begin work on a three-year contract, while relegation will leave him the option of walking away.
Supporters waiting for a first trophy since 1969 should not get too hung up on that release clause, according to Carragher, who won the Champions League under Benitez at Liverpool and believes Newcastle have finally found a worthy successor to Sir Bobby Robson.
"I think for Newcastle, it's a fantastic appointment to get a manager of that calibre," the Sky Sports expert said. "I think over the last decade, you'd have to go back to Bobby Robson [to find someone] who has won that many honours.
"These next 10 games - if he can get through those, then over the next three years he could be the man that stops that rot of trophies. He's won so many trophies in his career.
"The fans shouldn't be concerned, not at all. For any Newcastle fan, forget the next three years, focus on the next 10 games. 
"If you're a fan and Newcastle went down, you wouldn't want Rafa, you'd want someone that has experience in that league and has success in that league. Rafa won't want to be there.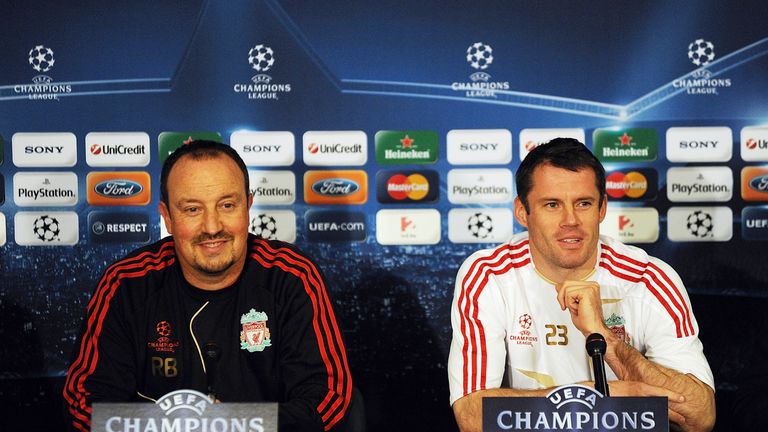 "It works perfectly for both parties; if he keeps them up, it'll be a great appointment over the next three or four years and hopefully he can get Newcastle back up the table  I think the next 10 games are all that matters for everyone involved."
Benitez has a CV featuring some of Europe's most well-known clubs, but has little experience of fighting a relegation battle.
"I can't remember ever seeing Rafa at this end of the table," Carragher told Sky Sports News HQ. "That's why I'm interested in seeing how he goes about it. That's why I'm interested in seeing how he manages, how he prepares his players.
"Motivation? That's not Rafa's biggest strength. He will look at how they suffer tactically. Rafa was probably the best I had with setting up a back four. There's probably going to be a lot of repetition and he won't apologise for that. 
"Those players will work hard - whoever they're playing, it will be a difficult game for them. It won't be the open expansive style the fans want, for now he will be focusing on trying to make Newcastle difficult to beat."