Football Expert & Columnist
Liverpool winning run is extraordinary, says Jamie Carragher
Liverpool returned to the top of the Premier League with eighth league win in a row at Newcastle
Last Updated: 06/05/19 11:23am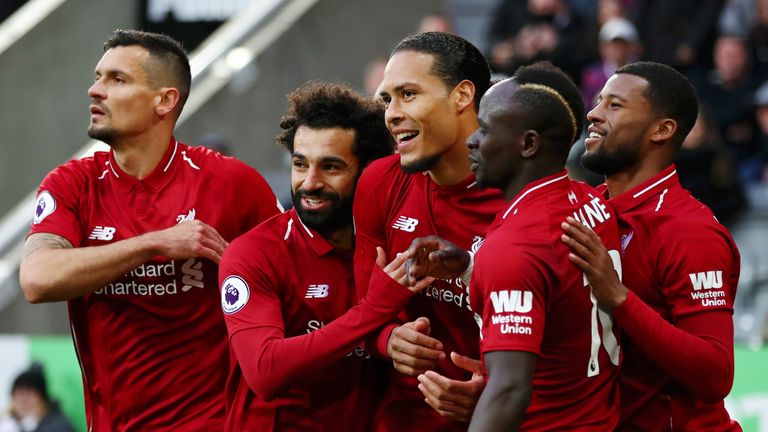 Gary Neville says he "still can't believe what he's watching", while Jamie Carragher has labelled his former side "extraordinary" after Liverpool kept their title hopes alive at Newcastle.
Liverpool overcame the loss of Mohamed Salah to a heavy knock to the head, beating Newcastle 3-2 thanks to a late goal by Divock Origi to return to the top of the Premier League.
Origi's header from an 86th-minute free-kick glanced off Newcastle defender Jamaal Lascelles on its way into the net as Liverpool earned an eighth straight league win, which puts them two points clear of Manchester City.
All eyes will now turn on Pep Guardiola's side as they host Leicester City, live on Monday Night Football, with Carragher claiming that two "extraordinary" teams are vying for the Premier League title.
'City have to keep providing answers' - Jamie Carragher
What this team are doing is extraordinary. The problem Liverpool have is that they're alongside another extraordinary team in this title race. It means it goes to the last day and it means City have to keep providing the answers.
What both teams have done I've never seen before in the English top flight. It's sad that one team has to finish second, but that's football - you can only have one winner.
The spirit after Wednesday night, a poor result, to come here - a tough place to go no doubt about it against Rafa Benitez's Newcastle - this support were right at it.
This was a difficult game, probably the most difficult game left out of any of Liverpool or City's games, and they've got the three points.
Now, with City players watching tonight - Liverpool will be watching Monday night.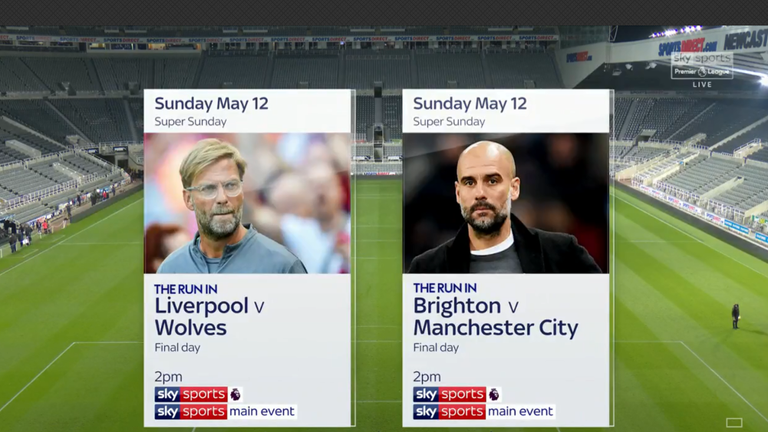 I saw them get panicky against Everton and Manchester United in recent months, and I thought I was seeing that again, if I'm being honest. They didn't create a chance I can think of after it went to 2-2.
You just felt like it wasn't happening. With the players going off and those coming on, questions were being asked of Liverpool. If they miss out on the title, I think people will say that they don't have the bench of City.
People would say that when they make changes, they don't have those players. But to be fair to the players coming off the bench, at tough times they delivered.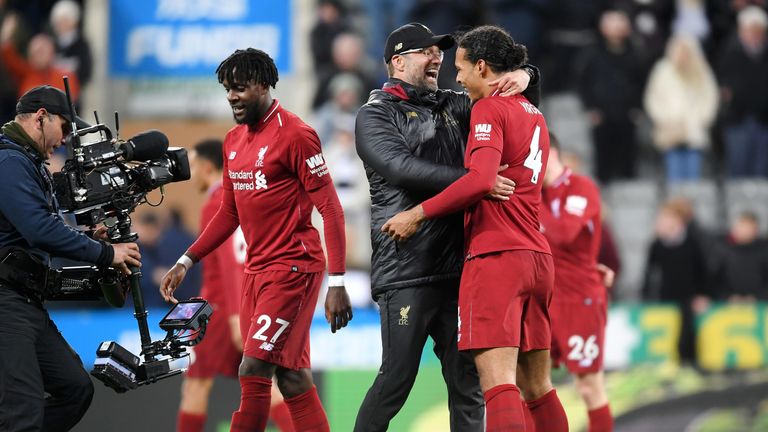 Origi, whether it's his goal or not, Shaqiri puts the delivery in. Going back to the first part of the season, you had [Daniel] Sturridge's goal at Chelsea to get Liverpool a point.
Origi's goal against Everton - so by hook or by crook, those players at times have got Liverpool over the line.
'I still can't believe what I'm watching' - Gary Neville
More and more it's looking like we're going to see two months of flawless results, with each team winning every game until the end. I can't believe it.
I still can't believe what I'm watching. Tonight was more like it in terms of what you would historically expect with teams flagging a bit under real pressure.
As they stand
| Rank | Team | P | W | D | L | GD | Pts |
| --- | --- | --- | --- | --- | --- | --- | --- |
| 1st | Liverpool | 37 | 29 | 7 | 1 | 65 | 94 |
| 2nd | Man City | 36 | 30 | 2 | 4 | 68 | 92 |
I think City will win on Monday and I think they'll beat Brighton. I think Liverpool will beat Wolves, and I've not seen anything that would tell me otherwise.
There was a part in that second-half when you thought, 'here it is'. 'Here's the moment where a team blinks'. They looked desperate and they looked leggy.
You looked at that front three with Salah going off and Firmino not playing, you think they had Shaqiri from Stoke last season, Sturridge who was on loan at West Brom, and Origi who was at Wolfsburg and you start to think the drop in quality, the big games in Europe, it's all coming on top.
Out of nowhere, they get a goal, and that is a monumental victory as Newcastle had them tonight.
That's the best of Liverpool's eight wins in a row.
That is what a title race is; a team is flagging, showing signs of vulnerability, they're losing players, they could have had a man sent off, the crowd is up for it, it's a Saturday night.
Newcastle were at it and it had all the hallmarks of what you've historically seen, like Crystal Palace in 2014, it had everything written all over it.
For Liverpool to come through that, they can be proud.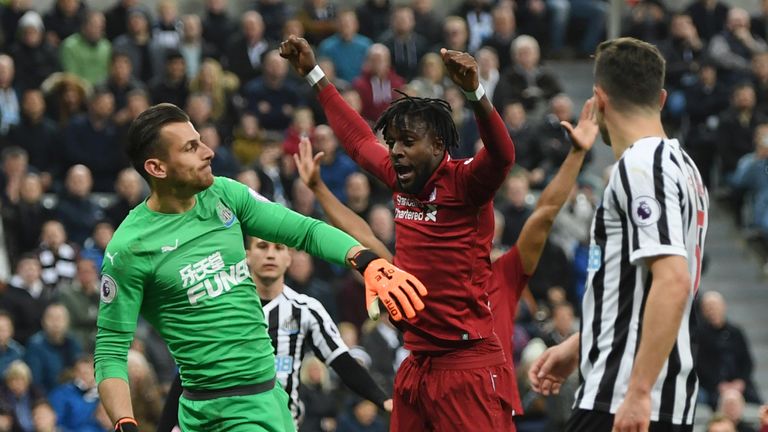 They weren't at it, they looked dishevelled, the team was all over the place, there was no shape, they were panicking, it was rash, but they got through it. That's all that matters.
That was as good as it could've gone for Barcelona, who rested 11 players tonight [and suffered a 2-0 defeat to Celta Vigo].
'Liverpool dodged a bullet' - Graeme Souness
It was a leggy Liverpool. They weren't at it, maybe for obvious reasons, and you have to give Newcastle some great credit.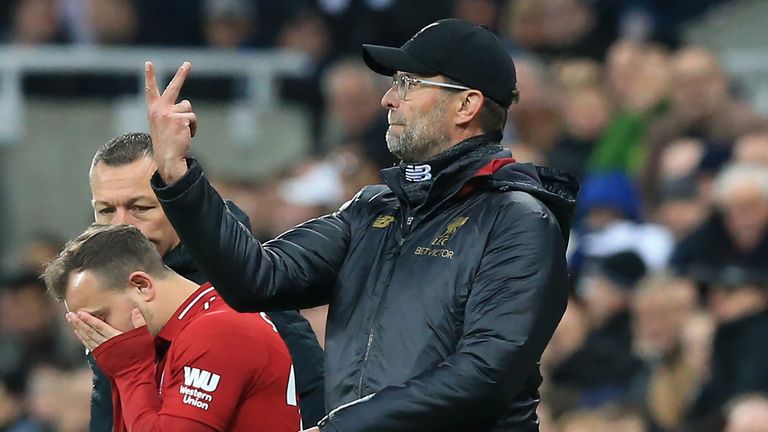 They sat in when they needed to defend and they were aggressive and put their foot in. Liverpool made hard work of it. It was a real slog for them and they got away with it.
Did they deserve to win? I'm not quite sure, but it's game on. Klopp will know, when he puts his head on the pillow tonight, that his side have dodged a bullet.
94 points is a fantastic achievement. They got lucky tonight, but they had no luck on Wednesday night so that's football for you. They weren't at it, and the obvious reason is that they're tired. They looked tired. Liverpool are a high-energy team - they get after you.
Tonight, they were second to lots of stuff and Newcastle looked more aggressive. They were quicker to things, and they will think they were unlucky tonight.
They will think the free-kick leading up to the winning goal shouldn't have been given. That's not a foul [from Matt Ritchie on Fabinho]. What is the linesman seeing there that he could possibly give a foul for?
[Sadio] Mane didn't really take part in the game tonight. The player who has been physical and aggressive all season, worried and harried defenders - tonight, he didn't take part. And that's just down to fatigue.
I don't want to be cruel on Origi, but I've yet to see him have a good game. OK, you can say he's won the side six vital points, but I've wanted more from him.
Liverpool's clash with Wolves and Manchester City's game against Brighton will both be shown live on Sky Sports on the final day of the Premier League season next Sunday.