Football Expert & Columnist
Jamie Carragher: Liverpool title win may top 2005 Champions League triumph
Top three cannot be separated as tussle for the title gathers pace
Last Updated: 25/03/14 9:57am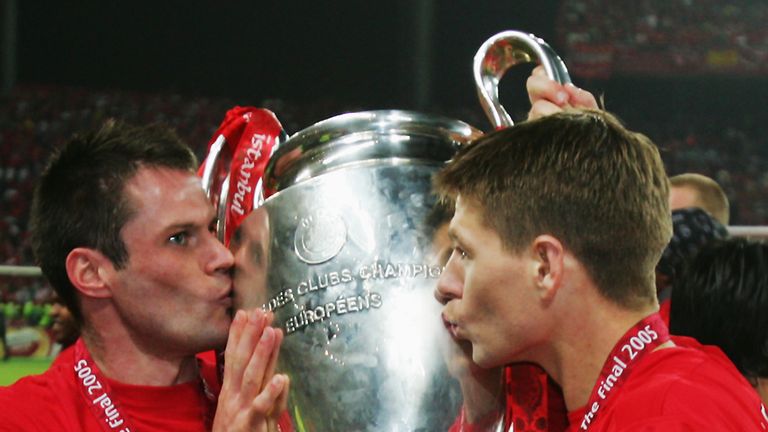 That is showing in the way they are playing - full of freedom, guile and goals - and if they are under any pressure at all they are thriving on it, not feeling the heat.
If Liverpool don't win the title now, everyone outside the club will probably not see it as a big deal - but I'm sure they will do inside as they really do have a great chance of topping the Premier League.
The aim at the start of the season was to get back in the Champions League and that is pretty much secure now as I can't see anyone catching the current top four, and I think my old side will finish third at worst after Arsenal's defeat to Chelsea.
So while I don't think Brendan Rodgers and his team would regard, say, a third-placed finish as a disappointment, there would be a tinge of regret and a thought of 'what might have been' if they don't lift the title.
Liverpool are in a great position now and should not be thinking about solely qualifying for the Champions League, they should be thinking about topping the pile as a chance this strong may not come around for a while.
Exciting
I am a little surprised at how well they have done as I didn't have them pegged this close to the title at this stage, but their football has been outstanding and they have been the most exciting team in the Premier League this season.
I think that's why there is a lot of truth in what Glen Johnson has said about the neutral fans wanting Liverpool to win the league - people want to see goals and that's what they have provided, scoring the most in the top flight.
You know with Liverpool games that goals will go in at both ends - they beat Cardiff 6-3 at the weekend and have also had a 5-3 with Stoke, a 3-2 with Fulham, a 4-3 with Swansea and a 3-3 with Everton - so they are always worth a watch.
But I also think football fans would like to see a different side win the Premier League just to shake things up a bit, plus there is a big English contingent as well so that will always please people concerned about foreign imports.
Yet all that means nothing at the end of the day and Liverpool, as much as they like entertaining people, must focus on their games and winning for their own supporters, not pleasing the public with eye-catching displays.
Achievement
I think this Liverpool team is better than the side that won the Champions League in 2005, but you could argue that winning the Premier League this season would be a bigger achievement, considering the hoodoo it would break and the fact it is decided over 38 games.
I am certain that they can do it and I don't think you could pick a favourite between them, Man City and Chelsea, even though Jose Mourinho's team sit top at the moment and Manuel Pellegrini's team have games in hand.
City have more games to play but some of them are very difficult - Man United, Arsenal and Everton, in particular - while Chelsea have the Champions League to contend with, firstly against Paris Saint-Germain.
Plus, Liverpool still have to play both Chelsea and Man City at home in April, so if they could get six points from those matches I think they would win the Premier League and if they got four I would still lean towards them.
At the moment we've got three very equal teams and there's a great chance the title run-in goes down to goal difference, and City appear to be in pole position in that respect as they are five better off than Liverpool with two games in hand.
If they win those two that tally extends, but, as I said, I can't necessarily see them racking up the goals at Old Trafford, the Emirates or Goodison Park even if they win, while Liverpool have five home games still to play and trips to West Ham, Norwich and Crystal Palace.
They could, on paper, get a few goals in those and suddenly they are level pegging or ahead of City in regards to goal difference which would equate to an extra point - and what an extra point it could end up being.