Football Expert & Columnist
Jamie Carragher urges Steven Gerrard not to cry on Liverpool farewell
Last Updated: 12/05/15 12:59pm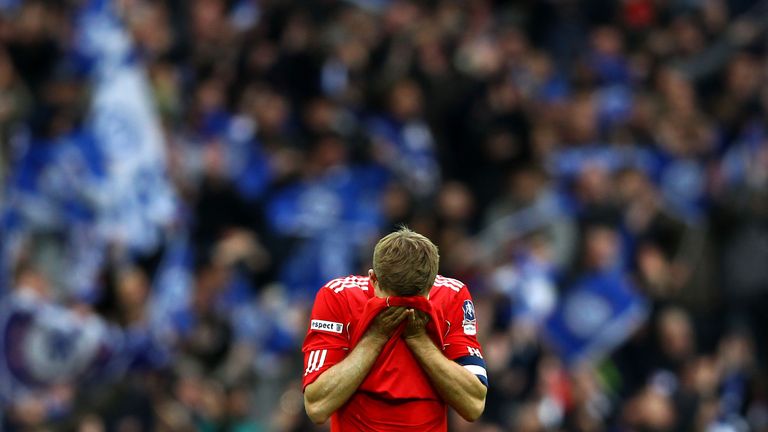 Jamie Carragher has urged Steven Gerrard not to shed any tears when he makes his Anfield farewell on Saturday.
The Liverpool captain will play in his final home game for the club against Crystal Palace, live on Sky Sports, before joining LA Galaxy in the MLS this summer.
Former Liverpool team-mate Carragher will be at Anfield for what is expected to be an emotional occasion, but says Gerrard must not break down in tears like Sami Hyypia did when he left the club in 2009.
"I think he'll be looking forward to the game and will get a great send-off," he told Monday Night Football.
"His last game is the week after at Stoke, but for me this is his last game. It's at Anfield, where he's been his whole career.
"Nervous is the wrong word. He will be looking forward to it, but it will start to really sink in now that he's not going to play there again.
"I just hope he doesn't start crying and all that nonsense at the end or get emotional. Sami Hyypia did that…"
Gerrard received a standing ovation when he was substituted during Sunday's Premier League 1-1 draw with Chelsea, before telling Sky Sports: "It was nice of Chelsea fans to turn up for once".
However, Carragher argued he should have stayed on the pitch to help Liverpool find a winner that would have kept them in the hunt for a Champions League place.
He added: "It wasn't so much Gerrard coming off, but more Lucas coming on. Stevie got the goal in the game and he can take penalties and free-kicks.
"Brendan Rodgers said he wanted to take him off for the ovation, but I think the best thing about that was what he said after the game. That was probably the most entertaining part of it!
"I would have liked to have seen him stay on. If he was going to come off then maybe a more offensive player should have come off to try and get a goal?"