Kevin Phillips
Football Expert & Columnist
West Brom striker Saido Berahino deserves England call-up, says Kevin Phillips
Forward in Robbie Fowler mould
Last Updated: 07/11/14 11:35am
Kevin Phillips blogs on defenders' nightmare Saido Berahino and Leicester's test at role models Southampton.
No one can deny Saido Berahino deserves his England call-up – but I must admit, I've been surprised by how much he's come on this year.
He's the top English goal scorer in the Premier League this season and his goals-to-games ratio is excellent. The same goes for his record at under-21 level, where he's scored ten in 10.
The speed of his development, though, is what stands out for me. Just a couple of years ago he was out on loan at Northampton, Brentford and Peterborough – now he's got seven in 10 in the top flight.
I got to see him up close on Saturday, when he was involved in the decisive goal in West Brom's 1-0 win over my Leicester side.
He actually had a fairly quiet game but his style was plain to see. He's a forward who loves to play on the shoulder and get in behind defences. Ask any defender in the world, that's one of the worst types of strikers to play against; defenders want players in front of them, but he's always looking to run across the line.
You could compare his style to players such as Robbie Fowler and Andy Cole – although he can't be put in the same league as those two yet. He's of that mould; he's not interested in coming short but if he gets half a chance he'll test the goalkeeper or hit the back of the net.
Linking up the play is part of the game for a striker now and he will have to do that but with Stephane Sessegnon at West Brom, who likes to get on the ball, turn and slide him in, and the centre-halves playing balls over the top at the Hawthorns, he's having great success at the moment.
Hopefully he can show everyone in the England camp what he can do when he meets up with them ahead of the games with Slovenia and Scotland.
I remember my first call-up and I can tell him now there will be plenty of nerves! Meeting the high profile players and integrating into that squad will be a challenge but he's a confident lad and I'm sure he will take it in his stride. He's going to be an exciting player for England fans to watch in the future.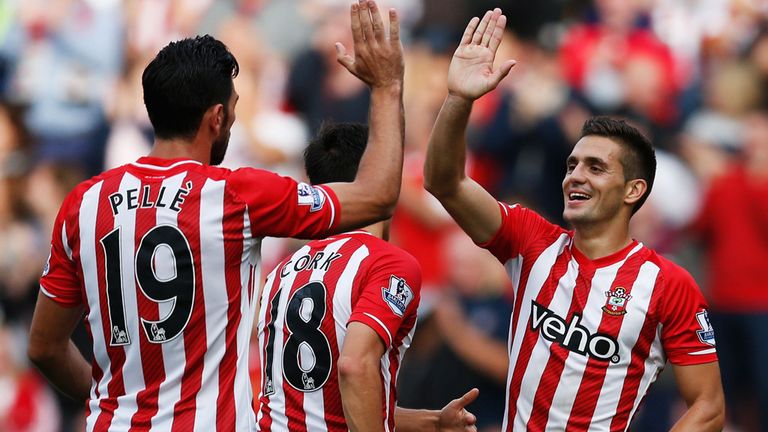 Youth
Berahino has come through the West Brom youth set-up and this week Southampton – who have produced lots of top players themselves – unveiled their new training complex, which they hope will make their development system even better.
When you look at the players they've produced over the years - Gareth Bale, Theo Walcott, Alex Oxlade-Chamberlain, to name a few - they're obviously doing something right on the south coast. They really are a role model for other English clubs.
Having had an association with the club, two years as a pro, four years as a schoolboy and apprentice, I know what the people are like down there, the set-up and the breed of football they like to play - and they've proved they've got a great academy.
They're reaping the rewards of that in the first-team at the moment and with Ronald Koeman coming in as manager, who loves the silky style of football, it seems like a match made in heaven.
You have to take your hat off to them and give them the biggest amount of credit for what they've done so far this season. When you look at the players they lost in the summer, the bookies certainly made them one of the favourites to get relegated. But it shows the football philosophy there has integrated into the players coming through the ranks and they've added the likes of Dusan Tadic and Graziano Pelle who fit into that mould and have proved to be outstanding signings.
Ambition
Jamie Carragher said on Monday Night Football they definitely won't finish in the top four but I don't think it's right to say that at this stage of the season. The Premier League throws up so many surprises, why can't they? There will be a point when they lose two or three key players and they will have to adapt, because they don't have the biggest squad in the world, but I'm sure they'll be confident they can do that.
I'm hoping and praying they have an off-day at the weekend, though, because Leicester desperately need some points.
It will be a big test for us at St Mary's but the pressure is on Southampton to continue this extraordinary run they're on. Perhaps they'll take their foot off the gas and we'll surprise them. We've certainly shown we can do that against the top teams – but we'll need every player on top of their game to get something there.
I think it's a good game for us, though. Yes, there's pressure to get points but there would be even more pressure if we were playing a team around us or in the bottom three. It's a bonus game, no one expects us to get anything out of it - just like when we played Everton, Arsenal and Manchester United and look what happened then: we came away with two draws and a win.
There's no pressure on us, no one expects us to get anything, and that's when we are at our best.
Watch Super Sunday: West Brom v Newcastle from 12.30pm, Sunday, Sky Sports 1 HD.