On November 28 2015, Jamie Vardy scored in a Premier League game for the eleventh time in a row, breaking Ruud van Nistelrooy's record. Twelve months on, we look at what has happened to a striker struggling for goals and ask whether he will be remembered as a one-season wonder…
The night before Manchester United arrived at the King Power Stadium last November, Vardy received a phonecall from his agent.
"Don't worry if you don't get one," John Morris said to his client, who stood on the brink of breaking the record for scoring in consecutive league matches.
"Don't worry, I will," Vardy replied, according to his autobiography From Nowhere.
To Vardy, this was a simple expectation of himself, he had delivered up to this point; doubt was not an option.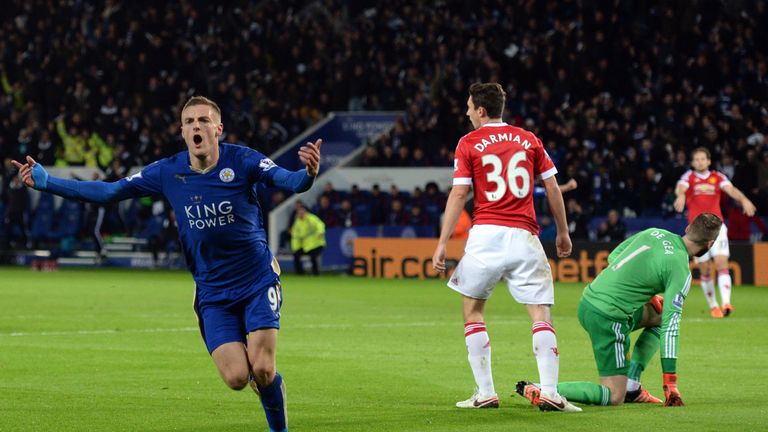 Arrogance and self-confidence had taken him from obscurity to the bright lights of the Premier League. He knew he was on the verge of something special. 
Fourteen months earlier, Vardy had found himself one-on-one with David de Gea and scored as Leicester earned a famous 5-3 Premier League win.
Last November, he found himself in a similar position, albeit a tighter angle, but the end result was the same, as he rifled past the Spaniard to seal his place in the history books. 
It was a remarkable feat, especially as Vardy had taken the record in just a single season. Van Nistelrooy accomplished his in two, at the tail end of 2002-03 and the beginning of 2003-04 campaign.
"I am obviously delighted, but the main thing was the performance," Vardy told Sky Sports after the match. "It [the record] is unbelievable, I think I got a bit carried away with myself during the celebrations."
Leicester manager Claudio Ranieri was less reserved, applauding Vardy's achievement.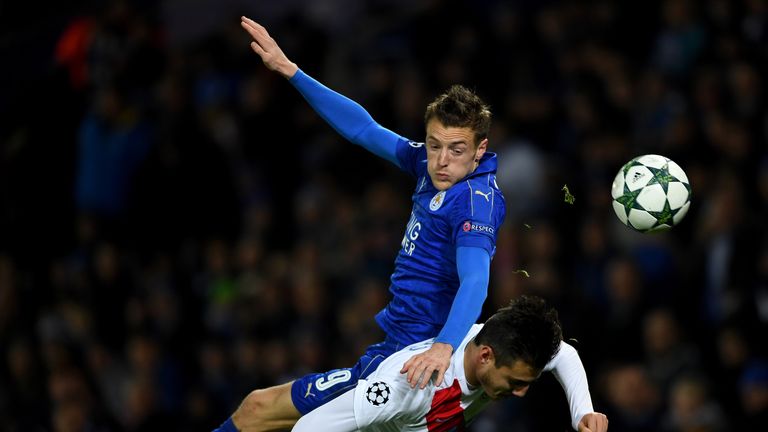 "Jamie made the record, it is fantastic for us," the Italian said. "Five years ago, he played in non-league, it is difficult to grow up so quickly and this fantastic man is not only our goalscorer but he presses, he works hard, he is important."
After that landmark evening, Vardy scored only once in his next eight Premier League appearances - in a 2-1 win over Chelsea before picking up where he left off in January. He would ultimately fire Leicester to the Premier League title with 24 goals, just missing out on the Golden Boot to Tottenham's Harry Kane and earning himself a place in the England squad for Euro 2016.
One year later, it is a very different story. Leicester are just two points above the relegation zone and while Tuesday's win over Club Brugge confirmed their place in the last 16 of the Champions League - defying their domestic struggles - it also marked the 15th consecutive club game in which Vardy had failed to find the back of the net. 
In fact, the last time he scored for Leicester in any competition was against Liverpool on September 9 and that was a consolation in a 4-1 defeat. He did find the net for England in last week's draw with Spain, but his 2016/17 Premier League goals tally stands at just two.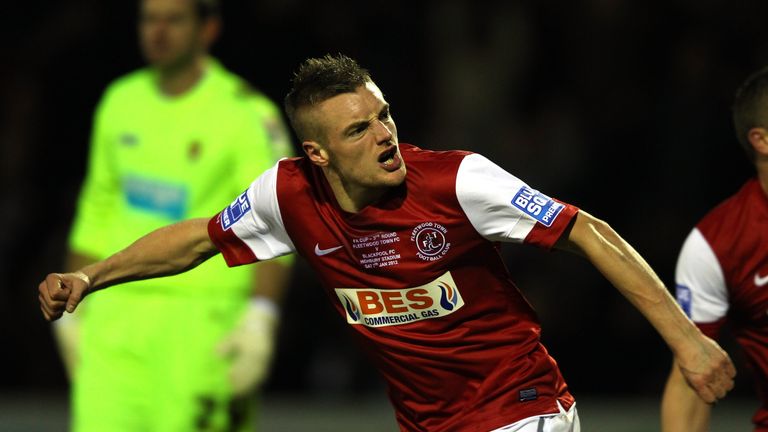 This drought is by no means his first. Upon his arrival in the top-flight, the Leicester No 9 went six months between September 2014 and March 2015 without scoring. He finished that season with a paltry six goals. 
Back then, little was expected from a club happy just to survive or a player who only turned professional in 2012 and counted Halifax Town and Fleetwood Town as previous employees. 
This time, there is no shying away, no excuses - his profile will not allow it. He is an international striker, a Premier League winner competing in the Champions League. Vardy is realising what happens when expectations are not met.
Many strikers - particularly English ones - have had fantastic seasons, but failed to build upon them in subsequent campaigns. James Beattie hit 23 goals in 2002-03 for Southampton and earned five England caps, but he never hit those heights again.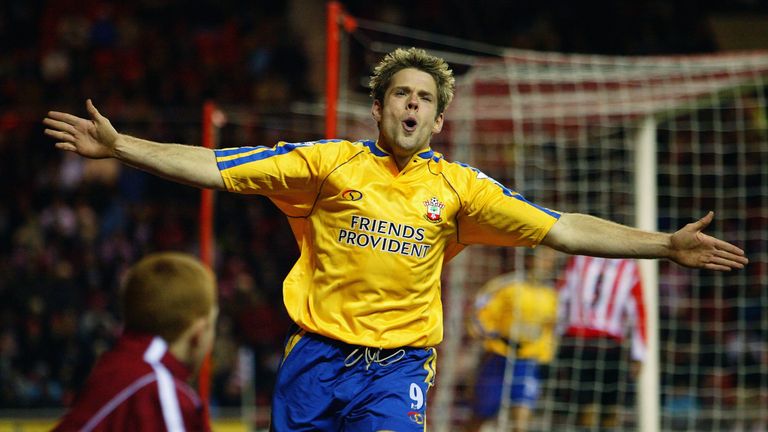 Andy Johnson struck 21 goals for Crystal Palace in 2004/05, but could not prevent the Eagles being relegated. Rickie Lambert scored 15 times for Southampton in 2012-13, but after moving to and then leaving Liverpool, has just six goals in two years.
Is this a blip or is Vardy set to join the list of one-season wonders?
Arsenal defender Laurent Koscielny was full of praise for the striker in the summer. "Jamie Vardy is hard to play against because he likes to use depth, he's very good at running behind the defence and in front of goal," the Frenchman said. "He doesn't think, he feels the goal, as soon as he can shoot, he does."
Michael Owen, however, gave a damning assessment of Vardy's failings in front of goal. "Even when he was scoring loads of goals last season, he wasn't convincing me as a natural finisher.
"He doesn't once lift his head. He almost hits it through goalkeepers. To be a finisher like that, you need a lot of luck - sometimes you'll have it, sometimes you won't."
While it is hard to argue with Owen, who is seventh on the Premier League's all-time scorer list and has 40 goals for his country, it would be somewhat unfair to place the blame entirely at the doorstep of Vardy.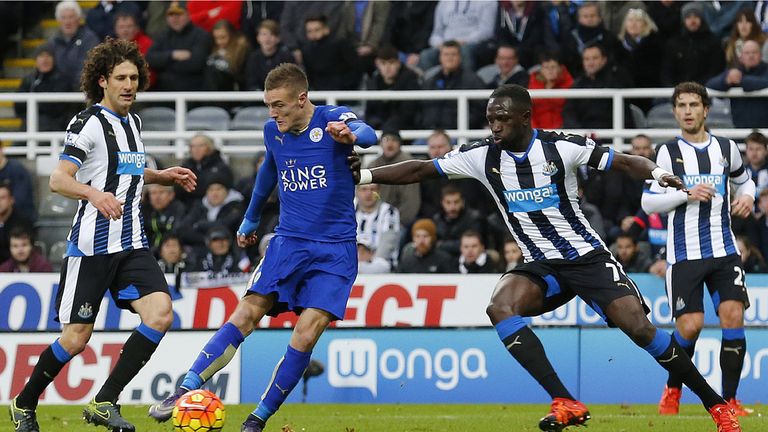 Since August, Riyad Mahrez - who was the architect for much of Leicester's play last season - has successfully passed to Vardy on just nine occasions and only once since September 17. The current PFA Player of the Year may have four Champions League goals to his name, but like Vardy has just two in the league - both from the penalty spot.
As a team, Leicester are also less threatening. At this stage last year, they had taken 132 shots. This season, they have taken just 83.
Vardy has had just 10 shots this season, only four have been on target, giving him a 40 per cent shooting accuracy.
Compare that to his hot-streak when he had rifled 37 efforts towards goal, with 22 on target for an accuracy of 59.46 per cent.
He has two assists compared to just the one after 12 games last season, but he has created only nine chances compared to last year's 17.
In a few weeks, Vardy turns 30, an age at which many attacking players - especially those who, like Vardy, rely heavily on pace - often begin to decline.
However, his career has been a story of triumph over expectation and he has previously silenced his critics in spectacular fashion.
Why would anybody doubt him doing that again?
Upgrade to Sky Sports now and get 12 months half price. Hurry, offer ends December 4!