His former coaches say he could have been one of the world's best players, but Carlos Vela turned his back on Europe to join Los Angeles FC at 29. Should he have achieved more? Nick Wright examines his enigmatic career as he prepares for the inaugural Los Angeles derby.
Zlatan Ibrahimovic's move from Manchester United to LA Galaxy this week came with the usual fanfare and self-promotion. His tweet confirming the deal, published after an image depicting him as God, was accompanied by the message: "Los Angeles, welcome to Zlatan." A full-page advert taken out in a local newspaper simply read: "You're welcome."
The Swede is the centre of attention in Major League Soccer ahead of the first Los Angeles derby, but the most intriguing new addition in Saturday's game will line up for LA Galaxy's newly-formed opposition. At the age of 29, seven years Ibrahimovic's junior, Carlos Vela has called time on his career in Europe to become the face of Los Angeles FC.
The move, confirmed back in August before he saw out the first half of the season at Real Sociedad, was a coup for MLS. But what did it say about him? How did Vela, one of the most naturally gifted strikers of his generation, end up signing for a team who were yet to play a professional game, in a league outside of Europe, at what should be his peak?
It is a curious story which begins in 2005, when Vela top scored for Mexico during their triumphant U17 World Cup campaign in Peru. With his speed, skill and instinctive ability in front of goal, the precocious striker shot to the attention of European clubs. Within a few weeks, Arsenal had won the race to sign him from Mexican side Chivas.
Arsenal supporters would have to wait two years for a first-hand sighting of Vela as he was sent on loan to Spain to acquire a work permit, but his talents were clear to everyone at second-division Salamanca, where he spent his first season as a professional in 2006/07, scoring eight goals in 31 appearances.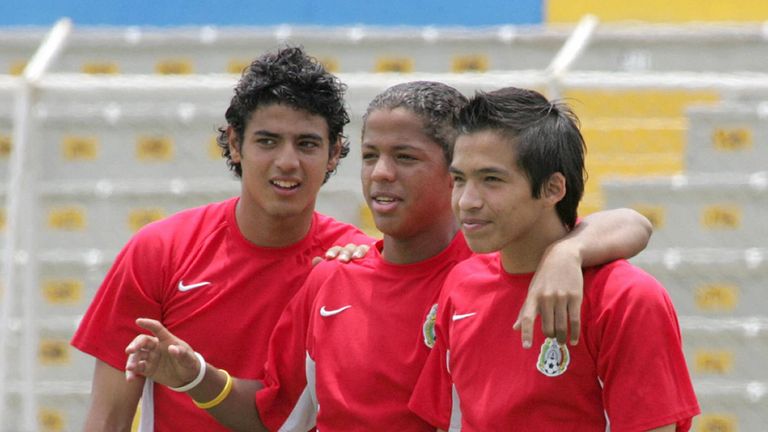 "He was a just a boy but he had great qualities," Javi López, Salamanca's manager at the time, tells Sky Sports. "He exceeded our expectations. He had an enormous amount of innate ability but above all he was a boy who had a lot of confidence in himself. He knew he had weapons for football and he overcame all the challenges in front of him with relative ease."
López describes Vela as one of the "sensations" of Spain's second division that season, but did he see him as a future star? His answer is emphatic but there are caveats.
"Yes, yes, absolutely, yes," he says. "I always told him that he had the attributes to play at an elite level - for any of the big European teams. But it's not just about having the talent. You need mental strength and above all, desire."
The debate over Vela's desire has followed him throughout his career. Did he truly want to fulfil his potential? Was he ready to make the sacrifices required to make it to the very top? Arsene Wenger grappled with the same questions after Vela finally qualified for a work permit on loan at Osasuna and joined up with Arsenal in 2008.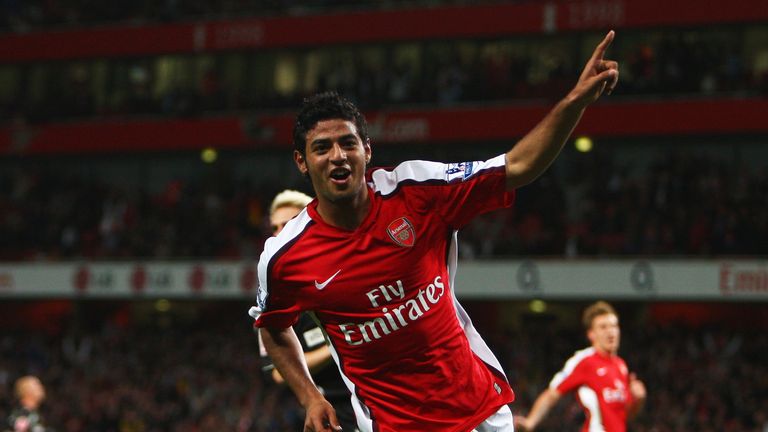 "He is naturally gifted, quick, intelligent and with very good technique," the Frenchman said after Vela marked his full Arsenal debut with a stunning hat-trick in a 6-0 win over Sheffield United, "so now you want him to add that combative, determined side that makes the difference. He'll quickly be a world-class striker when he adds that to his game."
Vela showed tantalising glimpses of his talent over the next three years, developing a penchant for a chipped finish and delighting Arsenal supporters with his natural flair, but a total of just three Premier League starts in as many seasons was proof that, in Wenger's mind, he had still not developed the mental attributes to match his technical skills.
The question marks over his maturity were even more apparent in Mexico's national team. In 2010, Vela was suspended for six months for his role in throwing a party after a game against Colombia. It was the start of a complicated relationship with his country and it fuelled suspicions that he did not view his footballing career with quite the seriousness he should.


"Carlos Vela didn't love football, he didn't love his job," Diego Mancera, a Mexican journalist for El País, tells Sky Sports. "He has admitted that he prefers to watch other sports, like basketball." Vela had also become lonely and disillusioned with life at Arsenal, according to Mancera. "He has said it himself: He was not happy at that time."
It took a return to Spain for him to rediscover his happiness. Vela swiftly became a key figure for Real Sociedad following his arrival on loan in the summer of 2011, contributing 12 goals and seven assists in his first campaign before making the move permanent in August 2012.
Vela improved from season to season in his first three years in the Basque County, striking up a formidable partnership with Antoine Griezmann and helping Real Sociedad qualify for the Champions League. In 2013/14, he scored 15 goals and provided 12 assists. Only Cristiano Ronaldo, Lionel Messi, Diego Costa and Alexis Sanchez managed a higher combined total in La Liga.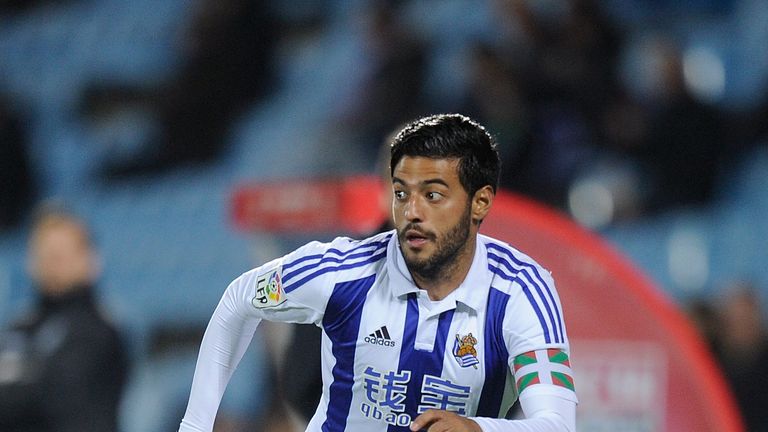 Vela's performances placed him among the best players in Spain, but back in Mexico his refusal to play at the 2014 World Cup cast a cloud over the season. "Four different managers tried to convince him to return," says Mancera. "But he felt the Mexican Football Federation had protected other players over the incident in 2010 while refusing to support him."
Mexico were knocked out in the round of 16 in Brazil and that summer, while his former team-mate Griezmann made the step up to Atletico Madrid, where he has gone on to become one of the world's best players, Vela opted to stay at Real Sociedad. "He had opportunities to leave but he never wanted to go and La Real never wanted to sell him," Yoan Cuezva, a journalist who covers Real Sociedad for Radio Marca, tells Sky Sports.
"He was at his best in the same team as Griezmann but he didn't reach the same levels in his final few seasons. Consistency was never his strength. He's a player who, if he wanted, could have been in the top 10 in the world. But for him, the most important thing was just to be happy in his own way. He was happy with his life at Real Sociedad."
It's an assessment which rings true with Mancera. "On a good day, Vela can destroy an opposition's defence, he can lead an attack and score extraordinary goals," he says. "It all depends on whether he wants to do it. He lacked the ambition to conquer the world with his football."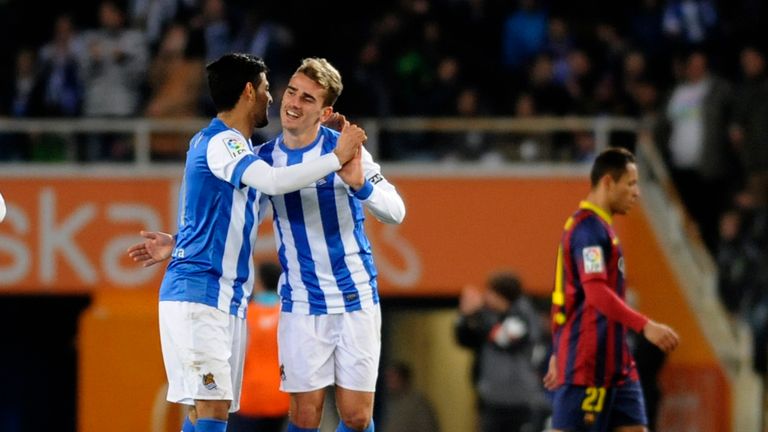 Vela's goals and assists dropped off in the second half of his Real Sociedad career but he was waved off as a hero having scored 73 times in 250 appearances in total - a record second only to Real Madrid legend Hugo Sanchez among Mexicans to have played in Spain.
"He was loved here," says Cuezva. "People didn't hold it against him for not becoming a better player. They were happy with the Vela they had."
Indeed, it seems the only regrets around Vela's unfulfilled potential belong to those on the outside.
"If he had wanted to do something more then he could have achieved it because his attributes were absolutely those of a top player," says López. "For sure, though, what he has done is what he wanted to do. I always saw him as a player in a big team but in the end he is the one who decides his destiny. I think he is happy with what he has done."
"Knowing Vela, it was no surprise that he decided to go to the United States," says Cuezva. "It's closer to his family in Mexico, the city of Los Angeles was very attractive to him, and it's a new project which he will be the star of. I would have liked him to have been more as a footballer but I understand it. Who can judge why people take decisions for their own happiness?"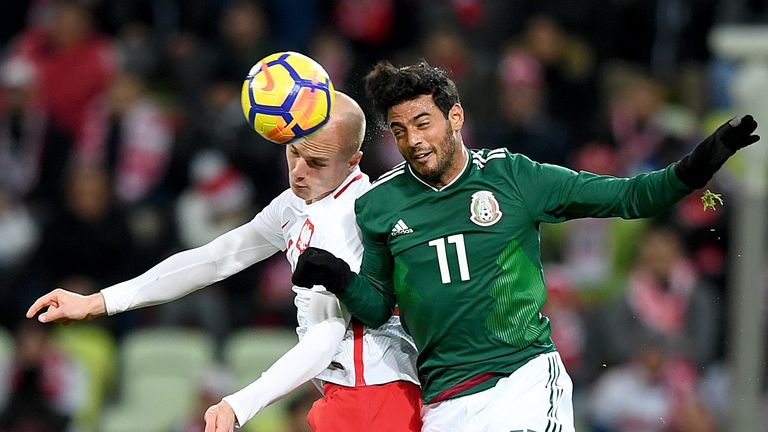 Vela's latest career choice has not been viewed so favourably in Mexico. The 29-year-old is back in the national team fold, but the mid-season switch means he has spent a considerable chunk of a World Cup year on the sidelines. The fear now is that, away from the rigours of a top European league, he will be unable to regain his sharpness in time for Russia.
"It seems people in Mexico have forgiven him for not going to the World Cup in 2014, but not for his decision to leave Spain for MLS," says Mancera. "In Mexico people have spoken about it as a retirement. MLS brings in players in the twilight of their careers, so it seemed odd that Vela had decided to make the move at 29. The same thing happened with Giovani Dos Santos, who decided to go to LA Galaxy in 2015. His fitness levels collapsed. His brother, Jonathan, followed him and it was a similar situation."
For Vela, though, the presence of his friends the Dos Santos brothers in Los Angeles is just another reason why a move that made little sense to many made perfect sense to him. "Everyone is free to think what they want," he said in an interview after the move was confirmed, "but in the end it's my career, it's my decision and I'm happy with it."
Unfulfilled potential or not, Vela will do things his own way until the last.
Watch LA Galaxy v Los Angeles FC on Sky Sports Mix HD from 7.55pm on Saturday
Comment below to get involved in the debate, but please adhere to our House Rules. If you wish to report any comment, simply click on the down arrow next to the offending comment and click 'Report'.