Thierry Henry: Tottenham need to learn from third-place finish
Last Updated: 16/05/16 10:22am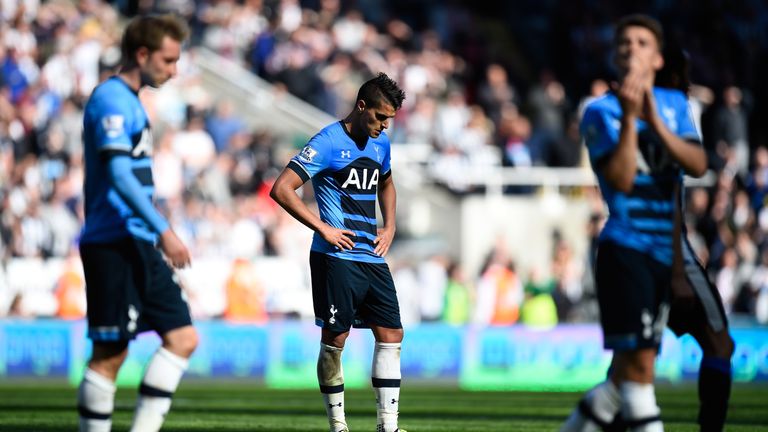 Thierry Henry says Tottenham must learn from their failure to secure second spot in the Premier League and come back stronger next season.
With three games left to play, Spurs were second and had a five-point advantage over Manchester City and Arsenal.
After drawing with Chelsea and West Brom and losing to Southampton, they still needed just a point against relegated Newcastle on the final day to finish as runners-up.
However, Spurs were thrashed 5-1 at St James' Park, despite playing against 10 men for the last 20 minutes, and ended up third behind Arsenal.
"We were all praising them at the beginning of the season, saying they were mentally strong and technically and physically great," former Arsenal forward Henry said on Sky Sports.
"But they showed in the last few games something that you have when you have a team of a lot of youngsters; sometimes you can be mentally weak.
"Hopefully they can learn from that and come back better next season.
"You need to concentrate on yourself, and see what you can achieve. Obviously for a long time they were chasing Leicester to be champions, now they've finished third, yet again behind Arsenal. It does matter in London, but the bigger picture is to be champions."
Even though Arsenal snatched second on the final day, Jamie Carragher thinks Spurs had the better season.
"I don't think the big thing should be finishing behind Arsenal," he said. "Tottenham challenged for the title, they were in contention to win the league. With Arsenal that went away in February and the middle of March.
"Tottenham took it right to the wire. The table says Arsenal finished above them and of course it leaves a sour taste, but (Mauricio) Pochettino echoed Thierry's thoughts and said forget this Arsenal thing, it's about going for the title and winning trophies."
While it was disappointment for Spurs after their defeat at Newcastle, third is still their highest finish in the Premier League.
Graeme Souness agreed with Henry that they need to learn from the experience and believes they have a bright future.
"With all due respect to Newcastle, Spurs must have turned up today and just gone through the motions," he said.
"That's unacceptable, that's an opportunity for them to learn from it, and learn from the last few games that knocks do come along and you've got to deal with them.
"The big players and teams bounce back immediately, but they maybe feel sorry for themselves for 24 hours, after that they're back to work and that's what Tottenham have to learn."