Thierry Henry says his perspective on football altered when he played under Manchester City boss Pep Guardiola during his three-year spell at Barcelona.
The Sky Sports Premier League pundit joined the La Liga giants from Arsenal in the summer of 2007 and, despite a barren first campaign at the Nou Camp, played a key role as Barca became the first Spanish side to complete a domestic and European treble in 2008/09.
Prior to his move, Henry, 40, had also played for AS Monaco and Juventus and soon became France's top scorer of all-time with 51 goals, but, speaking on Saturday morning, he admitted the Spaniard changed his outlook on the game.
"I learned how to play football again at 30 years old," he told presenter Soccer AM presenter Jimmy Bullard.


"After what I had achieved at club level, Arsenal, Monaco, Juve - even if it was only for a short period - but also at international level, I suddenly saw the game in a different way - understanding space, understanding staying in your position, understanding you have to give 100 per cent at everything.
"Even when we used to pause to drink in training, you had to run, drink, run back to the drill - his attention to detail is second to none."
Henry provided an insight into the tactical thoughts of Guardiola, pointing out how he could employ a slight positional change that could have a huge effect on a game.
"He's actually too clever sometimes, that's why he gets in trouble because he sees many things that he wants to rectify and change. He would change a tactic sometimes five times in one half.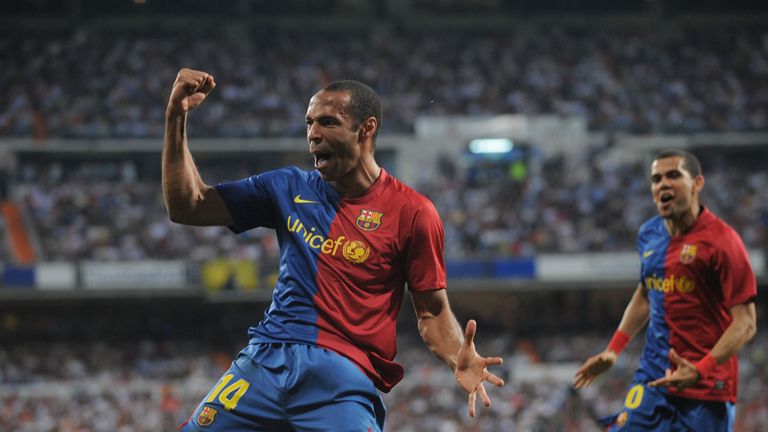 "If you stand between the right-back and the right centre-back and Sam [Eto'o] or me does the same on the other side, suddenly you hold four players alone. With Samuel Eto'o and me running in behind and Xavi and Iniesta on the ball out wide, Messi is dropping, so either you die or you die.
"Just from you being high and wide, and then coming back in, you are actually freezing four players because we are threatening to go in behind. [There were] so many things."
To simplify the idea further, Henry gave an amusing analogy.
He added: "It's like if I said to you, 'Meet me in London' and I don't give you the address, just meet me in London. If you are clever, you might find me. But Pep gives you the GPS, the address, the car and everything."