Kyle Walker's England role is Gareth Southgate's boldest decision yet
Last Updated: 18/06/18 10:26am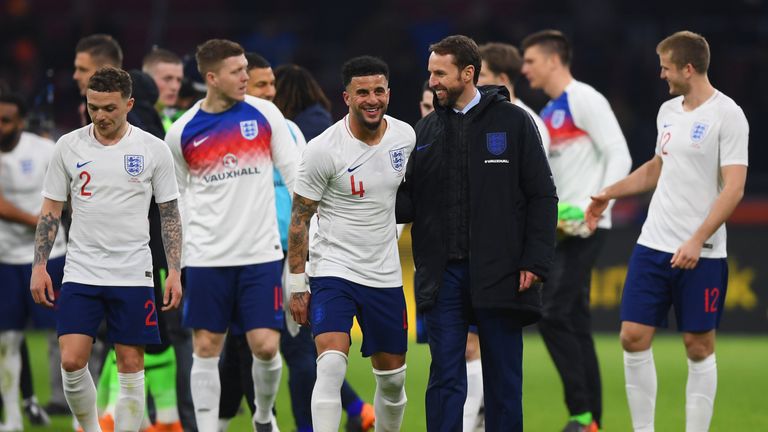 Gareth Southgate's boldest decision was to change Kyle Walker's position. But why has he done it and will it work? With the help of former England right-back Viv Anderson, a veteran of two World Cups, Adam Bate assesses the tactical significance of the switch…
In terms of both personnel and tactics, Gareth Southgate's England squad owes much to the work of his Premier League counterparts. It is Antonio Conte who has popularised the use of a back three once again. It is Pep Guardiola and Mauricio Pochettino who have helped to develop the majority of the team that is expected to line-up against Tunisia on Monday.
But there is one particular decision for which the responsibility lies firmly with the England manager. Guardiola might have floated the notion, but it was Southgate who moved Kyle Walker to the role of right-sided centre-back for the first time in the friendly games against Netherlands and Italy in March. It worked and he has stuck with it ever since.
It is a bold decision to ask one of the few top-class players in the squad to play in a different position to the one in which he starred during Manchester City's march to the Premier League title. By Walker's own admission, he would prefer to be playing as a wing-back - utilising his great pace going forwards. But there is logic behind Southgate's thinking.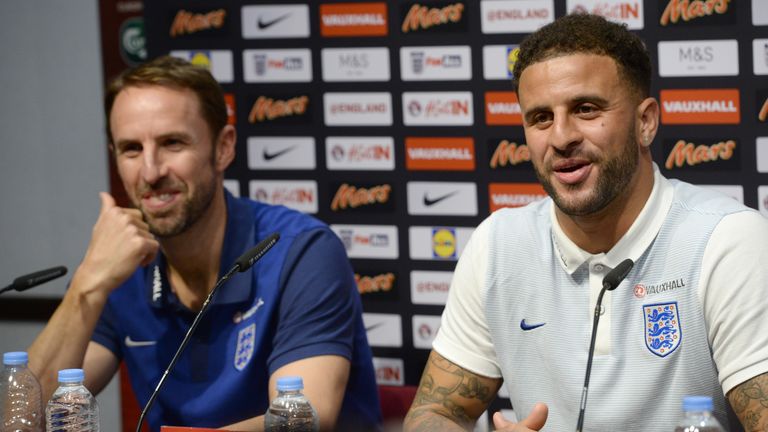 Former Nottingham Forest, Arsenal and Manchester United right-back Viv Anderson represented England at two World Cups and believes it is the right decision. "I know Walker has come out and said he would prefer to play at wing-back but I think it suits him," Anderson tells Sky Sports. "I went to the Italy game and I thought he looked very comfortable.
"When you have centre-halves who are being asked to move into wide areas, they always find that difficult. So Southgate has adapted his system to ensure that he has a wide player in the three who is mobile. Walker is quite happy to go wide and chase players into those wide areas. He is not worried about getting exposed because he is very, very quick.
"He is also comfortable moving forward into midfield. Gone are the days when centre-halves can give it to a midfielder and let them get on with it. They need to be happy to take the ball past players and step forward with it themselves. In Walker, John Stones and Harry Maguire, we now have players who can do that. It gives us more strings to our bow."
International management means making the most of what is available and that also helps to explain Southgate's decision regarding Walker. He does not have the option of bringing in another top-class central defender that would free the City player to take up his preferred slot on the flank but he does have other wing options capable of impressing.
Kieran Trippier has enjoyed a fine season at Tottenham following Walker's departure last summer, while teenager Trent Alexander-Arnold has emerged as a player of vast potential at Liverpool. Anderson points to these alternatives on the right as proof that Southgate has made the correct call. "The cover is there so this is better for everybody," he explains.
"He has looked at what is at his disposal and found a system that suits those players. Trippier is very good at picking out passes in the final third and he has relatively little responsibility defensively in this system. He can join in attacks and be there in the opposition area at the back post. It is almost impossible for him to do that in a back four.
"This is a system that will allow him to do that and, importantly, he will not have to worry too much about the opposition centre forward moving into the full-back areas that he has vacated because in Walker there is a player there behind him who is more than mobile enough to be comfortable when moving into that zone to cover."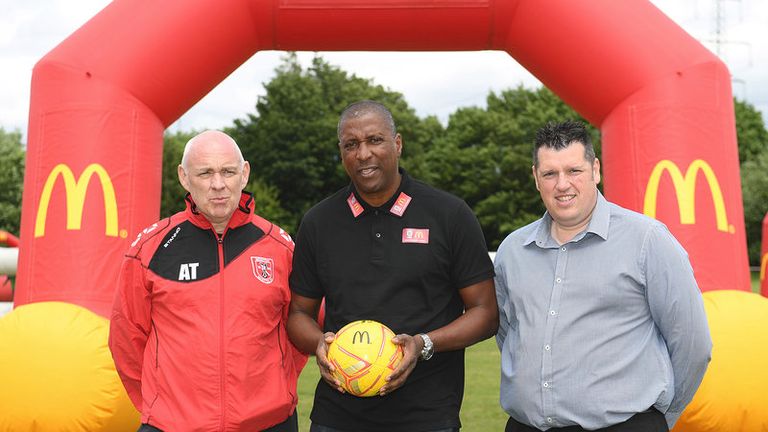 Southgate's system - and the characteristics of the players he has chosen to deploy in it - offers the promise of a more progressive style. The prospect of Walker making underlapping runs inside the wing-back could add a new dimension to this attack. That will be particularly important in matches where the onus is on England to break down the opposition.
But after the tests against Tunisia and Panama, it remains to be seen whether more fancied teams in the tournament could expose hitherto unseen vulnerabilities. Does Walker have the instincts to cover in central areas when he is not familiar with the role? Will someone like Romelu Lukaku enjoy pulling onto the far post to exploit his aerial advantage?
"It will be difficult to ensure that Stones is the one who is always following Lukaku into the wide areas and dealing with him," says Anderson. "But Walker is not small himself. He just has to compete with him. All you can do in those situations as a defender is make it as difficult as you possibly can for him to get the leap on you.
"But in international football, you don't get teams crossing balls towards the far post all the time from wide areas. There is emphasis on little movements so you need to be more wary of that little give-and-go around the box." This is the thinking behind Southgate's selection. If it plays out how he hopes, it could yet prove to be his great tactical triumph.
Viv Anderson was speaking at the McDonald's & FA Community Football Day in Beighton. These football days are taking place across the UK this summer, giving thousands of children the chance to enjoy the beautiful game. www.mcdonalds.co.uk/communityfootballdays
Comment below to get involved in the debate, but please adhere to our House Rules. If you wish to report any comment, simply click on the down arrow next to the offending comment and click 'Report'.