Wolves have no weaknesses, says Andy Hinchcliffe
Last Updated: 01/12/17 11:07am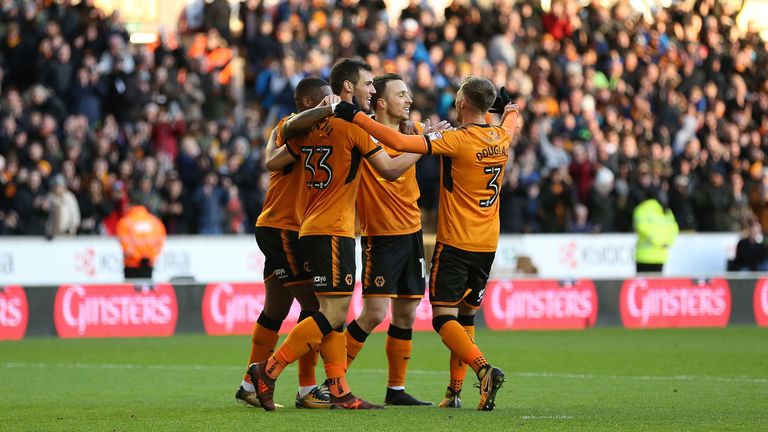 Sky Bet Championship leaders Wolves have no weaknesses in their side, according to Andy Hinchcliffe.
Nuno's men have won five in a row, sit four points clear at the top of the table and show no signs of slowing down in their push for promotion.
Speaking on EFL Matters on Thursday night, Hinchcliffe said: "They're doing everything right and you don't see a weakness in their side.
"You look at the front three and the goals they've scored, but that isn't all they're about. The formation is working well, defensively they're very strong and Ruben Neves has been outstanding in central midfield.
"They also work incredibly hard off the ball and I don't really see where it can go wrong, unless they get complacent and think that the job is done. That's what they've got to guard against more than anything else."
Hinchcliffe and presenter David Prutton were joined by former Wigan and Chesterfield manager Gary Caldwell, who believes that the upcoming winter schedule could be a stumbling block for them.
"The versatility of playing different formations and attacking in different ways makes it difficult for the opposition to set up against them," he said. "The hardest part of football is scoring goals so when they're doing that as freely as they are they've got every chance of promotion.
"Christmas will test their character but they've put themselves in a great position."
Hinchcliffe, meanwhile, compared their dominance of the Championship to that of Manchester City in the Premier League.
"It's only 19 games in so maybe it's a bit early to be talking [about automatic promotion], but from what I've seen so far they're perfectly equipped to get through the winter," he said. "So even when it gets tough and cold and the games come thick and fast I don't think you'll see Wolves fall away, I think they'll actually get stronger.
"Any team playing Wolves home or away has to be at their absolute maximum and hope they're having a bit of an off day. You look at Manchester City in the Premier League and it's very much the case when you play them. I'm not saying Wolves are as good as Man City in the Championship, but they know how to win a game. They can tough it out and grind a team down, or play flowing football."
Don't miss the Sky Bet Championship clash between Birmingham and Wolves on Monday night, live on Sky Sports Football and Sky Sports Main Event from 7.30pm