Panama 0-0 Northern Ireland: World Cup-bound Panama held by Michael O'Neill's men
Last Updated: 30/05/18 9:12am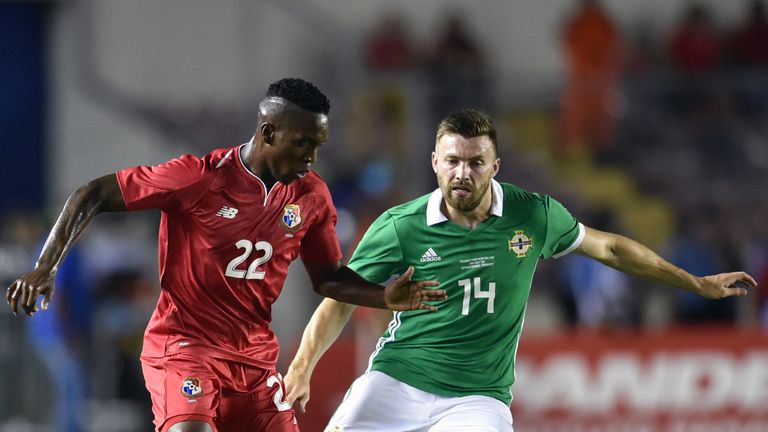 World Cup-bound Panama were held to a 0-0 draw in their friendly warm-up match against Northern Ireland on Wednesday.
Michael O'Neill's side were unable to spoil Panama's World Cup send-off party as the hosts drew with another home nation ahead of facing England in Russia next month.
Having drawn 1-1 with Wales in November, Los Canaleros could not find a way past the Northern Irish on a hot and sticky night in Panama City.
Jonny Evans was selected in central midfield as O'Neill named a strong side for the friendly. The defender was pushed up in a team that also featured veterans Gareth McAuley and Aaron Hughes, along with goalkeeper Trevor Carson, who was winning just his second cap.
Panama left their captain Roman Torres on the bench for their final home game before they head to Russia, with kick-off delayed by 10 minutes due to a host of pre-game ceremonies including a lengthy firework display.
O'Neill also handed debuts to three players, all from the bench, and his team were fortunate that Edgar Joel Barcenas' first-half header came back off the crossbar on an evening of celebration for the Panamanians ahead of their first World Cup.
O'Neill said: "The conditions we were playing in were incredible. For the players to have to come at this stage of their season, with the level of preparation we've had, you can't ask for any more - their heart, their desire.
"Years ago Northern Ireland used to come to places like this, lose the game and it didn't really matter. It matters to the players now, they don't want to be beaten."