Swindon 3-1 Notts County: Magpies relegated from Football League
Macclesfield battle to 1-1 draw at home to Cambridge to secure safety
Last Updated: 05/05/19 9:56am
Notts County have been relegated from the Football League for the first time in their history after a 3-1 defeat at Swindon.
A goal from Kaiyne Woolery and two from Theo Robinson helped Swindon come from behind to end County's hopes of a last-day relegation escape.
The Magpies needed to win and hope rivals Macclesfield lost to Cambridge to stand any chance of staying up.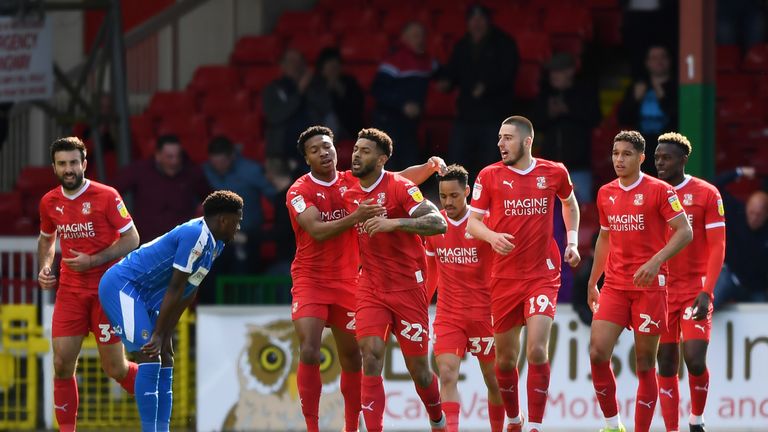 Kane Hemmings gave the 2,248 travelling County fans hope in the 53rd minute when he slammed home a penalty to put the visitors ahead after Craig Mackail-Smith had been fouled in the area by Tom Broadbent.
But Woolery equalised by slotting past Ryan Schofield in the 69th minute after the former County loanee surged into the box.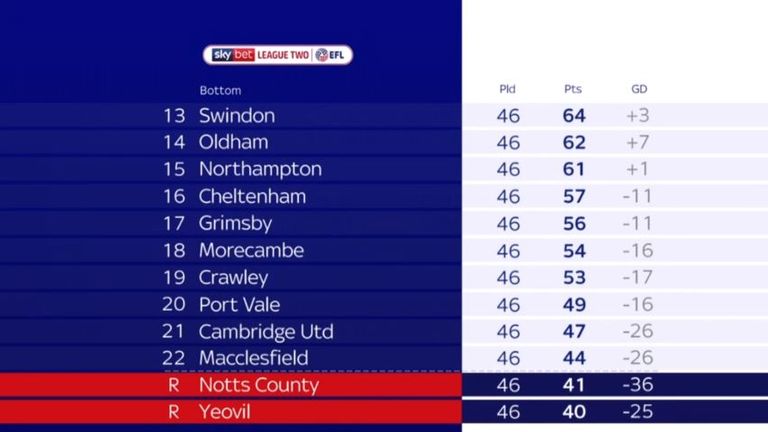 As County frantically pushed men forward they were punished on the counter-attack on two occasions.
Robinson found time and space inside the area and lashed his effort into the top left-hand corner, and County's demise after 131 years in the Football League was confirmed when the striker scored his second from close range in stoppage time.
Macclesfield, meanwhile, finished three points clear of Notts County in 22nd place after battling to a 1-1 draw with Cambridge at Moss Rose.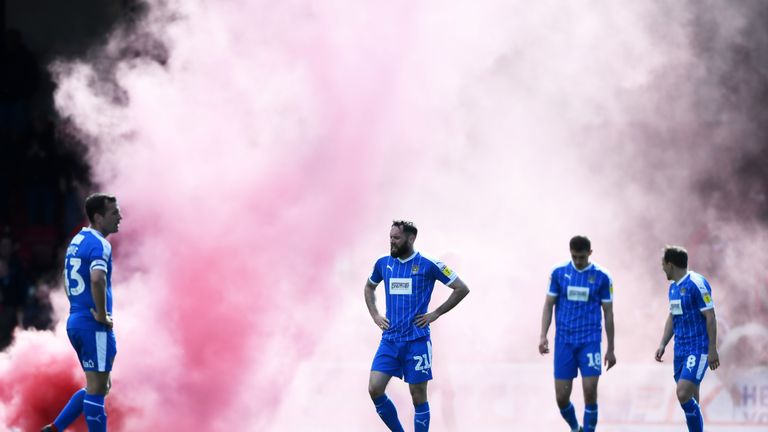 Notts County - Things you might not know
Oldest club

Formed in 1862, Notts County was universally recognised as the oldest Football League club. Although its official formation followed two years later as the 'Notts. Foot Ball Club'.

In 1888, the Magpies became one of 12 founder members of the Football League, having previously played a game of its own devising rather than association football.

If County are relegated, the mantle of oldest Football League club passes across the River Trent to Nottingham Forest, who were founded in 1865. Some claim it is Stoke but even the club's own website admits "many details remain sketchy" about their formation, purported to be in 1863.

Kit

Notts County have not always played in black and white stripes, having started out in black and amber hoops. The club switched to a chocolate and blue combination before adopting its trademark design.

In 1903, the Magpies answered the call of a Juventus player, an Englishman named John Savage, to send a set of the club's black and white striped shirts to replace the old pink ones worn by the players of the Italian side since their founding by a group of students six years earlier. And that is why Juventus play in black and white stripes today.

Juventus' new stadium

The Italian giants never forgot the gesture with the shirts and remembered their roots when it came to the inaugural game to open their new stadium in September 2011.

Juve could have opted to play Real Madrid or Barcelona or Manchester United, but Notts County were invited due to the 108-year link between the clubs since the 'Old Lady' decided to adopt the black and white shirts worn by the Magpies. The match to celebrate the opening of the 41,000-seater Juventus Arena, which is built on the site of the Stadio delle Alpi, ended in a 1-1 draw after Lee Hughes cancelled out Luca Toni's opener late on.

Jimmy Sirrel

Tommy Lawton, Howard Wilkinson, Neil Warnock, Sam Allardyce and Sven-Goran Eriksson have all managed Notts County, but Sirrel is widely regarded as the club's most successful boss. Sirrel led the Magpies from the depths of the old Fourth Division to the top tier, announcing their arrival on the opening weekend of the 1981-82 season by winning away against the champions Aston Villa.

Stories of Sirrel's off-pitch antics are also intriguing, like how he used to lick the top of the sauce bottle clean during team dinners or travelling from his home in the village of Burton Joyce to use the communal bath.
Ardley: I want to take Notts County back up
Notts County boss Neal Ardley: "I don't think it's right to talk about my future, I'm hurting at the moment. There's so much going on at this club, so much uncertainty, no-one knows who's taking over, when they're taking over, what their plans are. There's so many questions.
"These next two, three, six months to a year there's going to be a tough rebuilding job here and the sooner everything gets sorted, the better.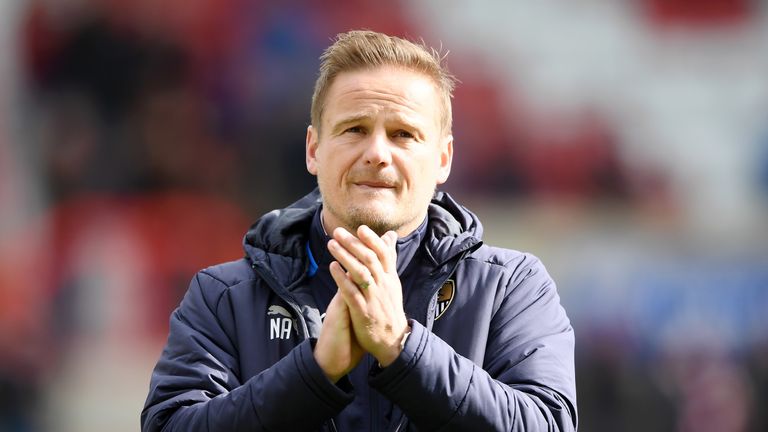 "I would love to be the man at the helm rebuilding but I've got to know if the [new owners] want me and what their plans are because if they've not got the same ideas and don't want me, then it's not my decision.
"At half-time we rallied the boys, told them they're on the verge of something special.
"We came out like that and got our noses in front but this team hasn't been able to keep enough clean sheets over the course of the campaign and, as painful as it is to say, we deserve to go down. I haven't been able to turn it around and haven't done well enough.
"There are a lot of factors that have made the job really hard but I'll go and criticise myself and be low for a while I'm sure. Nobody feels anything except pain and anguish and the players are all down.
"I've told them, individually and collectively wherever they are next season, they need to be better for this pain because they had the chance to do something about it but haven't."
Magpies' Football League stay in numbers
120 - seasons in the Football League, excluding the abandoned 1939-40 season.
1,814 - games won in that time, with 1,245 draws and 1,927 defeats according to an all-time English league table compiled by the Rec.Sport.Soccer Statistics Foundation.
30 - County spent 30 seasons in the top flight, in six spells, with 37 in the second tier and 34 in the third. This was their 19th season in the fourth tier.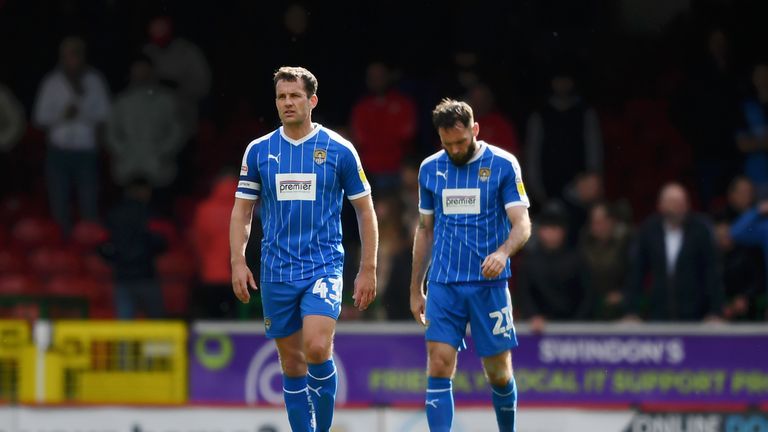 1 - the 1894 FA Cup is County's only major trophy.
8 - league titles - three in Division Two, three in Division Three or Division Three South and two in the fourth tier.
13 - promotions.
17 - relegations.
3 - County's best ever finish was third in the old Division One, in both the 1890-91 and 1900-01 seasons.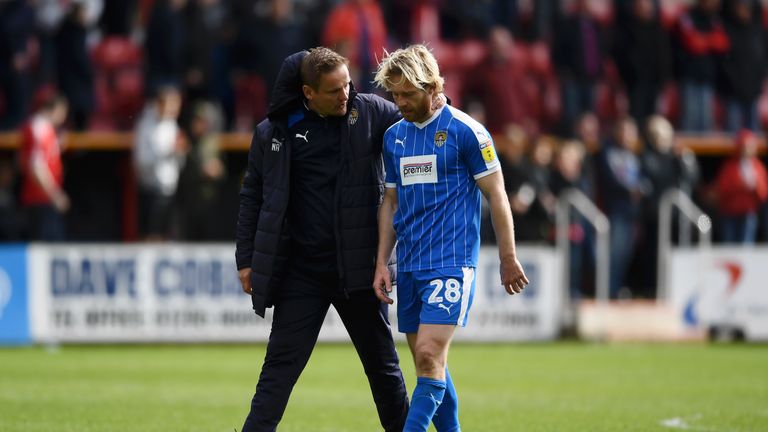 11-1 - their record league win, against Newport in Division Three South in 1949.
9-1 - their record defeat, on three occasions - in Division One fixtures against Aston Villa in 1888 and Blackburn in 1889, and against Portsmouth in Division Two in 1927.
125 - Les Bradd is County's record league goalscorer, having played for the club between 1967 and 1978.
564 - goalkeeper Albert Iremonger made the most league appearances for the club, from 1905 to 1926.
99 - record points total, when they won Division Three in 1997-98.