Sir Alex Ferguson signs off with thriller as Manchester United draw 5-5 with West Brom
Sir Alex Ferguson was given an incredible end to his career as Manchester United drew 5-5 with West Brom on Sunday.
Last Updated: 20/05/13 9:16am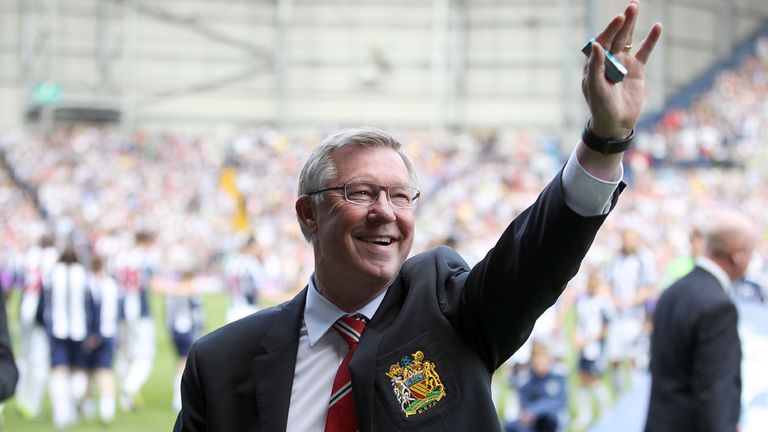 The 71-year-old Scot was given a guard of honour before the game and a standing ovation after it, but between the two was a see-saw, crazy match that set a new Premier League benchmark for high-scoring draws - the first 5-5.
An early Shinji Kagawa header (6) and Jonas Olsson own goal (9) gave the visitors a firm grasp on the game that was strengthened soon after when Alexander Buttner (30) got in on the goalscoring action with a solid drive.
But James Morrison's close-range finish (40) and an 18-yard shot from half-time substitute Romelu Lukaku (50), that eluded Anders Lindegaard, brought West Brom right back into the game.
Tap-ins from Robin van Persie (53) and Javier Hernandez (63) looked to have secured United a handsome win but the Baggies refused to give up and, after Lukaku had slotted home (81) and Youssouf Mulumbu steered in a cross within a minute, the on-loan forward bundled in his hat-trick goal on 86 to send the Hawthorns wild.
The game was not quite a neat encapsulation of the preceding 26 years of Ferguson's career at United, which have seen the Scot claim 38 trophies.
There was not as much at stake for him personally as the FA Cup third-round tie against Nottingham Forest in 1990, or for the team as the final day decider against Tottenham in 1999, nor was there the drama of the European showdown with Bayern Munich at the Nou Camp or anything that consistently reached the brilliance of their demolition of Roma in 2007.
It remained a stellar attacking performance from a United side featuring six changes and a star-studded bench containing the likes of Patrice Evra, Rio Ferdinand, Ryan Giggs and Paul Scholes, but no Wayne Rooney, who was absent because his wife had gone into labour.
But they also demonstrated an uncharacteristic weakness at the back that prompted Ferguson to endure a far more stressful final 10 minutes of his managerial career than he had hoped.
Amongst the madness, Ferguson found time to give a last bow under his guidance for winger Giggs and a final ever professional appearance to midfielder Scholes, whose own illustrious career came to an end on Sunday.
The main focus will invariably fall on the champions, but credit must go to West Brom, who had nothing concrete to play for other than pride but refused to give up and were rewarded in spectacular fashion.
And so a United managerial career that began with a dour defeat to Oxford United ends with a stunning draw at West Brom.
The intervening 1,498 matches helped shape the landscape of English football and encapsulate one of the finest careers the game has ever known.
Lukaku was playing the final game of his loan spell from Chelsea and the Belgium international was slightly disappointed West Brom failed to go on and win the game.
He said: "It's a great feeling, but we wanted six. I'm happy and sad. I got the first hat-trick in my professional career, but then we focused again to try to get a sixth goal to end the season with a win.
"We came back after 5-2 against the champions, so that's a good result."
Michael Carrick has conceded it was a 'funny time' in the United dressing room after Ferguson's final match as manager
"I want to thank him for everything he's done, he's done much more than us," Carrick told Sky Sports. "It was a funny time in the dressing room because of the situation.
"It is starting to sink in and we've had a couple of weeks to digest the news.
"We're ready to move on. We've had a busy couple of weeks and there is a new challenge ahead for all of us to look forward to."