Neil Lennon has led Celtic to two Scottish Premiership titles, two Scottish Cups, into the last 16 of the Champions League, and to a victory over the mighty Barcelona.
But he told Goals on Sunday that one of his proudest moments as a manager was seeing Bhoys stopper Fraser Forster make his England debut against Chile at Wembley.
Forster joined the Hoops on loan from Newcastle in 2010 before signing permanently for the club in the summer of 2012, and his displays between the sticks saw him named Celtic's Players' Player of the Season last term.
Lennon says the 25-year-old's England call-up is reward for striving hard to improve his abilities, and the Bhoys boss hopes the Hexham-born gloveman remains part of the international set-up for a sustained period.
"One of the best things I have been involved in as a manager is to get a player who was third-choice goalkeeper at Newcastle playing for England," said the ex-Leicester midfielder, who took charge of Celtic in 2010.
"Fraser has worked tirelessly on his game, especially his agility and his kicking, but one of the things I have always liked about him is his presence, while when he makes saves his big arms bat the ball away.
"His performances in the Champions League are one of the main reasons we have been so successful over the last few years and I'm delighted Roy Hodgson gave him the opportunity.
"But I don't want it to be a short-term thing for Fraser; I want him to be knocking on the door for the next two, three, four years as he certainly has the game and temperament to do that."
Exciting
Celtic have dominated the Scottish Premiership since the demise of Rangers, finishing 16 points clear of second-placed Motherwell last term and opening up a five-point lead over Inverness Caledonian Thistle after 12 games this campaign.
Lennon told Ben Shephard and Chris Kamara that he misses battling the Gers in the top flight, but thinks Ally McCoist's men - who are building a head of steam in League One following promotion in 2012/13 - will soon be back at the elite level.
"The toing and froing with Rangers is always exciting," added the Ulsterman.
"You also miss the competitiveness and, of course, the games because it's one of the greatest derbies in the world.
"There is always drama and energy in those games and they will happen again in another couple of seasons.
"I don't think Rangers will be as strong initially as they were, though, as they will have to build up slowly and stabilise themselves because it has been a very tumultuous time for them."
During an in-depth chat on the Goals on Sunday sofa, Lennon also spoke about:
His days as a Celtic player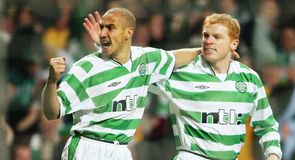 NEIL SAYS: Lubomir Moravcik was one of the best players I ever played with, while I also played with Chris Sutton, Henrik Larsson (pictured), Stiliyan Petrov and Paul Lambert, so we thought we should win all the time and that was a nice mentality to have - but it was only when we didn't win that we realised how important winning was to us and what it means. My last game for Celtic as a player [the 2007 Scottish Cup Final] was emotional and I remember crying; I couldn't have asked for anymore from my time there having worked under two great managers [Martin O'Neill and Gordon Strachan] and got fantastic support from everyone, so I had to take a few minutes and compose myself.
Ireland management team Martin O'Neill and Roy Keane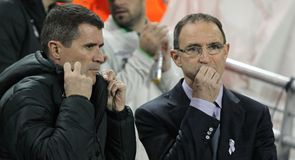 NEIL SAYS: I had 10 unbelievable years under Martin - who is a brilliant man manager who knows the game so well and brought stability and success to Leicester - and I think international management will suit him at this stage of his career. Roy is an interesting one as I didn't see him [becoming Ireland assistant] but he has vast knowledge of the game and I think his presence and aura in the dressing room and the fact he was one of the best players of his generation will lift the players. I'm sure Roy will have an input in tactics and team selection, even though it's pretty clear that Martin is the manager, and he can only learn from Martin, who is a fantastic personality and someone the players will love.
Northern Ireland's tribulations at international level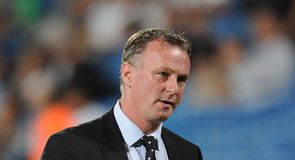 NEIL SAYS: We have a small pool of players to pick from so it is a difficult job for Michael O'Neill, who us a very intelligent guy and tactically very good. Every now and then we get a decent result - we have drawn with Portugal away and beaten Russia recently - but we seem to struggle against the smaller teams, so we need to find some little gems. What we had when I played was David Healy, who had a phenomenal scoring record - 36 goals in 95 games is pretty special - but they come along once in a lifetime, so it is pretty thankless task for Michael.
Click here to listen to Lennon reflect on his formative years as a player under Dario Gradi at Crewe.