Theo Walcott on Arsenal journey, paparazzi and being starstruck by the Invincibles
By Patrick Davison
Last Updated: 24/01/16 2:46pm
From "terrified" teenager swamped by his shirt to key first-teamer, Theo Walcott tells Sky Sports' Patrick Davison about his Arsenal journey.
It's surely one of the most memorable and recognisable images of a player signing for his new club: Arsene Wenger and a 16-year-old Theo Walcott stood either side of a redcurrant Arsenal shirt, with the club having just paid £9m to make the forward British football's most expensive teenager.
It was, at that stage, the biggest day of his life. He looks back with pride, "at the excitement in his eyes", but rather less fondly at the mushroom-coloured shirt he wore for the occasion.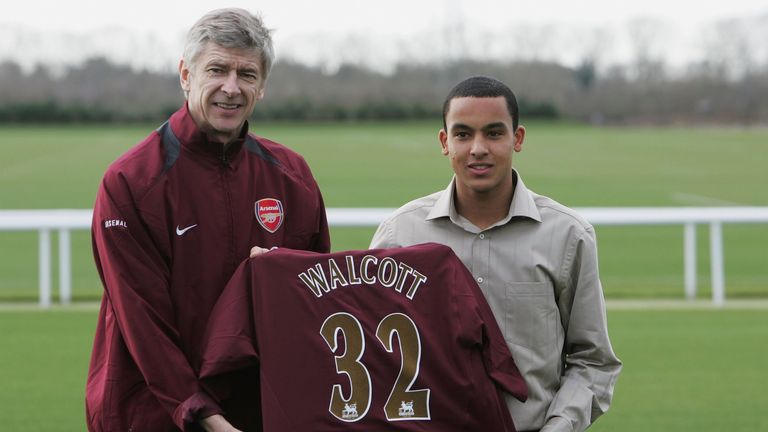 "I've had loads of stick for it," he says after bringing his laughter under control.
"I didn't have a shirt, so I had to run over the road and buy one - somehow I ended up with the biggest, baggiest thing in there."
Then, after a pause, he adds, "In fact, I didn't even buy it, my Dad did. It shows how young I was."
The next thing was to meet a squad that was on its way to a Champions League final, one that still contained most of the Invincibles.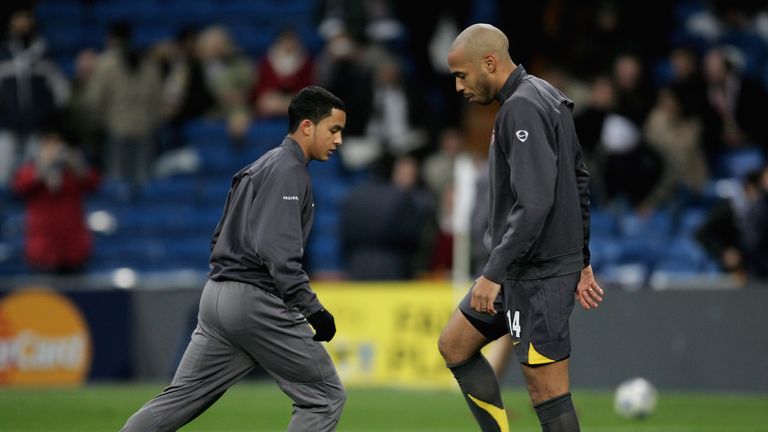 "First time I walked into the dressing room there was Robert (Pires), Thierry, Bergkamp. Honestly, I was terrified.
"And again, nothing fit. The shirts, the tracksuits, everything was too big for me."
For a time it looked the move itself might be too big for him. Signed in January, he didn't play at all till the start of the following season.
Despite him not kicking a ball for Arsenal, Sven Goran Eriksson stunned everyone by picking Walcott for the World Cup squad but then didn't give him a minute at the tournament.
There was a frenzy around the teenage sensation that few had seen play, save for a few highlights from his time at Southampton.
On one occasion we wanted to go out for dinner and I remember our neighbours surrounding a car to stop the paparazzi following us.
Theo Walcott
"It was harder for my family than it was for me, paparazzi would be waiting outside the house because they wanted a picture of me and Mel," he says, recalling a crazy few months before life returned to something approaching normal.
"On one occasion we wanted to go out for dinner and I remember our neighbours surrounding a car to stop the paparazzi following us."
Mel, by the way, was Walcott's girlfriend. She is now his wife and mother of their young son, Finley.
Wenger for one has been with impressed just how normal Walcott has remained. The Arsenal manager said this week that he could have disappeared altogether, such was the early scrutiny.
A decade on, in a changing room at the Arsenal training ground, about 200 yards from where the picture of him in his baggy shirt was taken, Walcott certainly doesn't seem like a man who's been affected by ten years under the spotlight. He's polite, friendly, engaging - in short, one of the good guys.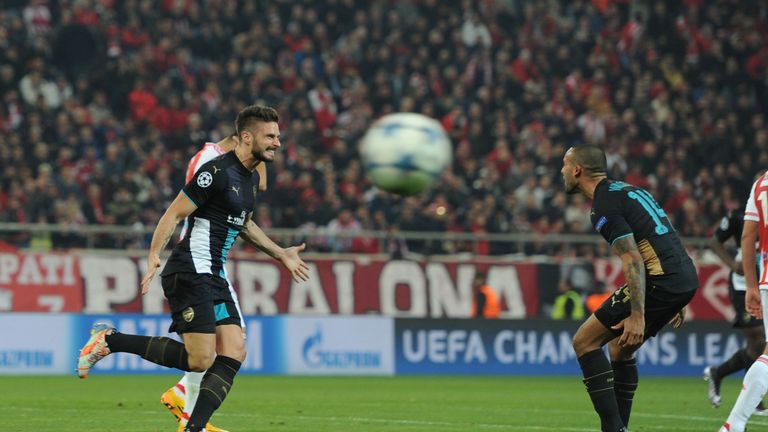 On the pitch, the suggestion is that these qualities are a hindrance. He's too good, or rather, too nice. It's something he and the manager have discussed.
"He's always said the right thing, even when it's been a kick up the backside," says Walcott, who is a regular in Wenger's office.
"The biggest one was him telling me to play with more aggression, not to play with the handbrake on.
"Even the other day we had a meeting and he told me there was a lot more to come from me - there's unfinished business definitely."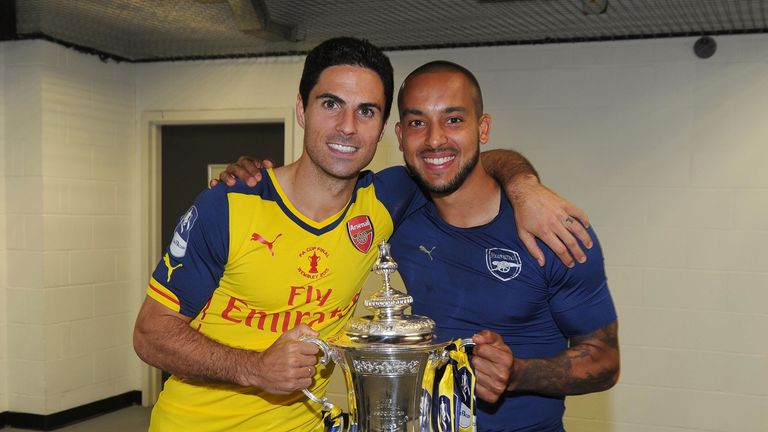 Injuries too have played their part, holding Walcott back every time he looks poised to deliver on his huge potential.
This season, having overtaken Olivier Giroud as Arsenal's first choice centre-forward, he suffered a calf injury at Sheffield Wednesday.
More serious was the cruciate knee ligament injury he suffered, again when playing well and having got a chance up front, against Spurs in the FA Cup - an injury which kept him out for 11 months.
He says he is not angry at what might have been, doesn't spend his days dreaming about the 20-goal-a-season centre-forward he could already have blossomed into.
"It's important not to think like that," says the 26-year-old who, for one reason or another, has not played in 40% of Arsenal's games since joining the club.
"You can't think that without the injuries I could have been this or that. The knee injury, missing the World Cup (in 2014), it was hard to deal with mentally.
"But my little boy came at the same time, that took my mind off it and gave me an incentive to get back as I was."
Most of the questions that hang over Walcott have often been applied to Arsenal too. Are they tough enough? Ruthless enough? Remember, they went the first eight years of Walcott's stay without winning anything at all. Now though, he believes, things are different
"This is the team I've been waiting to be part of. It was only a point but in the past, in games like Stoke, we would have failed to deliver, now we're not getting pushed away.
"A big club like Arsenal should be winning lot more than we have but we have to look to the present. We've won two FA Cups in the past two seasons, now we want the big one."
Looking back on that first day, with Walcott in his ill-fitting shirt, Arsene Wenger summed up his player as, 'a little boy who discovered the world…now he's a man'.
His next step, is to become a champion.
Watch the full interview with Walcott on Super Sunday, live on Sky Sports 1 HD. Build-up to Arsenal v Chelsea starts at 3.30pm.