Football Commentator & Columnist
Martin Tyler's stats and facts: James Milner nears Ruud van Nistelrooy's record and Antonio Conte's intriguing run
Last Updated: 21/03/17 11:42am
Martin Tyler presents the best stats from the latest round of games.
Has James Milner ever lost a Premier League game he has scored in? Just how much does Antonio Conte love making all three substitutions? And has a team ever won a game without registering a shot on target?
Send your questions to Martin in one of the following ways...
Use the comments box at the bottom of this page.
Tweet @SkyFootball using the hashtag #TylersTeasers
Martin's Starting Stats...
It was the end of a run of four consecutive Premier League wins for Liverpool over Manchester City and City's first point from their last five Premier League games between the two in what was, of course, a repeat of last season's League Cup final.
Sergio Aguero scored for the fifth consecutive Premier League home game for City against Liverpool, while James Milner netted his 50th career league goal in his 450th career league match.
But in Premier League terms, it was his 48th goal in his 444th appearance, with the midfielder playing six games and scoring two goals for Second Division Swindon Town.
It was also Milner's seventh penalty out of seven in the Premier League this season and it was the 143rd penalty Liverpool have had in the Premier League, more than any other team.
John Stones, meanwhile, made his 100th Premier League appearance at the Etihad, seven of which have come against Liverpool, although he has yet to be on the winning side against the Reds.
It was back-to-back home draws for City in the Premier League and the 20th home game in all competitions for City manager Pep Guardiola, of which he has lost only one of those (1-3 to Chelsea in December), while winning 12 and drawing seven.
And finally, Liverpool kept up their impressive unbeaten run against teams from the top half of the table this season.
On-target Milner's magical run
Has James Milner ever lost a Premier League game he has scored in? (Paul via e-mail)
MARTIN SAYS: Milner's opener in the 1-1 draw at Manchester City on Super Sunday was the 47th Premier League game he has scored in, and amazingly, he is yet to lose in any of those encounters. (which game he scored twice - Hull)
From his time at Leeds United (five goals), Newcastle United (six), Aston Villa (12), City (13) and Liverpool (12*), the midfielder has won 37, drawn 10 and lost none, the most of any player in Premier League history.
Next up in the list is former Villa and City striker Darius Vassell, who never lost in the 46 Premier League games he scored in, just ahead of Cesc Fabregas on 42.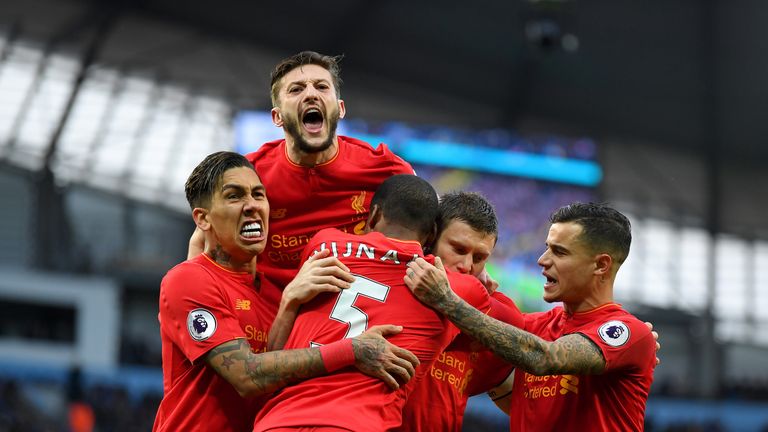 Salomon Kalou (32), Oyvind Leonhardsen (28), Antonio Valencia (20), Dele Alli (20) and Lee Sharpe (19) also make the list.
While we're on Milner, his penalty was his seventh success from seven spot kicks this season, meaning he is one away from Ruud van Nistelrooy's record in a single Premier League season of eight from eight in the 2002-03 campaign for Manchester United.
Matt Le Tissier scored 23 consecutive penalties for Southampton between January 1994 and the end of his career in 2002, however.
* Milner scored twice from penalties in Liverpool's win against Hull City earlier this season
Premier League games scored in and not losing

| | | | | |
| --- | --- | --- | --- | --- |
| Player | Games scored in | Won | Drawn | Lost |
| James Milner | 47 | 37 | 10 | 0 |
| Darius Vassell | 46 | 36 | 10 | 0 |
| Cesc Fabregas | 42 | 34 | 8 | 0 |
| Salomon Kalou | 32 | 29 | 3 | 0 |
| Oyvind Leonhardsen | 28 | 21 | 7 | 0 |
| Antonio Valencia | 20 | 19 | 1 | 0 |
| Dele Alli | 20 | 15 | 5 | 0 |
| Lee Sharpe | 19 | 17 | 2 | 0 |
| John Arne Riise | 19 | 13 | 6 | 0 |
| Oscar | 19 | 16 | 3 | 0 |
Red Devils reach 600 not out
Man Utd won their 600th Premier League game on Sunday. Where does that rank and who have they beaten the most? (Stephen, Birmingham)
MARTIN SAYS: Of the six ever-present Premier League sides, United are quite a way ahead of Arsenal with 600 wins to their 517. Next up are Chelsea on 508 wins, Liverpool on 472, Tottenham Hotspur on 391 and Everton on 346.
Of those 600 wins, 34 have come against Aston Villa, followed by Everton (33), Tottenham (32) and Liverpool (27), with 346 at Old Trafford and 254 away from home.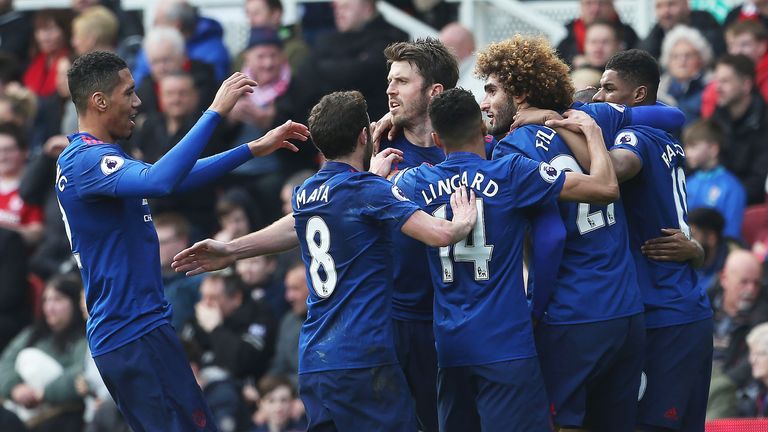 One-nil is the most popular winning scoreline for United in the Premier League, registering a single-goal win 118 times in those 600 games, followed by 2-0 (111), 2-1 (93) and 3-0 (65).
They've scored seven or more goals on four occasions, the biggest win coming against Ipswich Town in 1995 when Sir Alex Ferguson's side won 9-0 at Old Trafford.
Shot-shy Eagles
Crystal Palace won without having a shot on goal on Saturday. Has this ever happened before? (Casey, Croydon)
MARTIN SAYS: Our friends at Opta have only been keeping data on shots on target since the 2003-04 season, but this does not happen often.
Troy Deeney's own goal handed Palace a vital 1-0 win over Watford, who themselves have struck with the same fortune this year, and it's the fourth time in total since the 2003-04 campaign this has happened.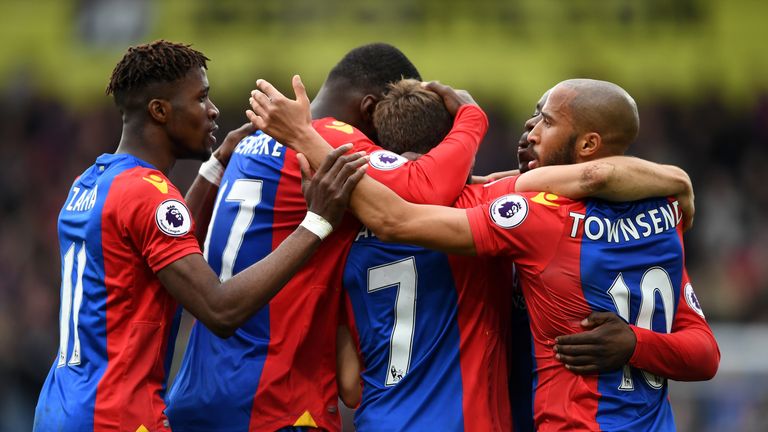 Middlesbrough beat Manchester City in November 2003 without a shot on target, thanks to Sun Jihai's first-half own goal, and Sunderland did the same against West Bromwich Albion in January 2006, one of just three victories they achieved in the entire 2005-06 season.
And Watford were on the right side of this bizarre situation this season, beating Hull City 1-0 in October with Michael Dawson's late own goal. Watford did, however, register a staggering 23 shots off target in that game.
There's no substitute for success
Antonio Conte loves using all of his subs at Chelsea. Has he ever not used all three in the Premier League? (Adam via e-mail)
MARTIN SAYS: Conte has used every substitution available to him this season; that's 84 out of 84 in the Premier League and an additional 21 out of 21 in other competitions.
And the Italian will have the opportunity to become the first manager to make four substitutions in a game if next month's FA Cup semi-final with Spurs goes to extra time.
The ability to make three substitutions in a game was brought into the Premier League in 1995, and since then the only side to use every single change was Manchester City, who made 114 of 114 possible subs in the 2014-15 season.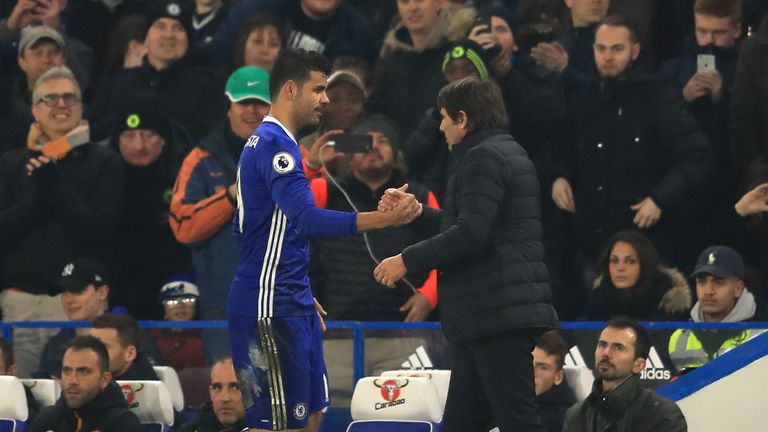 Of Chelsea's 105 substitutions this season, Michy Batshuayi has been introduced the most (17 times), while Willian has been brought off the most (17).
In his 17 appearances from the bench, Batshuayi has only played on average six minutes.