International friendly: Mexico beat Israel 3-0 in World Cup warm-up
Goalkeeper Jesus Corona had an injury scare as Mexico beat Israel 3-0 in their final home friendly before the World Cup.
Last Updated: 29/05/14 9:17am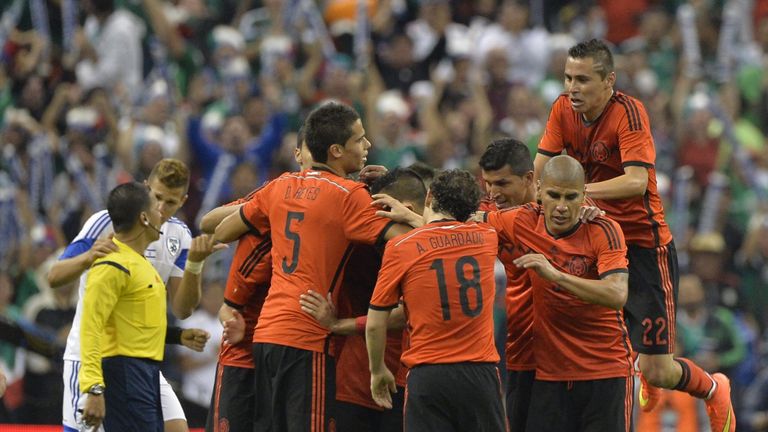 Corona collided with team-mate Francisco Rodriguez, taking a heavy blow to his face, and had to be substituted in the second half in front of a nearly-packed 105,000-capacity Azteca Stadium in Mexico City.
However, it was later confirmed Corona will be fit to travel with the team to their United States training camp.
National team director Hector Gonzalez Inarritu said: "All protocol was carried out to see if there was bruising but thank God there is nothing. He is fine."
In a match that featured iconic forward Cuauhtemoc Blanco, 41, for the opening 38 minutes, the veteran making a farewell appearance to the national team, Mexico won with two goals from Miguel Layun (42,61) - both helped by goalkeeping errors from Ariel Harush - and one from Marco Fabian (85).
Blanco, who scored 39 goals for Mexico, including three in three World Cups, was given a standing ovation at half-time as he took a victory lap.
It was Mexico's last game at home before embarking on a US tour for friendlies against Ecuador, Bosnia and Portugal.
Mexico, who beat New Zealand in a play-off to reach the World Cup, will face hosts Brazil, Croatia and Cameroon in Group A.