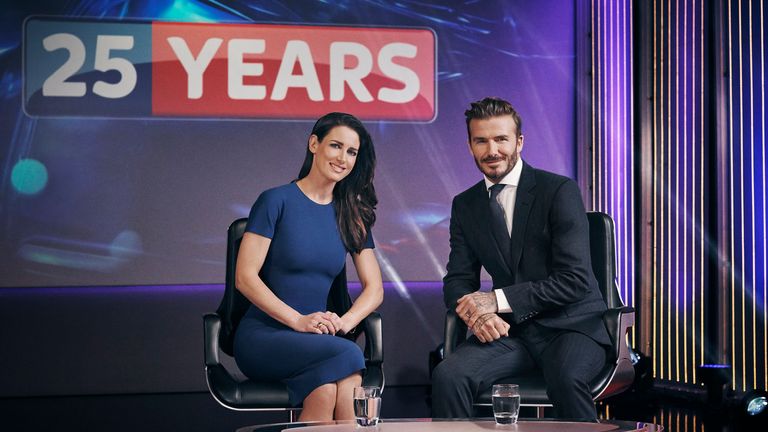 Sky will this week unveil global sports icon David Beckham as you have never seen him before - in Virtual Reality (VR).
To celebrate 25 years of Sky Sports, Beckham has filmed a special interview in VR with Kirsty Gallacher, selecting his top three Premier League goals. 
The five-minute piece will be unveiled on Friday at 1pm exclusively on Facebook 360.
Picked from his illustrious Premier League career for Manchester United, Beckham discusses what made the final three so special alongside Kirsty.
Shot by the newly established Sky VR Studios, the immersive content will allow fans to feel like they're sat next to David and Kirsty taking them behind the scenes into the studio.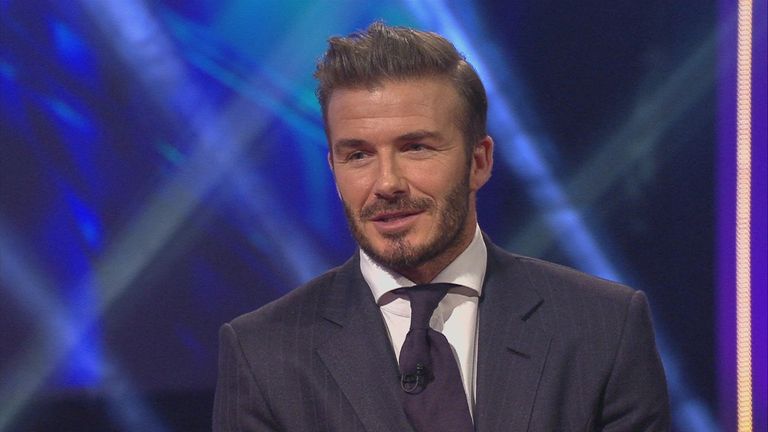 The results are stunning as the viewer will really feel they're in the studio with us.
David Beckham
This is the second exclusive with Beckham to celebrate Sky Sports' 25th anniversary, following the revelation of his top 10 sporting moments in a special programme, which is now available On Demand.
Beckham said: "Virtual Reality is incredible and it's no surprise that Sky are leading the way in this area. I really enjoyed the interview and the results are stunning as the viewer will really feel they're in the studio with us.
"Sky Sports has always set the benchmark for the quality of its sports coverage, and I'm very proud to be part of its first moves into VR."   
Neil Graham, Sky's VR executive producer, said: "This is David Beckham like you've never seen him before.
"The final interview is incredible. At Sky, we want to create VR content that puts the viewer in places they would never be able to experience.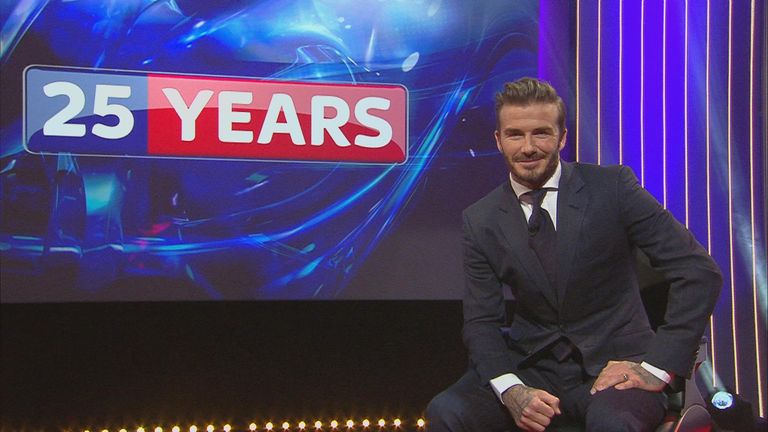 "To celebrate 25 years of Sky Sports, it made sense to bring together one of the biggest icons from the last 25 years with the latest in broadcasting technology."
Sky VR Studios over the coming year will drive the creation of cinematic, fully immersive VR content, producing more than 20 individual films, across a unique range of Sky content - from major cultural events in news to some of the biggest sporting events on the planet.
Sky Sports in partnership with Manchester City and LiveLike, a VR platform company that allows broadcasters and sports teams to deliver immersive viewing experiences, will broadcast live Premier League football in VR for the first time when Manchester City face Arsenal on May 8. This is the next phase of testing on live VR by Sky Sports.
A select number of Manchester City and Arsenal fans will be placed at the heart of the action at the Etihad, simply by donning a Virtual Reality headset.
Using VR to give sports fans a new viewing experience is the latest innovation that over the last 25 years of Sky Sports has included widescreen viewing, HD and interactive sports broadcasting, changing the ways sports are watched and covered.