Cesc Fabregas has lost his place at Chelsea and he is not involved in the Spain squad to face England on Tuesday night. Here, we look at why he has fallen out of favour under Antonio Conte and assess his chances of winning back his place in the team...
Chelsea's recent ascendancy has received plenty of coverage but the numbers bear repeating. Since October, they have won five consecutive Premier League games, scoring 16 goals without conceding and climbing from eighth to second in the table. After the chaos of last season, optimism is flooding back to Stamford Bridge.
The switch to a 3-4-3 formation has been the catalyst. Antonio Conte's three-man defence is flanked by hard-running wing-backs Victor Moses and Marcos Alonso and protected by midfield duo N'Golo Kante and Nemanja Matic, and the forward line of Eden Hazard, Pedro and Diego Costa are freed up and running riot at the other end.
It's a winning formula, but it has left Cesc Fabregas on the fringes. It's unfamiliar territory for a player who has averaged 46 appearances per season since 2004. Fabregas played a starring role in Chelsea's 2014/15 title triumph and featured in all but one of their Premier League games last year, but he has started only once under Conte. It's thrown his future into doubt.
Conte insists Fabregas remains in his plans, but there are big question marks over his suitability to the new manager's style. His single Premier League start was a case in point. He struggled badly in a three-man midfield against Arsenal. His old club exposed Chelsea's soft centre to go 3-0 up before half-time, and Fabregas suffered the ignominy of a 55th-minute substitution.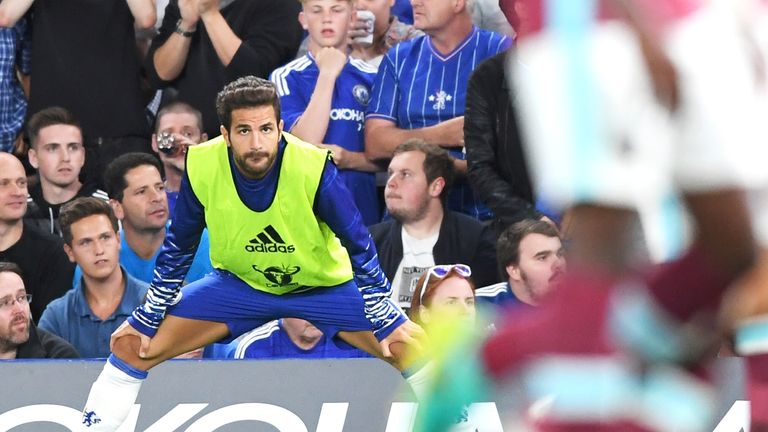 A thigh injury has kept him sidelined recently, but it was telling that Fabregas was an unused substitute in the 2-0 win over Hull City directly after the defeat to Arsenal. He watched from the bench as Oscar, Nathaniel Chalobah and Pedro made it on ahead of him at the KCOM Stadium.
Fabregas laid out the issues himself back in September. "If he doesn't play me there is always a reason," he said of Conte. "He wants the midfielders to be very complete. To be physically strong. Maybe I'm a bit more the playmaker, creative going forward, and he wants me to be a little bit more stable and compact in defence."


It's not his natural game and he knows it. The 29-year-old has few equals for vision and passing ability, but he does not fit Conte's midfield mould like Matic and Kante. The defensively-minded duo have played every minute of Chelsea's winning streak, with their power and dynamism satisfying the demands of a coach who operates at full throttle.
In his defence, Fabregas could point to the Premier League tracking data which shows he covered more distance per game (12.1km) than any other Chelsea starter last season. But Conte's aggressive pressing system demands a particular kind of intensity. It's all about explosive bursts of energy, overwhelming opponents in numbers and transitioning from defence to attack at lightning speed.
Chelsea midfielders sprinting comparison
| | | |
| --- | --- | --- |
| N'Golo Kante (2016/17) | 48.5 | 11 |
| Nemanja Matic (2016/17) | 44.2 | 11 |
| Cesc Fabregas (2015/16) | 36.8 | 1 |
| John Obi Mikel (2015/16) | 33.7 | 0 |
The relentless tempo is a challenge for some. Fabregas has already got more games in his legs than most players manage in an entire career having burst onto the scene as a 16-year-old, and while he may have ranked highly for distance in 2015/16, he was close to the bottom for sprints.
Fabregas has plenty of strengths, but speed over short distances is patently not one of them. His style contrasts with that of the all-action Kante, and it's no coincidence that John Obi Mikel, the only Chelsea midfielder who sprinted less frequently than Fabregas last season, has also slid down the pecking order under Conte.
If the Chelsea manager had reservations about Fabregas in a three-man midfield, then his prospects look even bleaker in the new formation. The former Barcelona man did flourish when paired with Matic in 2014/15, but there is less protection now. There is no space for a No 10 in the 3-4-3, and Fabregas would be exposed without that extra body in midfield.
Matic and Kante's box-to-box running sets the tempo in Conte's side, and it is perhaps even more ominous for Fabregas that Chelsea aren't struggling for creativity without him. The Blues ranked sixth for chances created in 2015/16, but this season only Liverpool and Manchester City have fashioned more openings.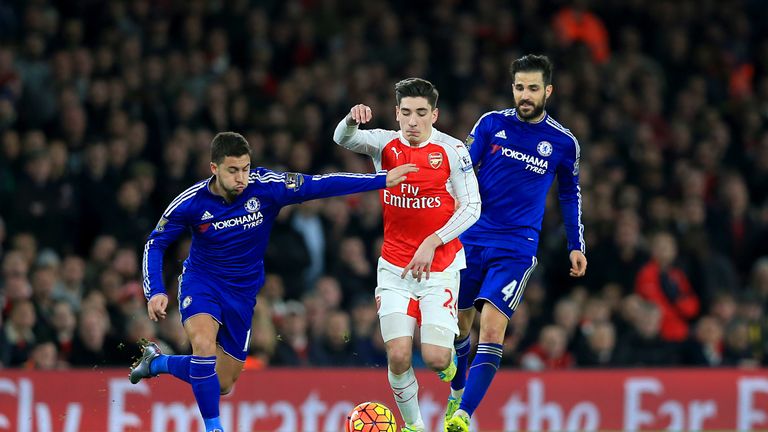 Rather than having one creative hub, Chelsea are threatening from all angles. The reinvigorated Matic has already surpassed his highest total of assists in a single season with five. Costa, Hazard and Pedro have contributed 18 goals and assists between them in the last five games. Moses and Alonso have added extra penetration from their advanced positions on the flanks.
It leaves Fabregas with a fight on his hands. His place in the team was never in doubt under Jose Mourinho and it has been that way throughout his career. But as long as Conte's formula delivers success, it's difficult to see how he gets back in. Fabregas might have to get used to life on the periphery.