How James Milner's time at Leeds United helped shape his career
By Nick Wright
Last Updated: 29/11/16 3:39pm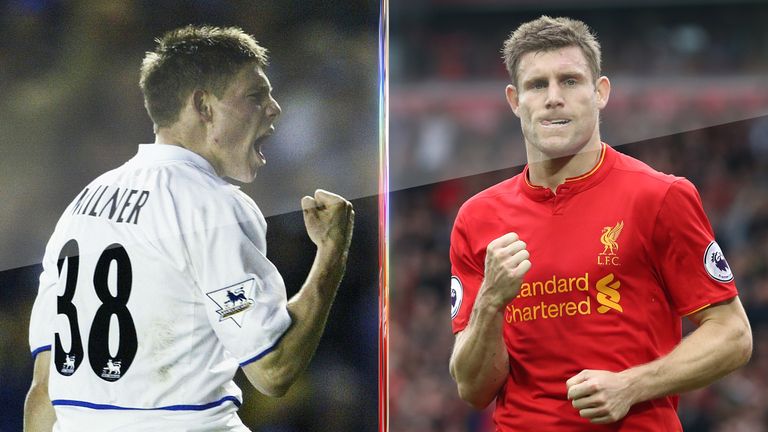 Liverpool's EFL Cup tie with Leeds United stirs special memories for James Milner. With help from one of his former team-mates, Nick Wright examines how a difficult period at Elland Road helped shape his career...
James Milner was 16 years and 356 days old when he became the youngest goalscorer in Premier League history. His darting run and near-post finish helped Leeds to a 2-1 win over Sunderland on Boxing Day in 2002, with manager Terry Venables predicting a bright future ahead. "It's not just a case of him coming through and helping out," he said. "Every day he is getting better and better."
The record was broken three years later, but Venables was proven right about Milner. The young winger scored his second goal just 48 hours after his first, hurdling a challenge from World Cup-winner Marcel Desailly and curling home an unstoppable shot in a 2-0 win over Chelsea at Elland Road.
It was the beginning of a long, fruitful career. Milner's blend of tenacity and versatility may not be glamorous, but he is now targeting his third title in his 15th consecutive season in the Premier League. He has amassed nearly 600 appearances for five of the country's biggest clubs, and his reinvention as Liverpool's left-back suggests he has a long time left at the top.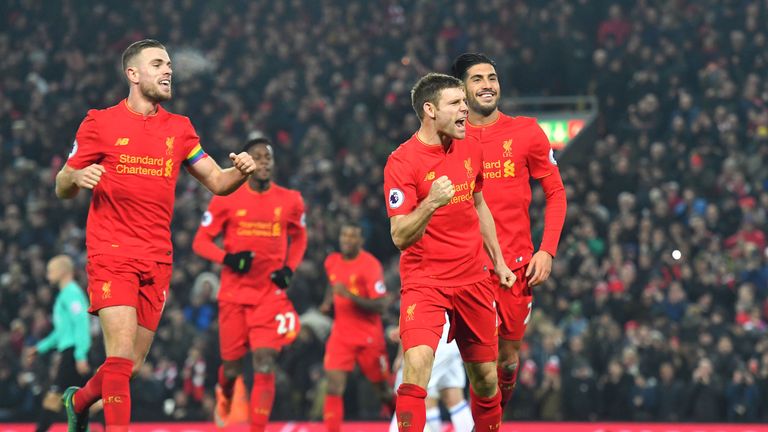 Milner's importance to Jurgen Klopp's side means he is unlikely to start against his boyhood club on Tuesday, but it is still a special occasion for Liverpool's No 7. Milner was a local lad who joined Leeds at the age of 10. He was only 18 when they were forced to sell him to Newcastle, but those fleeting years in the first team were the making of him.
Former defender Michael Duberry remembers when he made the step up. "He was this little spotty-faced kid who had a lot of energy," he tells Sky Sports. "He was a good crosser of the ball, he was fast and he kept his head down. You noticed him on the pitch but you didn't really notice him off it. He wasn't a flash kid. He just wanted to play football."
It wasn't an easy environment for a young player to step into. Leeds had finished each of the last five seasons in the top five, but a dismal run of one win from 11 games had left them hovering above the relegation zone. The pressure was on, and Milner was walking into a dressing room full of experienced stars who had reached the Champions League semi-finals a little over a year earlier.
You noticed him on the pitch but you didn't really notice him off it. He wasn't a flash kid. He just wanted to play football.
Michael Duberry on James Milner
"There were a lot of big personalities in the squad at the time," says Duberry. "We had players like Mark Viduka, Gary Kelly, Jason Wilcox and Robbie Fowler, but Milner wasn't fazed. He was determined to play for the first team and he wanted to do well. He listened and soaked up knowledge. That's a big part of why he's had such a successful career. It was all about football."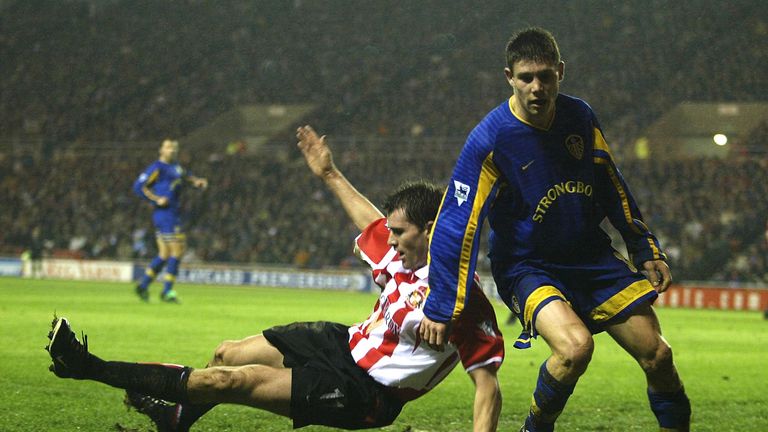 There's a parody Twitter account with over half a million followers dedicated to poking fun at Milner's grounded personality, but that unflappable professionalism was vital to his development at Leeds. As Duberry recalls, it would have been easy to take a different path.
"He was so focused," he says. "There were no distractions for him. Leeds had quite a flamboyant nightlife. Some of us senior players embarked on that side of things - some might say too much - but he never got involved. It was football and home, football and home. That was what he wanted and he has reaped the rewards."
Leeds eventually finished the 2002/03 season in 15th place, but they suffered relegation the following year. Milner's performances were a rare bright spot. He made 30 Premier League appearances and scored three goals. According to Duberry, the experience was an invaluable learning curve for the youngster.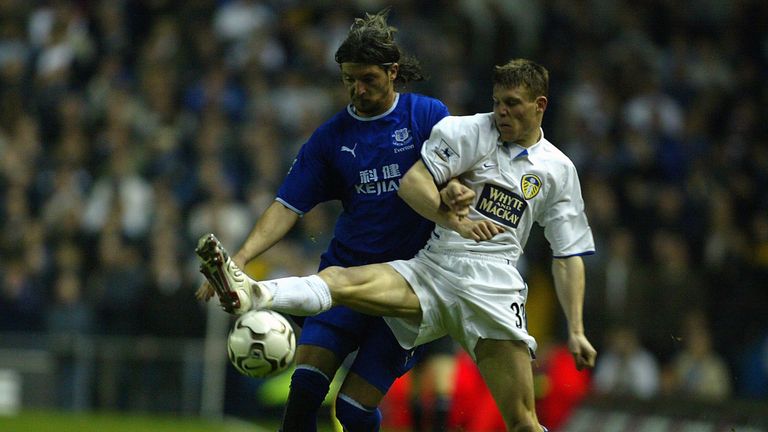 "He saw the other side of football," he says. "It's good to sample the other side of it so early. It showed that he could swim, he didn't sink. He rose above all the situations at the club and his football never suffered. He just continued to improve. It showed his mental strength."
That mental strength and dedication has formed the basis of his career. From Venables to Klopp, Milner has been trusted by every manager he has played for. Manuel Pellegrini described him as a "phenomenon" at Manchester City, while Klopp called him a "complete footballer" and "perfect professional" after his first match in charge of Liverpool.
But not everyone sees him in a positive light. "In this modern age of social media, he doesn't carry that X-factor personality," says Duberry. "Everyone gives him stick but the fact he can do so many different jobs is a credit to him. He doesn't get the plaudits but he's very underrated. He's played at the highest level for some of the biggest clubs in England and he's performed week-in, week-out."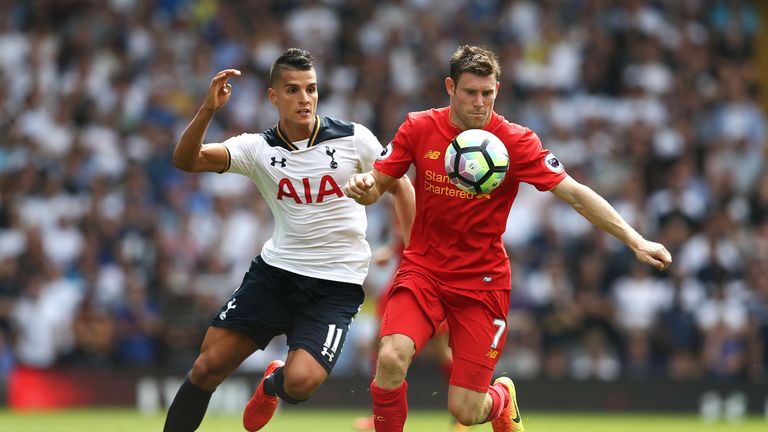 Perhaps Milner's thrilling breakthrough at Leeds raised the bar too highly, but there aren't many players who could master an entirely new position at a top Premier League club at the age of 30. Milner is still learning, still getting better, and it is telling that his former coaches and team-mates speak about him in such glowing terms.
Leeds supporters value his contribution, too. Milner may have only spent two seasons in the first team, but he left with a heavy heart and he has carried the lessons from his boyhood club with him. Fourteen years on from that historic strike against Sunderland, Tuesday's game is reminder of how far that "spotty-faced kid" has come - and how far he still has left to go.
Upgrade to Sky Sports now and get 12 months half price. Hurry, offer ends December 4th!