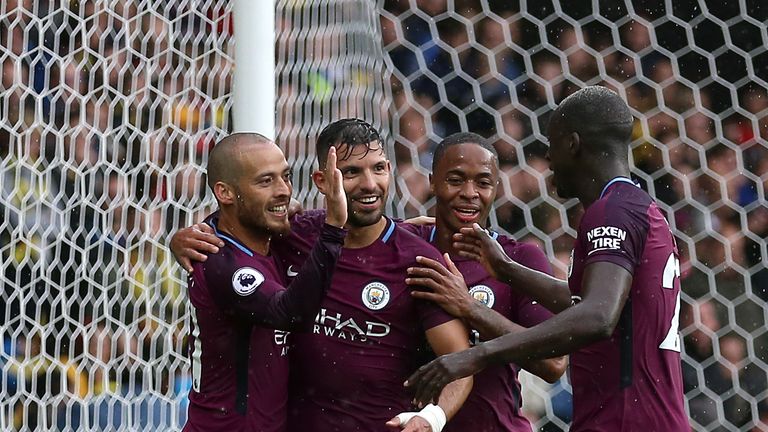 Did your Premier League team live up to expectations this weekend?
We've asked Sky Sports Now guest Ray Wilkins to give each side a grade, based purely on their weekend performance.
So, how did your team fare? Did they get a stunning A*, an awful F, or something in between? Read on to find out...
Manchester City - A+
It was a wonderful performance from City. I was saying only last week that I thought the trip to Watford might be a tricky game for them. Watford have started the season well and have big, physical players, while City are diminutive, quick and fierce on the counter-attack. But they didn't have any problems and to score six goals in any game now is a remarkable achievement. And they could've scored more which is frightening. Going forward they look like an extremely potent force which will be difficult to stop. However, they do still have that soft underbelly at the back. Richarlison should have really put Watford ahead early on but once you don't score that, City will always come at you and will hurt you.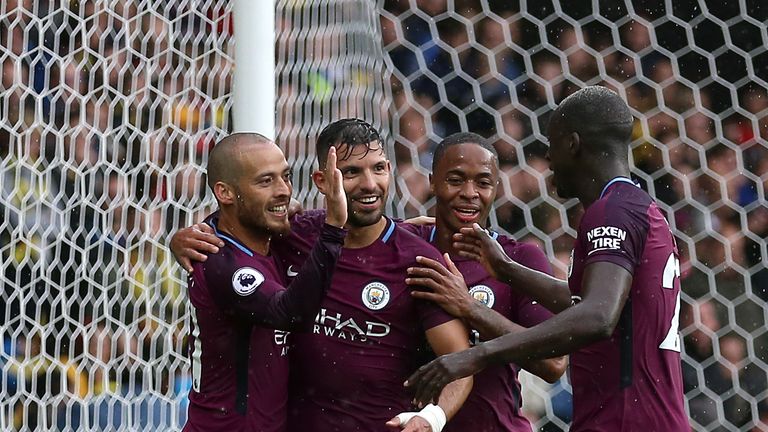 Manchester United - A
It wasn't Manchester United's best performance but last season these were the games they weren't winning. I still don't think United are playing to their maximum at the moment but the results are still coming which is promising. The loss of Paul Pogba is a big blow for them but nevertheless, they still managed to score four without him against Everton. The goals came at the death again but a game of football is played over 90 minutes and you have to keep cracking away. United get an A for another four goals.
Newcastle - A
To win three games on the spin in the Premier League is no mean feat. The game at Swansea last week was probably one of the worst games I've seen for a long time but nevertheless, they got the three points through Jamaal Lascelles' header and he scored exactly the same header against Stoke. He won't get that freedom again next time he plays but the wins have got St James' Park rocking again. The atmosphere, I believe, was incredible at Newcastle on Saturday and once that place is rocking it will raise the level of the players. It was a fantastic win for Rafael Benitez and his side, and they had the chances to make it even more comprehensive.
Bournemouth - A
It was a much-needed win for Eddie Howe and his side, especially at home. The first win is always important because it sets the momentum going and gives you the belief that you can go on to do something. Also, coming from a goal behind was very good for them because normally when you are on a bad run and you go a goal behind, you start to think here we go again. But they came through that with Jermain Defoe grabbing the winner. The goal was beautifully made by Jordon Ibe and the finish is Defoe all over. If you give him that opportunity then the ball is going to end up in the back of the net.
Arsenal - A
Where did that performance come from? Their work ethic was different class and they were extremely well organised. Granit Xhaka was sitting in that midfield area, allowing Aaron Ramsey to go and do what he does best. You also had the workhorses on the flanks and Sead Kolasinac looks a bit of a beast to me. He looks an excellent player and getting him on a free transfer is a real bonus. They created a number of really good chances and should've scored. I was really impressed with them.
Burnley - A
Burnley managed only seven points away from home from the last campaign and it was their home form that kept them up. But after brilliant performances at Chelsea, Tottenham and Liverpool they are already nearly at that total with five points and it's a remarkable effort from Sean Dyche and his men. They are doing a wonderful job and defensively they work their socks off for each other. I have to give them an A because for any team to go to Anfield and pick up a point against an extremely offensive team, it's a brilliant achievement.
Southampton - A-
It's was a great result for Southampton at Crystal Palace. To get any victory away from home in the Premier League is a terrific feat and it will be a victory that starts to build a little bit of confidence for Mauricio Pellegrino and his side.
Swansea - B+
Swansea wanted a bore draw and that's what they got. They packed their defence and made it so tough for Tottenham to break them down. Anyone playing Spurs at the moment away from home has to be defensively sound and Paul Clement has obviously worked with his players all week, getting them very well drilled at the back. And the hard work paid off so good luck to them.
West Ham - B+
Facing any Tony Pulis side at home is a danger. West Ham would have gone there thinking they would have to be on their mettle for set plays, and to come away with a draw they certainly were. It's a great point for West Ham because for me, The Hawthorns is developing into one of the hardest places to go in the Premier League.
West Brom - B
West Brom haven't quite hit their stride yet this season. They would have been eyeing up all three points at home to West Ham, but it's not quite clicking for them yet.
Huddersfield - B
I really fancied Leicester to win this game, especially with their prowess on the counter-attack. However, they came up against a side very similar to themselves. Huddersfield worked extremely hard on Saturday and they got their reward with a point. Tom Ince is starting to come into his own which is a real positive for David Wagner. They have a really strong work ethic and are starting to build a strong home record. I've been really impressed so far.
Leicester - B
Leicester might have wanted more than a point on Saturday, especially after the chance Jamie Vardy missed. He's not going to get an easier chance than that all season. He got his feet in a tangle and doesn't even make contact. Any contact whatsoever and it's a goal so Craig Shakespeare and his side will come away very disappointed they didn't get more out of the game.
Brighton - B
Brighton were in the game for long periods of time and defended very well, but a couple of lapses in concentration cost them dear. Chris Hughton's side are finding out quite quickly the difference between the Premier League and the Championship. In the Championship you might get away with a slight lapse of concentration, however, in the Premier League you can forget about it.
Liverpool - B-
Saturday's game is the story of Liverpool's season so far. They are creating bundles and bundles of chances, as you would expect with the attacking players they have, but they just can't keep a clean sheet. It's a problem that's causing them no end of problems. The same happened against Sevilla in the week and they did it again on Saturday. People will look to the 35 chances they had on goal but it doesn't matter if you have 135, the ball has to find the back of the net. They are just not converting the chances they are creating at the moment and that's got to be a concern for Klopp, especially with the way his defence is performing.
Stoke - C
Stoke have better players than their current position in the league states. It could have been different for Mark Hughes' side on Saturday because they missed a couple of brilliant chances right at the death to get themselves back in it. To be perfectly honest, I didn't fancy them to lose at St James' Park so it's a C.
Tottenham - C
It was a difficult game for Tottenham. Even with the quality that Mauricio Pochettino has at his disposal, Spurs struggled to break down the packed defence of Swansea. It's the first time in a long time Spurs have failed to score at home and they'll be extremely disappointed with that.
Chelsea - C
Chelsea started well and if Pedro takes his early chance, then I believe they go on to win the game comfortably. However, it didn't quite happen for them and Arsenal dominated the rest of the game. I expected Chelsea to beat Arsenal but it wasn't the best performance I've seen from Antonio Conte's side.
Crystal Palace - C-
We were probably expecting a reaction from Crystal Palace. The reaction you are looking for is one of sheer effort, grit and determination. Forget the playing side of it for a second, you want to see players putting in a real shift for the new manager and I thought Palace did that. However, it's pretty evident watching them play they are a side really lacking in confidence. The reintroduction of Wilfried Zaha will help them immensely and I think we'll see Roy Hodgson change the way they play. They'll start getting the ball forward much quicker and get more crosses in from the wide areas. The next three games in the league are a nightmare for Palace. Hodgson couldn't have picked three worse games if he tried so it's going to be difficult.
Everton - C-
I'm not going to mention the financial aspect when talking about Everton because I don't think it's fair. When a star player leaves you have to reinforce the squad and that's what Ronald Koeman has tried to do. It's been a difficult start for them though. When you watch a team that is really struggling you look at their work ethic first and foremost. It looks like Everton are getting very despondent very quickly. If they go a goal behind it's as if the game is done and dusted. That can't happen and it's something they need to address. If you go a goal behind, you have to pick yourselves up, dust yourselves off and have a go at getting back into the game. Koeman needs his big players to stand up and be counted because the senior players are the ones that make the club. Don Howe once said to me a football club is only as good as its senior pros and from that day I've remembered those words, and he's spot on.
Watford - D
Watford have started the season well and the City games is one they must put behind them and forget about. The game's gone and they have got to remember it's not City they have to finish above in the league this season to have a successful season. However, a 6-0 defeat is never good so it has to be a D.