Why are Arsenal and Liverpool effectively out of the Premier League title race?
By Tim Clement
Last Updated: 21/12/17 11:01pm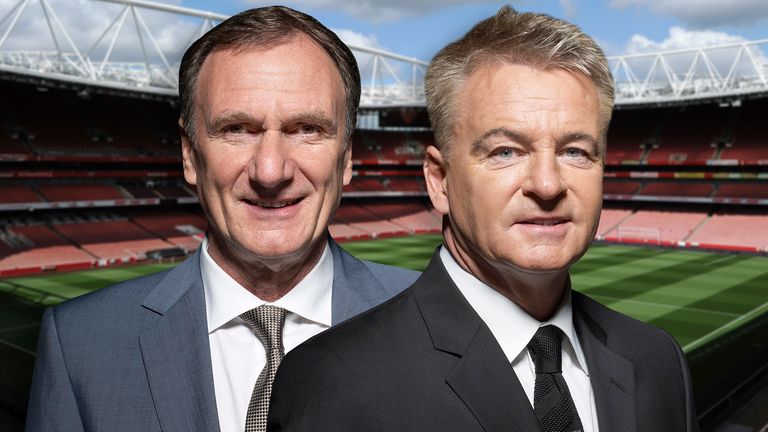 Arsenal and Liverpool head into Friday night's clash, live on Sky Sports Premier League, with a place in the top four on the line - but why have they not sustained Premier League title pushes?
Manchester City's stunning form aside, that is the question we pitched to two club legends, Charlie Nicholas and Phil Thompson, as their former sides sit almost 20 points off the pace.
Both teams have conceded 20 goals already this season, but Thommo insists his old outfit have fewer issues to deal with than the Gunners.
He told Sky Sports: "Both sides have very talented attacking players but I would say Arsenal's attacking threat hasn't been as cohesive.
"They have been blighted by what has been going on off the field with Alexis Sanchez and Mesut Ozil. There's also Theo Walcott and Jack Wilshere's futures up in the air which must be damaging the harmony off the pitch.
"We've had a little bit of that with Philippe Coutinho but he seems to have settled down so our issues are easier resolved and we've been a lot better at home defensively, so it is just our away form really."
Nicholas echoes Thommo's views on Arsenal's defensive vulnerability and feels that Liverpool are also the league's second-best attacking force.
He added: "Liverpool are not great defensively away from home, Arsenal are not good at defending at all.
"Nacho Monreal can't play central, Hector Bellerin has never progressed as a defender and Laurent Koscielny, who is supposed to be our best defender, cannot be relied upon.
"We were asked by Jeff Stelling whether Arsenal were playing top-four football last weekend and I said 'no, they are playing top-six football because of that defence'.
"Liverpool have the second-best attacking unit in the league for me. Arsenal don't create enough for Alexandre Lacazette and are less of a threat from the edge of the box.
"Alexis Sanchez is frustrating the life out of me and I'd like to see Danny Welbeck start on Friday to move their defence around because that's when you can really expose them."
Thommo is willing to go a step further and suggest Jurgen Klopp's 'Fab Four' is as good as the runaway leaders' forward line.
He added: "It is difficult to say we're better than Manchester City given the way they are playing but if we had as good a defence as their's then we'd be up there because our attack is as good as anybody's."
While the club legends struggle to look past their former sides' respective flaws, they are certainly in agreement that goals should be on the cards for the Sky Sports cameras on Friday, providing us with an intriguing and unpredictable Emirates Stadium showdown.