The next big thing? Football Whispers identifies five emerging U23 talents
By Ryan Baldi, Football Whispers
Last Updated: 07/03/18 8:50am
In an era of continent-wide transfer market inflation, a race has begun among clubs as they seek to identify and sign 'the next big thing' before their rivals.
Having seen the fees demanded for established world-class stars skyrocket, the emphasis on picking up young, high-potential players and developing them is greater than ever.
With the help of Football Whispers' Player Performance algorithm, which analyses key statistics for all phases of play to assign each individual a rating out of 100, we have identified five of the hottest talents, aged 23 or under, to burst on to the scene in a big way in the last two seasons.
Sergej Milinkovic-Savic (Lazio)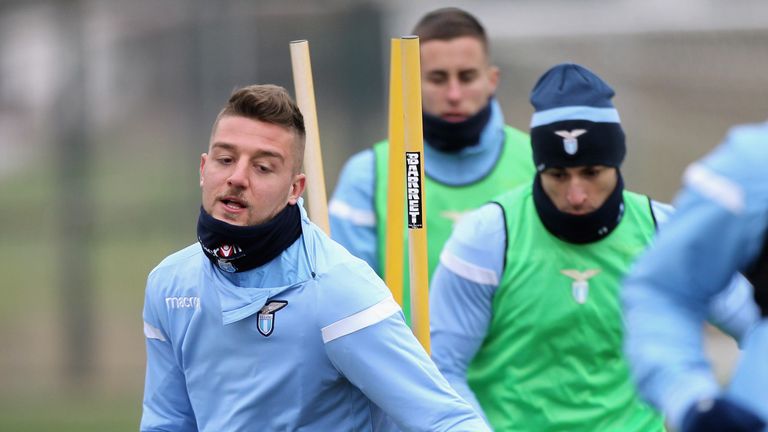 Sergej Milinkovic-Savic has become the toast of Serie A over the last two seasons, starring for Lazio in a box-to-box role and attracting interest from many of Europe's elite sides.
Football Whispers' Player Performance algorithm has given Milinkovic-Savic a score of 85, ranking him second in the list of midfielders in Italy's top flight.
What makes Milinkovic-Savic such a special talent is, well, everything; when it comes to the attributes desirable in a top-class central midfielder, the 23-year-old can do it all.
The 6ft 4ins Serie A standout is responsible defensively, showing strong ball-recovery skills with three combined tackles and interceptions per 90 minutes this season, while also a key contributor in attack, netting nine league goals and registering two assists for the Biancoceleste.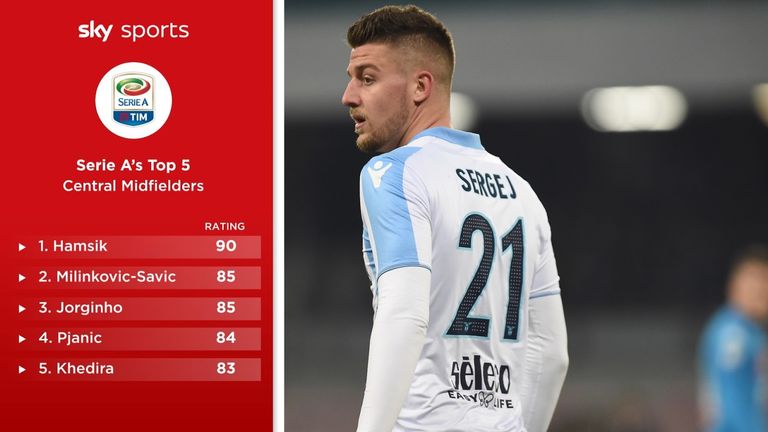 Stationed in central midfield, Milinkovic-Savic is one of the finest transition instigators in Europe, winning the ball in deep zones and launching his side forward with incisive, defence-splitting passes or powerful dribbles.
Likened by many to Manchester United's Paul Pogba, who also shone in Italy at the same age, Milinkovic-Savic is blessed with similar improvisational creative skills as the Frenchman.
Indeed, this season, the Lazio man is averaging more open-play key passes per 90 minutes than Pogba (1.52 to 1.35) and creating more big chances per 90 (0.3 to 0.11).
The Manchester United transfer target, who is also wanted by Paris Saint-Germain and Manchester City to name a few, has ball-winning prowess and the ability to progress possession through midfield - he could be the perfect counterbalance to Pogba at Old Trafford.
David Neres (Ajax)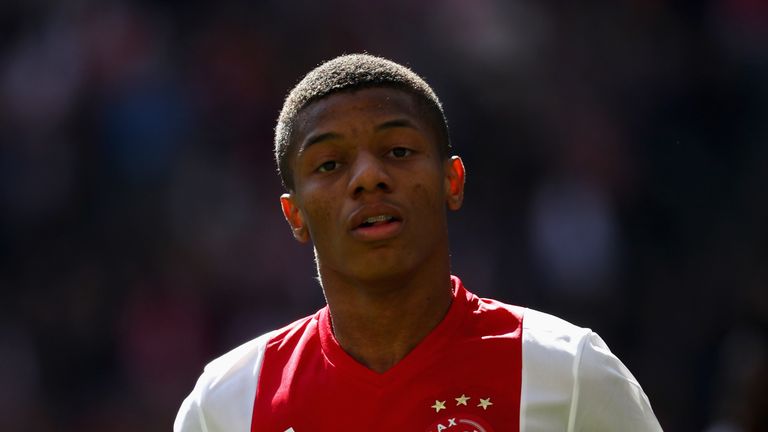 With nine goals and nine assists from 24 Eredivisie appearances this season, Ajax winger David Neres has come to the attention of scouts across Europe.
With a score of 83 from the Player Performance algorithm, the 20-year-old Brazilian attacker ranks in the top five players in the Dutch top flight and would cost around £30m according to Football Whispers' Transfer Value model.
Neres' statistics have been so impressive this season, in fact, that his rating could have been much higher were in not for the fact the algorithm factors in league quality, meaning his performances have been contextualised with regards to the Eredivisie.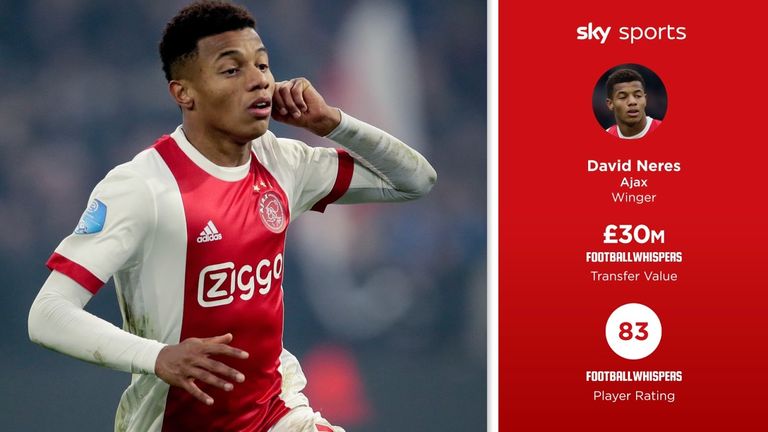 Signed from Sao Paulo for £10m in January 2017, Neres was afforded a six-month adjustment period upon moving to Holland, initially splitting his time between Ajax's youth and senior sides.
This has allowed the Brazil U20 star to hit the ground running this term, directly contributing to a goal, as scorer or creator, every 104.28 minutes.
Although he starts on the right flank, Neres is predominantly left-footed, regularly looking to cut inside and threaten goal. Characterised by his dribbling skills, crossing and ability to carve out chances, the youngster has been likened to compatriot Neymar.
Federico Chiesa (Fiorentina)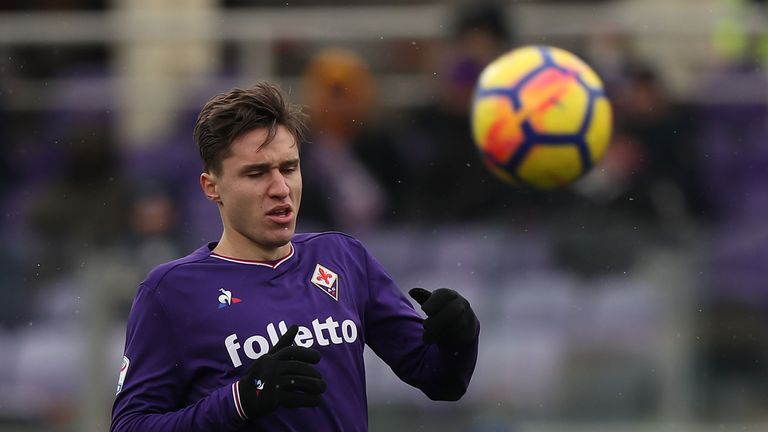 Federico Chiesa became a regular feature of Fiorentina's line-up last season and is regarded as one of the hottest properties in Serie A.
The 20-year-old has a Player Performance score of 81 but that will certainly increase as the season progresses, with the forward already showing impressive intelligence and positional maturity for someone so young.
Capable of playing centrally as a secondary striker, Chiesa finds most of his game time wide on either flank. He's started 24 of La Viola's 26 league games this season, helping fill the void left by Federico Bernardeschi's summer departure for Juventus.
Stylistically, Chiesa is a different breed of wide player to Neres, for example, completing far fewer dribbles per 90 than the Brazilian (1.9 to 4.25), but therefore dispossessed less often (2.5 times per 90 to 3.2). Instead, Chiesa is more of a volume winger, focussing on supplying a high output of crosses (3.3 per 90) and shots (3.5 per 90).
Able to play anywhere across the frontline, Chiesa's versatility makes him an attractive prospect and valued at £35m by Football Whispers, makes him a viable option for many of Europe's top clubs.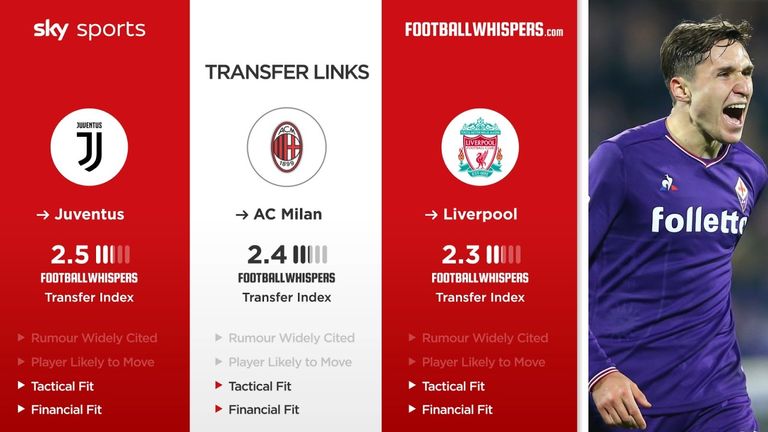 Houssem Aouar (Lyon)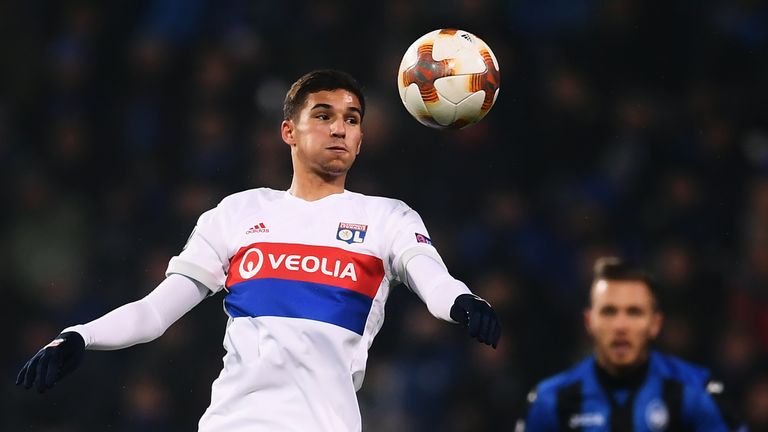 When a 19-year-old midfielder, playing his first full season at senior level, is being hailed as the heir apparent to Barcelona legend Andres Iniesta, you know they're doing something right.
Houssem Aouar only made his professional debut at the tail end of last season, but the teenager's form when given opportunities this term has seen him become one of Lyon's key players.
Featuring in 23 of Lyon's 28 Ligue 1 games, Aouar has shown himself to be comfortable in several roles - dictating tempo when fielded deep in a double pivot, a threat when breaking forward from a midfield three, and a dynamic dribbler when playing on the left wing.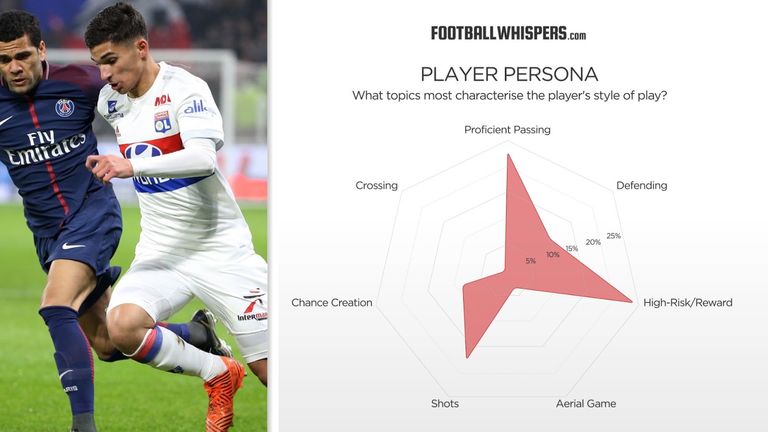 Aouar's rating of 81 indicates a high level of current ability, while the France Under-21 international has the potential to break the 90 barrier in Football Whispers' Player Performance model in the future.
A proficient passer - he has made 57.3 passes per 90 and one open-play key pass per game this season - with the ability to drift away from his marker, owing to excellent close control and dribbling skill, the Iniesta comparisons hold weight; it's no surprise Barcelona are thought to be monitoring the youngster's progress closely.
Malang Sarr (Nice)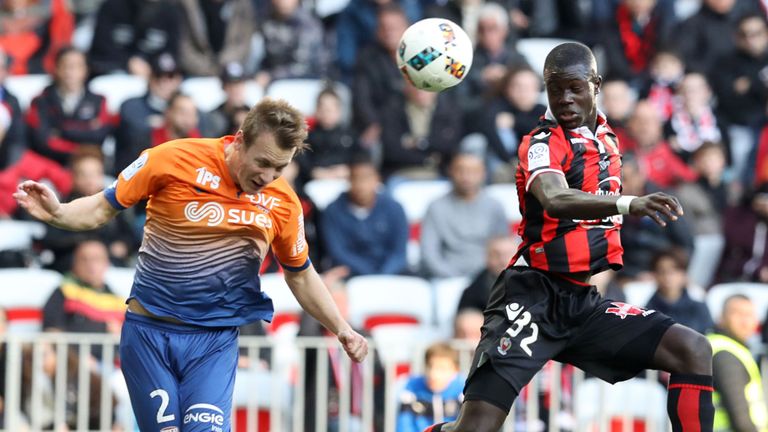 First earning acclaim in Nice's rise to third in Ligue 1 last season, Malang Sarr is regarded as one of the most promising central defenders in Europe.
The 19-year-old, rated 79 by the Player Performance algorithm, has shown a maturity and adaptability beyond his years since becoming a regular at the Allianz Riviera, able to play as a centre-back in either a back four or back three, as well as filling in at left-back when required.
Standing a shade under 6ft, Sarr isn't a huge physical presence at the back, but he is combative and reads the game well, making 1.58 tackles and 2.33 interceptions per 90 in the French top flight this season.
His most impressive attribute, however, and one which has become a prerequisite for modern centre-backs, is his progressive passing. Sarr, on average, attempts 64.5 passes per 90, completing 89%. But it is the fact he averages 30.16 forward passes per 90 that really makes him stand out, an output comparable to John Stones (30.58), for example, and greater than the likes of David Luiz (17.44) and Virgil van Dijk (19.86).
You can read more data-led and analytical football content at Football Whispers' website