Ref Watch: Dermot Gallagher's verdict on Manchester United v Liverpool
By Ron Walker
Last Updated: 12/03/18 6:46pm
A Marcus Rashford double saw Manchester United run out 2-1 winners over Liverpool on Saturday, but should the Reds have had a penalty at Old Trafford? Dermot Gallagher has his say in this week's Ref Watch.
Sadio Mane was calling for a spot-kick when he went over a Marouane Fellaini tackle in the United box, while the ball also struck Antonio Valencia's arm in another incident inside the area.
Away from Old Trafford, Bournemouth and Crystal Palace had goals controversially ruled out, and Swansea were left pleading for a red card for a Florent Hadergjonaj foul having seen their own man, Jordan Ayew, sent off in similar circumstances.
Incident: Should Liverpool have been awarded a penalty for a handball by Antonio Valencia?
Dermot's verdict: Because of the positioning of his arm, no penalty.
Dermot says: Someone said to me on Saturday the ball's come a long way. The ball has come a long way but his arm is very, very tight to his body. It's struck his arm, there's no doubt about that. But I don't think there was any intention to handle that ball.
Incident: Sadio Mane tangles with Marouane Fellaini in the Manchester United box.
Dermot's verdict: Mane initiates contact with Fellaini, no penalty.
Dermot says: I think Mane actually goes into the back of him. I think Mane puts his leg in, he puts his leg down and I'd have been surprised if that had been given. I think they just collide.
Incident: Callum Wilson's goal to make it 2-2 is ruled out for an alleged foul on Davison Sanchez.
Dermot's verdict: A harsh call without enough contact for a foul, but it looks like a foul from some angles.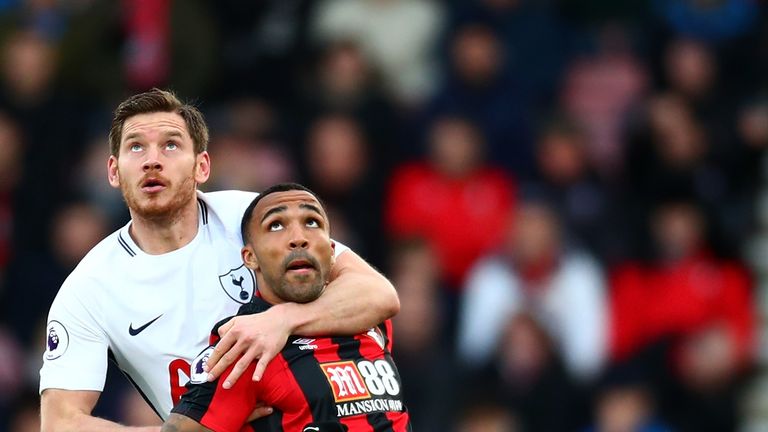 Dermot says: I thought it was harsh. It depends where you watch it from. From some shots it looks very, very harsh. The minute Mike Dean sees it he gives a free-kick. But from one angle, it looks a foul.
Incident: The ball strikes Aaron Lennon as Burnley cross it into the West Ham box.
Dermot's verdict: No penalty, because Aaron Lennon is so close to the cross.
Dermot says: It's very, very close to him, the ball's going very quickly, and ti's hit him. Last season you could see that given but the biggest improvement in consistency this season is referees judging handball. Everyone thinks that's a pnelayt, that isn't, and I think that's good. We've got such clear guidance.
Incident: Alexander Sorloth scores following a Palace free-kick, but the whistle has already gone for a high foot from Jairo Riedewald.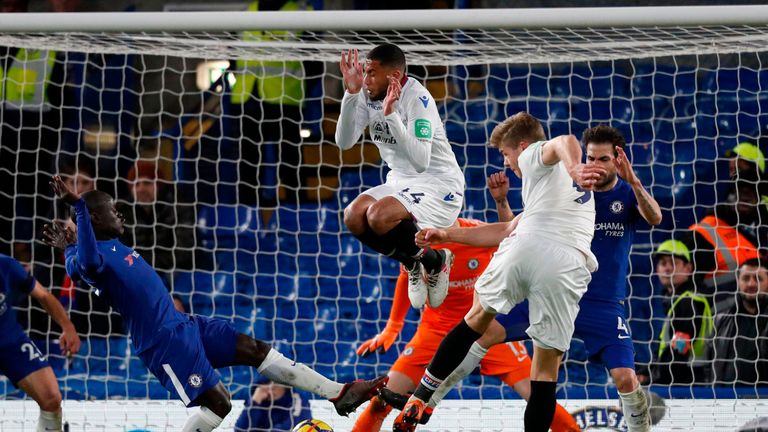 Dermot's verdict: The referee made the right call, with players' safety in mind.
Dermot says: Everyone says to me that's really harsh. But when you look at it, when he makes the challenge, the boot is high, he goes to take it away but it's already up there.
I think when a referee sees a player's boot and a player's head he instantly blows the whistle, which he did, long before it gets knocked into the net. I think in that situation, the referee's first thought is to protect the player.
Incident: Jordan Ayew is sent off for a high challenge on Jonathan Hogg, where the Huddersfield midfielder also appears to lead with his studs.
Dermot's verdict: A clear red card for Ayew, whereas Hogg saves himself by moving his leg down at the final moment.
Dermot says: It could theoretically have been both off. But when you look at it, what happens is both go in high, but Hogg brings his foot down, his foot is low, it's a trailing leg planted and Ayew hits him on the knee.
Incident: Florent Hadergjonaj fouls Ki Seung-yueng with his studs up and going into the Swansea player's shinpad, and is given a yellow card.
Dermot's verdict: Hadergjonaj is saved by bringing down his leg late on before he makes contact.
Dermot says: All I can think here is that the fact it's so low saved him. It would've been so so easy to say well look that one was that one, this is this one but it's not the same as putting your studs into someone's knee. It's caught him on the shin.