Chris Powell says there is a lost generation of black coaches
By Sky Sports News
Last Updated: 22/03/18 11:36pm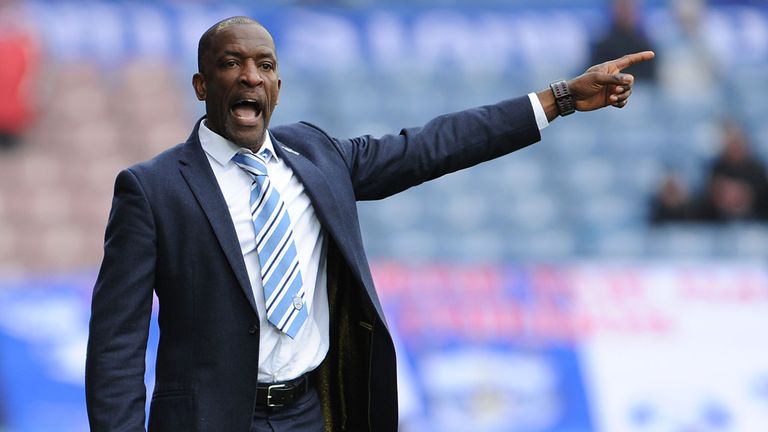 Southend manager Chris Powell has spoken of a "lost generation" of black players who were not given the opportunity to coach once they retired from the game.
The FA announced in January it would follow the example set by the English Football League (EFL) and introduce a version of American football's 'Rooney Rule', a requirement to interview at least one black, Asian and minority ethnic (BAME) candidate for every coaching position at their St George's Park base.
This week, the FA revealed an ambition for a BAME coach, assistant manager or manager to work with each of its 28 national sides.
Powell sees that move as a positive step for the future but insisted attitudes must change to ensure players from BAME backgrounds are given the opportunity to move into coaching.
"If we think it's something serious, we all have a role to play in trying to implement it at every level," he said.
"It's mandatory in the English Football League at academy level so if it works there, why don't we look to encourage it at senior level, to encourage men and women, of all backgrounds, to coach and manage?
"As a black manager, I understand my role in trying to do my job correctly and to inspire others to make a career out of the game.
"I do feel there has been a lost generation of coaches, which shouldn't happen again. We lost some quality players, who, at the end of their careers, felt they wouldn't get an opportunity."
Powell has been linked to a possible role in the England set-up under his former Crystal Palace team-mate Gareth Southgate, although he believes it is simply important that BAME coaches are given the opportunity to impress.
"I think now, in regard to diversity and inclusion, it's a no-brainer," he added. "Everyone in football has a role to play in trying to make sure we don't lose good people.
"I think it [the FA] is trying to encourage others that there is a pathway, that you can coach at the highest level. Whether it's me or not, it's a really positive step because it can only help."