Why did Uruguay support Luis Suarez after 2014 bite?
It's a matter of culture, footballing DNA and FIFA, according to Uruguayan journalist Pablo Benitez
Last Updated: 15/06/18 12:39pm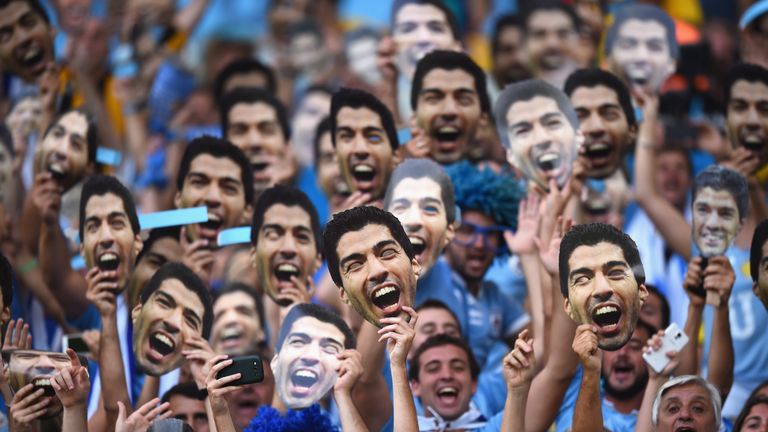 After David Beckham's sending off against Argentina at the 1998 World Cup, one pub in South Norwood tried to sum up the public feeling.
A mannequin, dressed in a 'Beckham 7' shirt and a sarong, was hung by a noose from a piece of scaffolding. It was brutal, as the nation blamed "one stupid boy" for letting down "10 heroic lions."
"If the damn fool hadn't lashed out in that stupid, stupid way, we'd still be in it - charging towards glory," read another line in the Daily Mirror days later.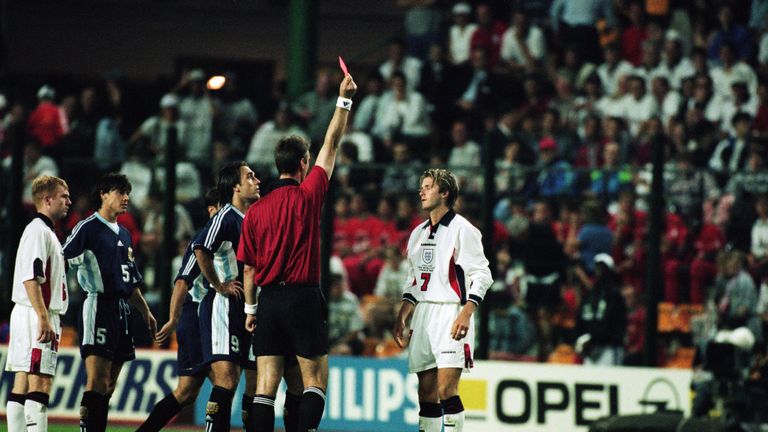 Those words accompanied a cut-out dartboard. Beckham's face was the bullseye, alongside Posh Spice in the No 4 section, also flanked by former Argentine president Leopoldo Galtieri in 13 and Scottish politician Robin Cook in 18. Beckham was public enemy No 1.
It was over the top, but so is the cycle of passion, hype, disappointment and inevitable blame which often surrounds the World Cup.
Why then, when Luis Suarez lashed out in a stupid, stupid way to ruin his country's chances four years ago in Brazil, didn't the majority of Uruguay feel let down? Why didn't they crucify Suarez for a disgusting act?
Fans of Suarez, whose attempts to take a chunk out of Giorgio Chiellini's shoulder in Natal on June 24, 2014 left him with a nine-match international ban, could not even claim it was out of character. Yet the support for their man was ardent.
Why? Well, it's a matter of culture, football DNA and Sepp Blatter.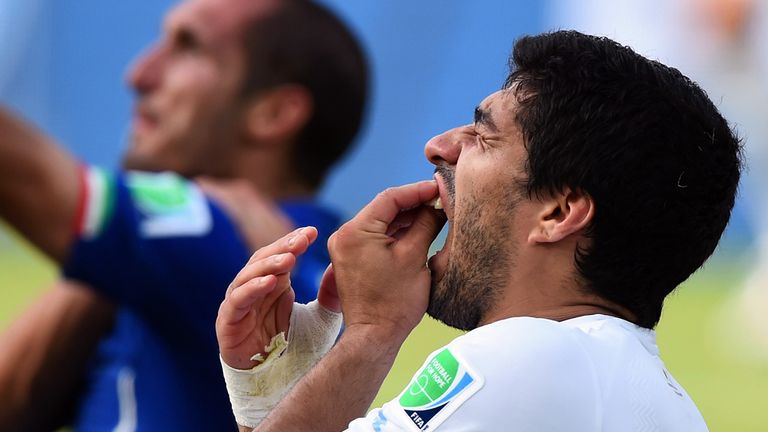 Few blamed Suarez for letting down the team, who would go on to lose against Colombia in the last 16 in Brazil, but others even denied the bite, despite damning television evidence.
Uruguayans adore their football, just as the English, but, according to Uruguayan journalist Pablo Benitez, they love their players more than the game itself. The culture of football in a country with such a rich World Cup tradition, the most successful soccer nation per capita, is complex.
"At the bottom of everything, for us, we appreciate football as life itself," says Benitez. "Football is part of our culture, we live as we play. We understand Suarez's behaviour because it is the way we play football.
"Most of our players come from a poor childhood and football is a way to get social inclusion, to emerge from poverty, to help the family. They grow with that sensation on the field. Just like our culture, the DNA of the Uruguayan player is someone who plays with all his strength until the end."
Benitez explained how at the World Cup in Chile in 1962, Eliseo Alvarez attempted to continue playing with a broken leg against Soviet Union. Heroic, but not exactly comparable to Suarez's bite. According to Benitez, Suarez was spared the vitriol because he, as a player, mirrors that spirit.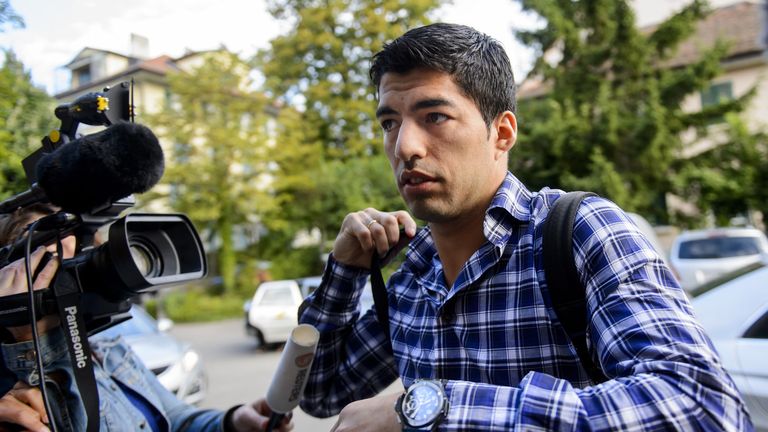 "You can miss a pass, a goal or make technical mistakes. But you can never give up. Never. And that's Luis Suarez. He's not the best with the ball, he's neither the fastest nor the most skilful, but he is determined. They denied the bite at first and then forgave him because we feel football like Luis Suarez does."
Then there's the matter of Blatter.
Suarez was ruled out of the rest of the World Cup and fined £65,680, the biggest ban in World Cup history. The punishment did not match the offence, Uruguayans argued.
Their FA president Wilmar Valdez said: "I have seen more aggressive incidents recently. It is a severe punishment. I don't know exactly which arguments they used but it is a tough punishment for Suarez."
On the whole, the Uruguayan public agreed, and many felt the nation were being punished by Blatter, FIFA and Co for previous misdemeanours.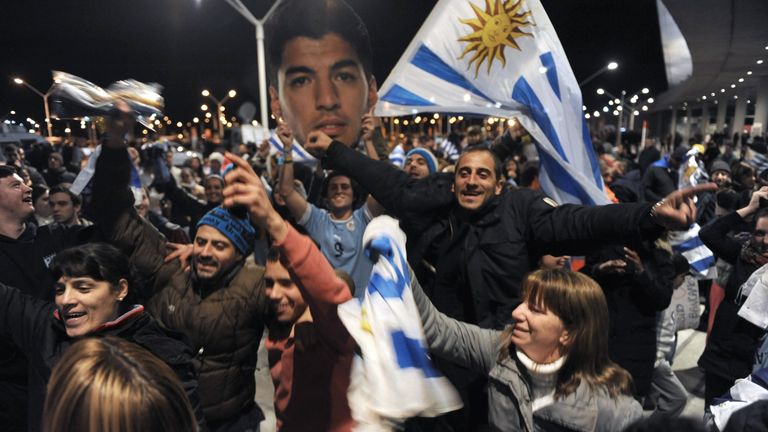 Benitez said: "After he was banned he came back to Uruguay after midnight and, in our cold winter, he was welcomed by crowds of people. When Uruguay played against Colombia there were hundreds of people outside his house in Solymar, giving him support.
"There was anger, specifically against Mr Blatter, even though there was a disciplinary commission to punish Suarez.
"Blatter had a bad feeling towards Uruguay. In Mexico 1986 he was in charge of referees, and before that tournament, Uruguay played a 'friendly' game against Mexico. It ended in a massive battle, punching and kicking everywhere. It was horrible. So Uruguay went into the tournament marked as a violent team."
Not long after, in Uruguay's final group match against Scotland, Jose Batista was sent off after 52 seconds for a late foul on Gordon Strachan. Looking back, it was nasty, but in those days the tackle was akin to a firm handshake.
Uruguay coach Omar Borras called referee Joel Quiniou of France a "murderer" for the sending off, words already fuelled by an incident in the second group game against Denmark, where Miguel Bossio was controversially dismissed for two quick yellow cards.
Mix a passionate support with past injustices and perceived victimisation from FIFA, and suddenly the defence of Suarez's repulsive act makes more sense.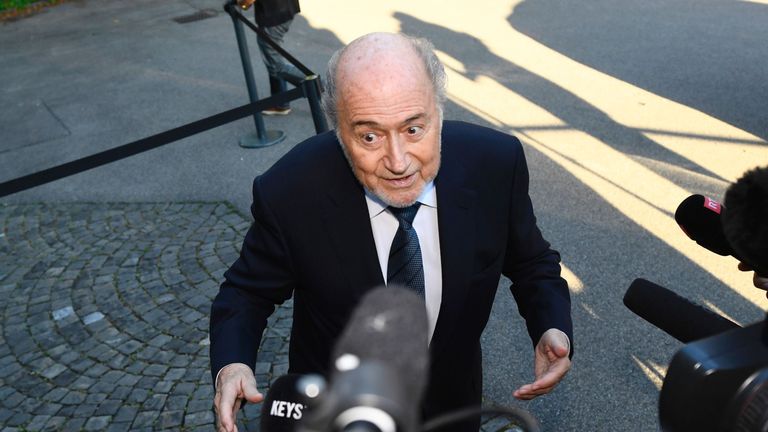 "When the Suarez punishment became public, I think most of the Uruguayan people felt it was exaggerated," Benitez argues. "It was one of the most severe punishments in football history. You can't compare that situation, or past situations with Branislav Ivanovic or biting Otman Bakkal while at Ajax, with players breaking other players' bones of other kinds of serious misconducts."
Though he initially apologised for the bite, Suarez didn't show much remorse in the weeks and months thereafter. Instead, he spoke regularly of the toll the ban took on himself, his team-mates and his family, as if he was a victim of an unfortunate act.
Suarez eventually returned for Uruguay in March 2016, scoring in a 2-2 draw with Brazil and saying after the game: "It was very emotional because of what I, and also my family, went through. I dedicate this to my wife, my daughters."
If there is one thing to admire from the episode, it's Suarez and Uruguay's loyalty, undeniably a positive trait going into Russia.
But the bite and its aftermath also taught us football has the ability to make us over-protect and over-criticise in equal measure. Just ask those who denied a bite seen by millions, or the person who decided to hang up an effigy of a young, naïve footballer.