He's been compared to Andrea Pirlo and Pep Guardiola has called him a "marvellous" midfielder, but how would Jorginho fit at Manchester City?
The Italy international could become City's first signing of the summer after Sky Italy confirmed that City were in advanced talks to sign the player.
So what are his strengths and weaknesses and what will he bring to the Etihad? We take a look…
What's his background?
Jorginho was born in Brazil, but moved to Italy as a 15-year-old. He was snapped up by Verona where he made his way up through the youth ranks before being loaned out to Serie C2 (fourth tier) side Sambonifacese in 2010. He made 31 appearances for Sambonifacese before returning to Verona, helping the club win promotion to Serie A in 2012/13 before leaving midway through the following season - after scoring seven times in 18 appearances - to join Napoli for €5.5m.
Upon signing for Napoli, Jorginho was asked about his role and qualities.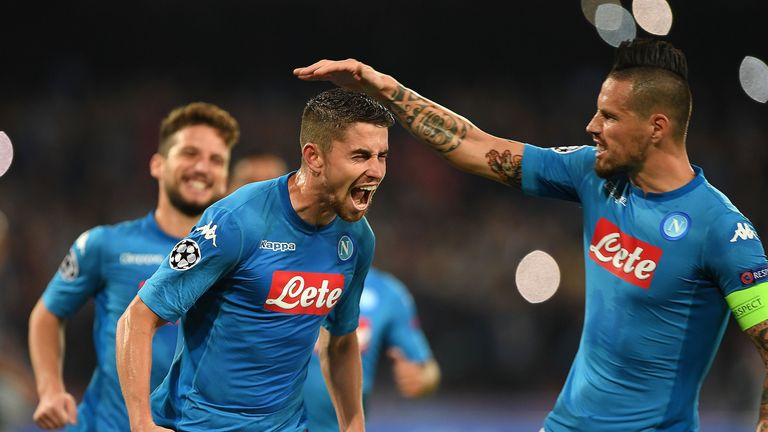 "I like to control the ball and analyse the game. I have grown up as a player watching many champions like Pirlo and Xavi. I have watched them and tried to learn from how they do things."
Jorginho wouldn't take long to settle into his new team, making 15 Serie A appearances in the second half of the 2013/14 season and starting in the Coppa Italia final as Napoli beat Fiorentina.
Suited to Sarri style
Despite a positive start at Napoli, the following season would not go as smoothly for Jorginho under Rafa Benitez. He was in and out of the starting line-up in the opening months of the 2014/15 season, played out of position on the right of midfield and spent much of the latter stages on the bench. The situation was, in fact, so bleak that Jorginho's agent said in the summer of 2015 that "if Benitez had stayed, he'd probably have left".
Benitez, though, departed to join Real Madrid and was replaced by Maurizio Sarri. The arrival of Sarri, who spent a brief spell in charge of Verona in 2008, proved to be key for Jorginho's development.
Jorginho in numbers
Most passes in Serie A this season (2713)
Most touches in Serie A this season (3351)
Most passes since Napoli debut (11392)
Most touches since Napoli debut (10270)
"Sarri's formation and playing with a midfield three have been fundamental for me," said Jorginho. "Then, there's his mentality and his style of play, which involves the ball always being on the ground, the continuous pressing forward, constantly imposing our game on the opposition.
"All of this enhanced my characteristics and it's evident that it suits me well... he's a great teacher and I admire his philosophy of the game a lot."
What can Jorginho do?
Describing his style in 2014, Jorginho said: "I like to cover more roles. I try to always be in the thick of things, two touches and then go, simple things. I get forward and run a lot, roughly 12 kilometres a match."
Playing in a deeper role in midfield and with an excellent passing range that allows him to dictate the tempo, Jorginho has drawn comparisons with Pirlo and Xavi.
Jorginho gives his best in an organised system of play such as Sarri's or Guardiola's. In the last few seasons, he has grown a lot in terms of his personality, physical condition and dynamism.
Former Verona director Giovanni Galli, who signed Jorginho as a youngster, said: "He is smart, he knows his football and if I had to make a comparison to another of his ilk I would say Pirlo. He doesn't have the same long ball ability as Pirlo, but the same football intelligence."
It is this intelligence which has seen Jorginho develop into a key player for Sarri's Napoli as they have finished second, third and second in the last three Serie A seasons.
The 26-year-old controls the game in the middle of the pitch and boasts some impressive stats.
Most notable are his number of touches and passes in games. Since 2004/05, he makes up nine of the top 10 spots in most touches in Serie A games - Pirlo is 10th on the list. He also makes up nine of the top 10 in most completed passes in Serie A games since the start of 2004/05.
Most touches in Serie A games since 2004/05
| | | | |
| --- | --- | --- | --- |
| Jorginho | Napoli | Verona | 218 |
| Jorginho | Napoli | Cagliari | 206 |
| Jorginho | Napoli | Palermo | 186 |
| Jorginho | Napoli | Benevento | 179 |
| Jorginho | Napoli | Udinese | 177 |
| Jorginho | Napoli | Lazio | 176 |
| Jorginho | Napoli | Palermo | 173 |
| Jorginho | Napoli | Frosinone | 172 |
| Jorginho | Napoli | Crotone | 171 |
| Pirlo | Juventus | Verona | 169 |
He ranks top for completed passes since his Napoli debut and top for passes and touches this season. In terms of breaking up play, he ranks seventh among Serie A midfielders for interceptions since his debut.
His role is to provide a base for Napoli's most creative players to shine from a 4-3-3 formation, and Roma's Radja Nainggolan says he is the hardest opponent he's faced.
"He always plays in tight situations and passes very close to him. It's very hard to follow him and stop his plays. You get tired because he moves the ball very fast, but he didn't even move himself.
"Not that I was in trouble when we met, but you need a lot of energy to keep up with him and stop him. It can be hard sometimes."
It's very hard to follow him and stop his plays. You get tired because he moves the ball very fast, but he didn't even move himself
Where will he fit in at City?
Pep Guardiola said on Monday Night Football that City will be looking to replace Yaya Toure this summer, but Jorginho will not be a like-for-like replacement.
He does not have the same desire to drive forward and score as Toure - highlighted by his tally of two Serie A goals in his time with Napoli, both of them this season - and physically he is not as strong or imposing.
Jorginho appears instead to be competition - and potentially a long-term replacement - for Fernandinho, who is now 33 and played the third-most minutes of any outfield player for City this season.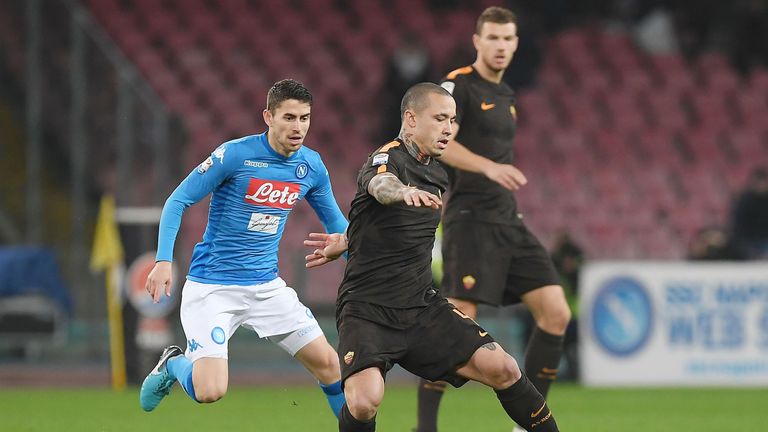 He will be familiar to City, having played against them twice in the Champions League in the 2017/18 season.
Guardiola was clearly impressed by Napoli, saying they are an "exceptional team" and that City's 2-1 victory over the Serie A side in October was "one of the wins I'm most proud of in my whole career".
Just a month later, Guardiola described Jorginho as "marvellous" after City beat Napoli 4-2 in the reverse group stage fixture.
"It's always nice to receive compliments, but it's spectacular when they come from a manager with that importance and winning past," was Jorginho's response to ESPN. "He's a global icon. All I can do is to be grateful."
For a player who appears to need a particular style and formation to flourish, City looks to be a good fit for Jorginho.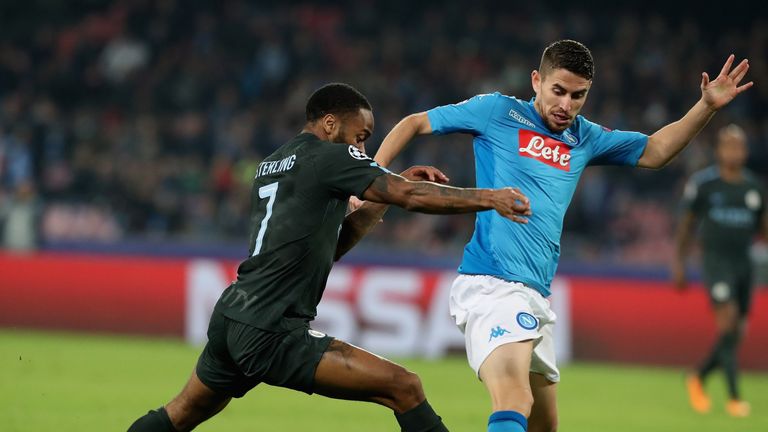 Former Italy head coach Giampiero Ventura said last year that he did not call him up for the squad because there was "no space for him in our 4-2-4 formation."
At City that should not be a problem. More of a question mark might be his adaption to the Premier League, although, when asked about moving to England earlier this year, Jorginho said: "I think that I could fit.
"It depends on who else is around me - I need players with the same characteristics that I have. There are English teams with this style of play, ball on the ground, quick transitions, high pressure. If one of those teams wanted me, I could fit and the other way round. My football way is not a usual one."