Lionel Messi claims record fifth European Golden Shoe after ending La Liga season with 34 goals
Last Updated: 21/05/18 10:02am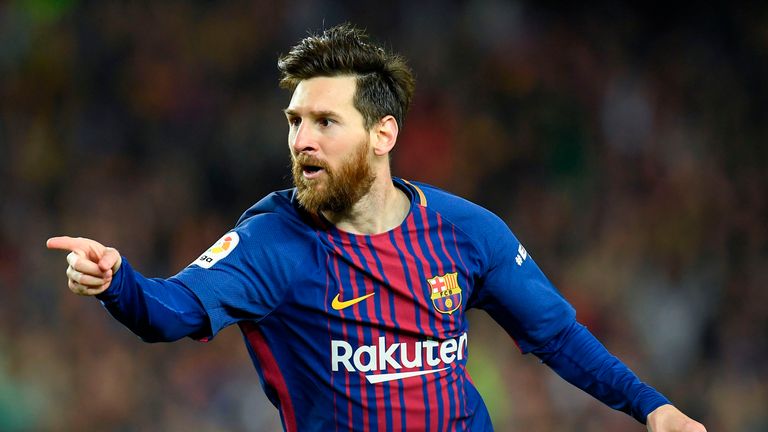 Lionel Messi picked up a record fifth European Golden Shoe after finishing the domestic league campaign with 34 goals.
The Barcelona forward was trailing Mohamed Salah in April, but eight goals in the Argentine's last six La Liga games - including hat-tricks against Leganes and Deportivo - saw Messi finish two clear of the Liverpool winger.
It is the fifth time Messi has claimed the award (2009-10, 2010-11, 2012-13, 2016-17), moving the 30-year-old one clear of Cristiano Ronaldo.
After hitting 30 Premier League goals for the first time, Harry Kane finished third in the Golden Shoe standings, while Messi's record-breaking win was confirmed after Serie A duo Ciro Immobile (Lazio) and Mauro Icardi (Inter) finished on 29 strikes, along with Bayern Munich's Robert Lewandowski.
Paris Saint-Germain forward Edinson Cavani finished seventh with 28 goals in Ligue 1, while Ronaldo bounced back from a poor start in La Liga to finish with 26 league goals for Real Madrid.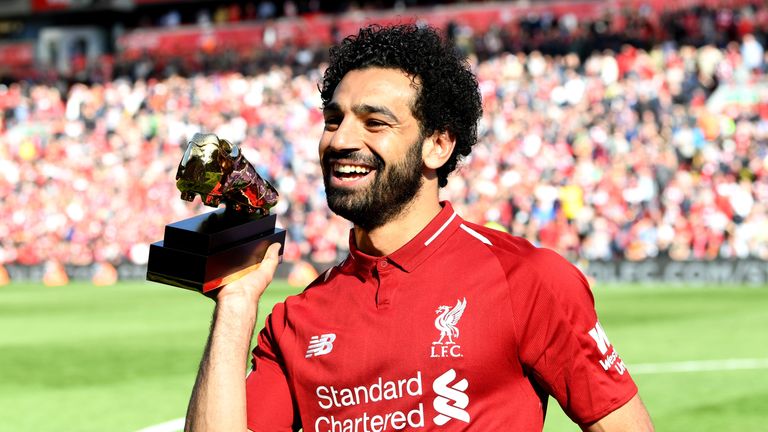 Completing the top 10 are Benfica's Jonas - who, despite also scoring 34 goals, comes ninth due to the Primeira Liga having a weaker coefficient - and Barcelona's Luis Suarez, who scored 25 times this season.
European Golden Shoe final standings
| Name | Goals | Points |
| --- | --- | --- |
| Lionel Messi | 34 | 68 |
| Mohamed Salah | 32 | 64 |
| Harry Kane | 30 | 60 |
| Mauro Icardi | 29 | 58 |
| Ciro Immobile | 29 | 58 |
| Robert Lewandowski | 29 | 58 |
| Edinson Cavani | 28 | 56 |
| Cristiano Ronaldo | 26 | 52 |
| Jonas | 34 | 51 |
| Luis Suarez | 25 | 50 |
* Since the 1996/97 season, the Golden Shoe has been awarded based on a points system, with goals scored in Europe's top five leagues - according to the UEFA coefficients - multiplied by a factor of two