Troy Deeney joined Jamie Carragher in the MNF studio as Brighton fought back from two goals down to draw at Southampton. Here's all you need to know from MNF...
Carragher clarifies Rashford stance
Carragher defended his position on Marcus Rashford, insisting it will be hard for him to develop as a centre-forward at Manchester United.
Jose Mourinho last week launched an impassioned defence of his development of Rashford, insisting the England international has played "an incredible number of minutes" under him at United.
Sky Sports pundit Carragher had previously said Rashford may need to leave Old Trafford if he is to emerge as a world-class player, and after Mourinho's response, the former Liverpool defender had his say again on MNF...
Read HERE, or watch below...
Where Spurs got it wrong
Tottenham were comfortably beaten by Liverpool at Wembley on Saturday lunchtime and Carragher took an in-depth look at where Mauricio Pochettino's tactics went wrong.
Georginio Wijnaldum and Roberto Firmino scored the goals in a dominant display by Jurgen Klopp's side and they missed a host of opportunities before Erik Lamela's consolation in injury-time.
Sky Sports expert Carragher believes Spurs boss Pochettino had a clear plan to neutralise Liverpool's attacking trio of Mohamed Salah, Sadio Mane and Firmino while also taking advantage of their weaknesses out wide.
Read HERE, or watch below...
Chelsea's change under Sarri
"They have actually taken nine kick-offs, Chelsea, and there is only one where they have not done that. At least there is a plan. People think they are a waste of time and they are not important. They are important and if you can gain an advantage from it then fantastic."
Chelsea have won their first five Premier League games under Maurizio Sarri and the change of style is clear, explains Carragher. The evidence of change came in the very first kick-off...
Read HERE, or watch below...
Deeney: What I can bring England
Troy Deeney insists he would offer Gareth Southgate's England a "different dimension", and says his mentality would also bring benefits off the pitch.
Deeney is uncapped for England, despite registering a total of 44 Premier League goals and assists since the 2015/16 season, the fifth-highest tally of any Englishman.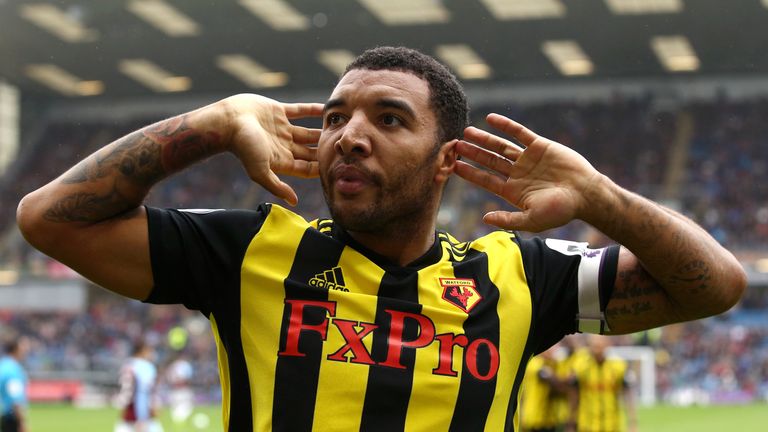 "I just think I offer a different dimension. And it's being a cheerleader when you're not playing. Are you going to offer different things in terms of mentality? I think that's what separates me from a lot of people, mentality and leadership."
And there were some laughs...
Carragher remembers the time Liverpool trained at Rod Stewart's house, while Deeney picks his favourite Elton John song...
The report
Glenn Murray scored a 91st-minute penalty to seal a 2-2 draw for Brighton at Southampton on MNF after Pierre-Emile Hojbjerg's stunning opener.
Read the report HERE or WATCH the highlights below...
Stat of the Match
Southampton have dropped 26 points from leading positions in the Premier League since the start of last season, the most of any side to appear in both campaigns.
The managers...
Mark Hughes: "We got ourselves into a deserved winning position and needed to keep that two-goal cushion for longer than we did. We maybe got anxious. Clearly they were going to throw balls into our box and hope something broke for them.
"We've got to find a way to manage the game better than we're doing at the moment. It's a harsh lesson but we'll go again and pick ourselves up."
Chris Hughton: "It's a second game on the spin when we've come back from 2-0 down. You've got to look at the character, but the frailties that left us 2-0 down in the first place. We've had a reaction, second half. We deserved something from the game."
MNF Tweets
Why you always take you shirt off before arriving in changing room 🤷🏾‍♂😀? #MNF

— Christian Kabasele (@chriskabasele27) September 17, 2018