Football Expert & Columnist
Jamie Carragher clarifies Marcus Rashford stance after Jose Mourinho response
Jose Mourinho defended his own development of Rashford last week after Carragher said he may need to leave to become a world-class player
Last Updated: 18/09/18 10:31am
Jamie Carragher defended his position on Marcus Rashford on Monday Night Football, insisting it will be hard for him to develop as a centre-forward at Manchester United.
Mourinho last week launched an impassioned defence of his development of Rashford, insisting the England international has played "an incredible number of minutes" under him at United.
Sky Sports pundit Carragher had previously said Rashford may need to leave Old Trafford if he is to emerge as a world-class player, and after Mourinho's response, the former Liverpool defender had his say again on MNF...
I agree with everything Jose Mourinho said, but that's not me backing down on what I said.
I'm not talking about how many minutes Rashford gets. The minutes and appearances he gets for a 20-year-old lad at a club the size of Man Utd, you look around the world and you think only maybe Kylian Mbappe gets similar. He is getting great minutes.
What I don't like - and maybe Mourinho or others felt it - is the thought I just threw away a lazy comment.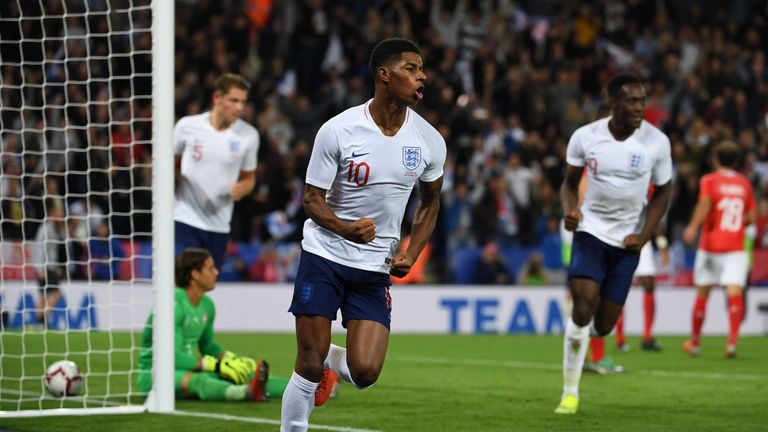 All of the stats Jose has listed are spot on. But another stat that is spot on is that Rashford has only started 12 times as a centre-forward in the Premier League. He burst onto the scene as a striker, and said he wants to be a striker.
He may have changed, he might be happy playing on the left or on the right and staying at Man Utd.
But the whole point is, that is the most difficult position to come through at a top-six club. Because at all our top-six clubs now, the manager has to believe he has a centre-forward who can win him the Premier League or Champions League.
If you go through the teams; Liverpool have got Brazil's centre-forward in Roberto Firmino, Man City have got one of the greatest centre-forwards of all time, Argentina's centre-forward in Sergio Aguero, Chelsea have two centre-forwards that people have question marks over - one of them is a World Cup winner in Olivier Giroud and the other, Alvaro Morata, played for Real Madrid and Juventus, and also plays for Spain.
Arsenal have got two £50m strikers - Alexandre Lacazette and Pierre-Emerick Aubameyang - and United have Romelu Lukaku.
I'm not saying Jose Mourinho is wrong and should play Rashford ahead of Lukaku - I'm not saying that, because he shouldn't, Lukaku is better than him - but if that lad wants to play centre-forward, how does he do that?
My point was, he may have to move away, and then maybe come back, the same as Lukaku did.
To reiterate that, we went back to the start of the Premier League, and looked at the top-six clubs, and the strikers who have progressed through that club's youth system, or have been signed as a teenager, with minimum 25 Premier League starts.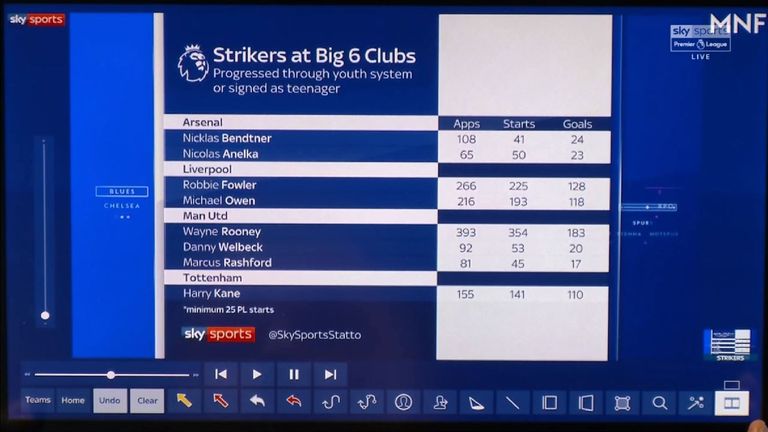 We haven't mentioned City or Chelsea, because they didn't have one. That shows how tough it is.
Starting at the top with Arsenal - Nicklas Bendtner and Nicolas Anelka - and remember, these are two signings. They didn't come through the youth ranks. Bendtner was never a world-class striker, while Anelka was a revelation as a teenager, ended up at Real Madrid, and won the double in '98.
Fowler and Owen were teenage sensations. Rooney was a big-money signing but to star for Man Utd as an 18-year-old kid showed his quality. We're talking about superstars at that age.
But I want to come to Danny Welbeck. I like Danny Welbeck as a player and I don't want to come across disrespectful, but Marcus Rashford does not want to become Danny Welbeck.
What I mean by that is this: he came through United as a forward, and then he was used on the left and the right, and was delighted to get the minutes. Then he ends up becoming a squad player, never nailing down a centre-forward position.
He moves to Arsenal, the same thing has happened, he's still a squad player. And it's the same for England. That's what you don't want.
You then have Kane in the list. Harry Kane got his chance because Roberto Soldado and Emmanuel Adebayor failed, and Tim Sherwood gave him his chance. Sherwood has spoken about this, revealing Daniel Levy would ask him: "Is he CL?" Basically, that means, is that guy good enough to get us into the Champions League, good enough to win us the league, good enough to win us the Champions League.
That's the problem you've got as a young player. If Rashford doesn't want to play centre-forward, he should stay. If he does, I feel he'd have to move away.
Rashford is so high profile because he burst on the scene, we thought we had another Michael Owen, Robbie Fowler or Wayne Rooney in the England squad. That's why there's more talk of him, because he's more high profile and he plays more.