Wayne Rooney bids farewell in final England appearance
Former captain a second-half substitute in 3-0 win over USA
Last Updated: 16/11/18 10:21am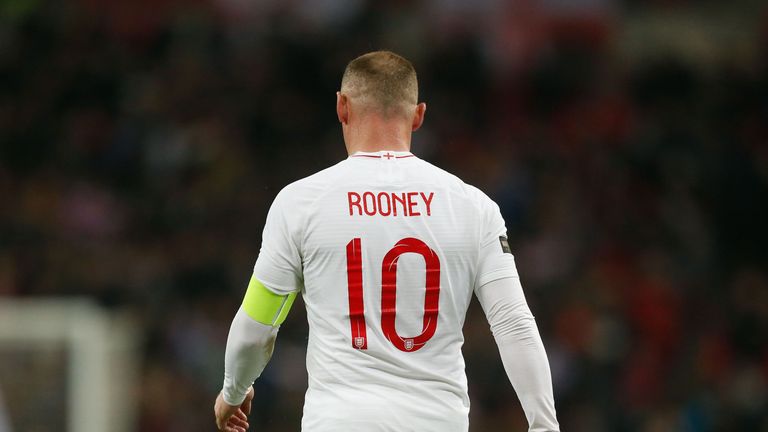 All that was missing was a fairy-tale final goal. And he almost got that, too. But Wayne Rooney can reflect on a fine, fitting farewell to international football after England's 3-0 cruise past the USA.
Since the shock revelation at the start of this month that Rooney would be making one last run out for his country, attention has centred on England's record goalscorer.
How long would he play for? Would he wear the captain's armband? And was it right he was being handed another cap at all?
Here's how Rooney's final England appearance and the answer to those questions panned out…
Pre-match
"It's been brilliant having him with us this week, passing on those bits of gold dust," England boss Gareth Southgate told Sky Sports before kick-off.
Rooney had clearly had a positive impact on Southgate's young squad in training and presented the three players making their full international debuts their England shirts at the team hotel on Thursday.
Rooney would have to wait until the second half to pull on his England jersey for the 120th time but before kick-off he walked his sons through a guard of honour and was handed some silverware by FA chairman Greg Clarke and current skipper Harry Kane.
There were 68,155 in the stands - and all were on their feet as Rooney saluted the crowd before the national anthems.
The cameo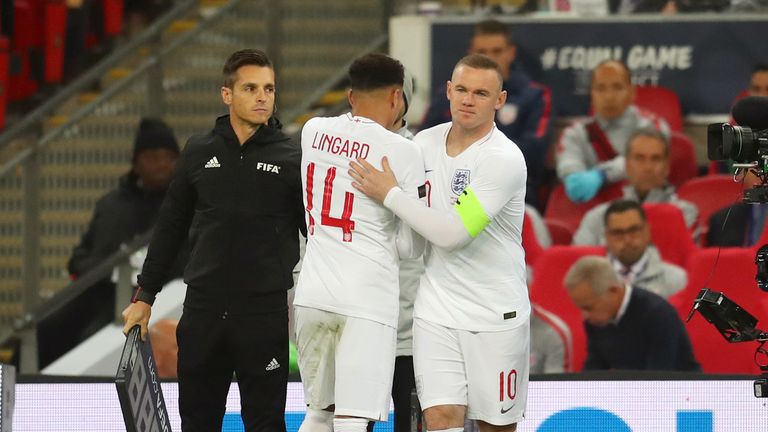 Rooney was all smiles as he joked with Kane in the England dugout and there was plenty for the 33-year-old to enjoy during the opening 45 minutes, as the next generation showed what they can do, with Jadon Sancho and Trent Alexander-Arnold impressing.
He didn't have to wait long into the second half to get the call from Southgate, though, stepping onto the Wembley turf almost certainly for the final time with 57 minutes on the clock.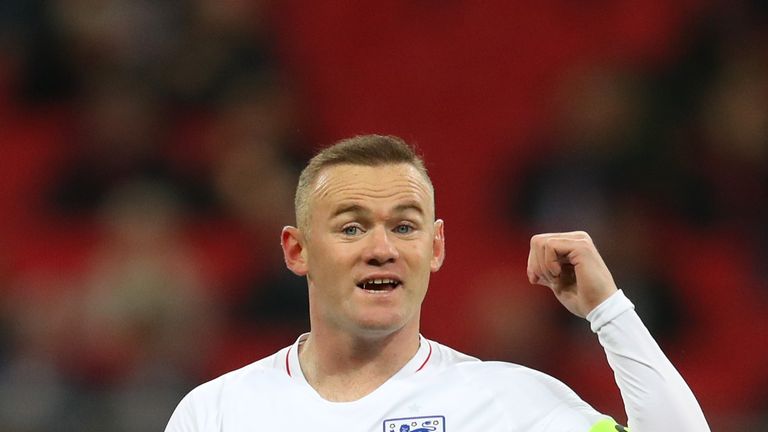 Jordan Henderson and Eric Dier entered the fray at the same time, but the fans were on their feet for Rooney, chanting his name as he was passed the captain's armband.
Rooney took up his place in England's front three, alongside Sancho and debutant Callum Wilson, and immediately looked for the striker with an ambitious through ball which was just cut out.
There was an interruption on 69 minutes with an over-eager fan ran on the pitch and hugged Rooney but once the supporter had been escorted off Rooney was back in the action, receiving a pass form Sancho on the edge of the box, shifting the ball onto his left before hitting a tame shot straight at Brad Guzan in the USA goal.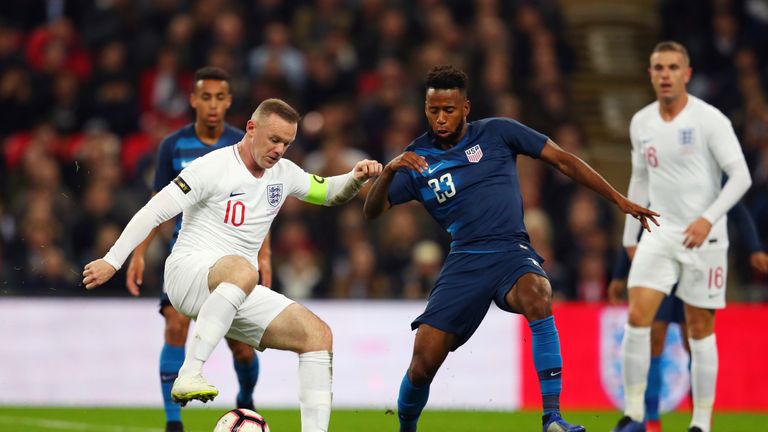 With England's play more disjointed in the second half than it was in the first, Rooney didn't see as much of the ball as he'd have liked in the initial period after coming on but, dropping deeper in search of possession, he turned and sent a fine ball over the top for Ruben Loftus-Cheek on 75 minutes, although the Chelsea man saw his shot blocked.
An angled pass to Henderson in the US box was followed by an offside flag but then came a flurry of exciting moments which had England supporters thinking there may be one final hurrah.
Alexander-Arnold was unable to profit from Rooney's smart cross to the back post on 86 minutes and a minute later the right-back almost picked out the forward in the box himself.
Then came Rooney's best chance. With 91 minutes on the clock, Rooney made a yard for himself just inside the penalty box but his low shot was too central and comfortably stopped by Guzan. Rooney smiled. He knew he should have done better.
Two minutes later he was close to that elusive goal again, just failing to connect with Sancho's fizzed cross.
Moments later the full-time whistle blew, bringing to an end Rooney's international career for a second time.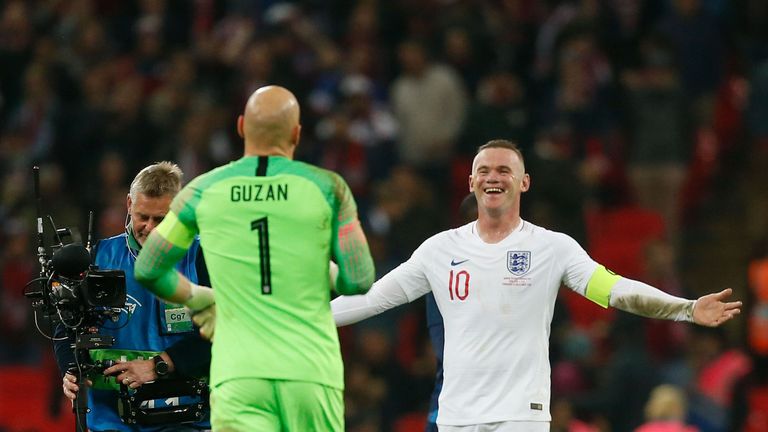 As Rooney slowly made his way off the pitch, there were jokes with Guzan, hugs and handshakes, applause for the crowd and a pat on the back from Southgate. The crowd once again showed their appreciation.
What they said
Rooney: "I want to thank the FA and Gareth for giving me this opportunity, and the players. Tonight was great, a great way to finish off my international career. I thought the lads played brilliant, a great game, unfortunately I couldn't get a goal, but it was something I'll remember for a long time.
"I felt when I came on I fitted in well with the team, but I've had my time, it's two years since I played, and tonight was a great night for me and my family. I'm proud to have played for England so many times and to be the record goalscorer, I can sit back and watch it now."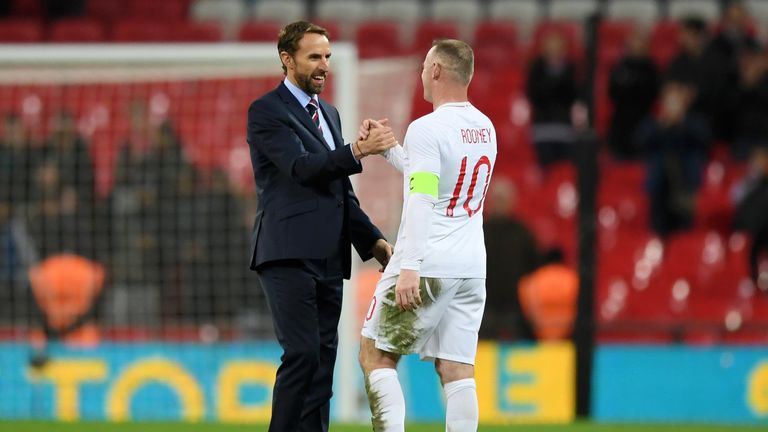 It was a privilege for everyone to be involved with him this week.
Gareth Southgate on Wayne Rooney
Southgate: "He spoke to them at the end and they would have noticed his humility given everything he has done in the game. He mucked in with the group, training the same as everyone else, he worked in the five-a-sides and wanted to win everything he was involved in and in the game he was tracking back and he showed what a top player mentality he has. It was a privilege for everyone to be involved with him this week."
Sky Sports pundit Jamie Redknapp: "He showed moments of pure quality. He was zipping it into people. I thought his all-round game was brilliant when he came on. He was very unlucky not to score, he was excellent. He'll be very proud of that. He'd have been nervous because he wanted to show he was still capable of playing on the big stage."
Sky Sports pundit Alex Scott: "This is the end of a chapter and what a way to go out. It was a comfortable win for England. We talk about legacy - Rooney has done that in the number 10 shirt and he leaves that for this exciting generation to move it on."