Paul Merson says Maurizio Sarri's replication of Napoli strategy at Chelsea is lazy
Chelsea knocked out of the FA Cup after 2-0 defeat by Manchester United on Monday
Last Updated: 19/02/19 12:19pm
Paul Merson believes Maurizio Sarri's replication of his strategy at Napoli seems "lazy" at Chelsea.
Sarri's Chelsea were beaten 2-0 at Stamford Bridge by Manchester United on Monday night, meaning they have lost five of their last 10 games in all competitions.
Sarri, who has never won a major trophy but did finish second on two occasions with Napoli in Serie A, signed Jorginho from his former club, as well as taking forward Gonzalo Higuain from Juventus on loan, having scored 36 goals in 35 games under Sarri in 2015/16.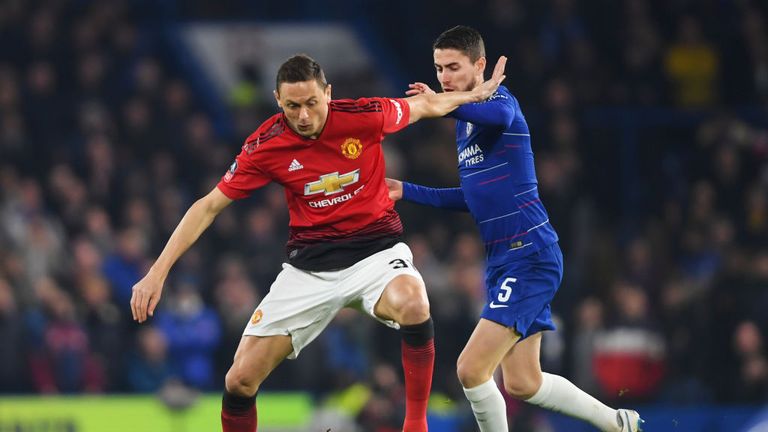 Merson said on The Debate: "Chelsea haven't got the money to do what Pep Guardiola did at Manchester City, to say: 'My full-backs aren't good enough so I'm going to pay £50m for one, £50m for another one.'
"As a Chelsea fan, it looks lazy to me. 'I was manager at Napoli, Jorginho was good for me, I'm going to buy Jorginho. I need a forward, Higuain scored a load of goals for me.'
"People are saying he was successful [at Napoli], he's never won anything in the game. Yeah, he got more points at Napoli, I've never played for a team in my entire life where we'd be happy winning nothing but getting more points. You play to win."
Chelsea now face Manchester City in the Carabao Cup final on Sunday, live on Sky Sports Football.
After losing 6-0 at champions City just over a week ago, Merson is eager to see how Sarri approaches the game, insisting it will be the same result if tactics aren't altered.
"I can't wait until Sunday. Not as a Chelsea fan thinking: 'We could win here,' I just want to see what he's going to do.
"He tried to go toe-to-toe, tried to press Man City, and it's hard to do that because the goalkeeper is so comfortable on the ball, so when you try to squeeze, it doesn't work.
"What's he going to do on Sunday? Please don't tell me he's going to do that again at Wembley. Now I hope he's going to sit back, say: 'Let's soak this up.'
"I can't wait to see how he sets up. If we play the same way, we're going to get the same result, and it won't be far off six!"