Manchester City have scored 127 goals in all competitions this season, so how do you stop them?
City's Premier League, FA Cup, Champions League, Community Shield and League Cup goals analysed; watch Carabao Cup final live on Sky Sports Football this Sunday from 3.30pm
Last Updated: 22/02/19 11:36am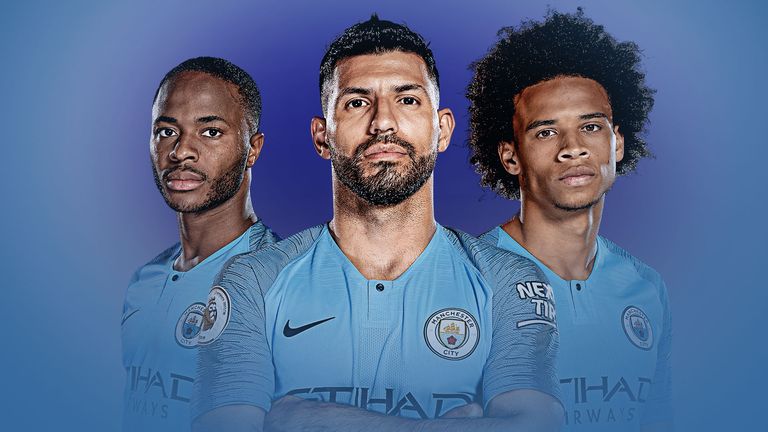 Manchester City have scored more goals than any other club in Europe with 127 in all competitions - but how have Pep Guardiola's side achieved their haul? And how do Chelsea stop them in Sunday's Carabao Cup final?
Chelsea were thrashed 6-0 by City in the Premier League a fortnight ago but they aren't the only side to have suffered at the hands of Guardiola's impressive attack.
Since then, City put four past Newport County in the FA Cup and netted three more in a late comeback at Schalke in the Champions League.
There have previously been big wins over Huddersfield, Cardiff, Burnley, Southampton and West Ham, too, not to mention domestic cup drubbings for Rotherham and Burton Albion.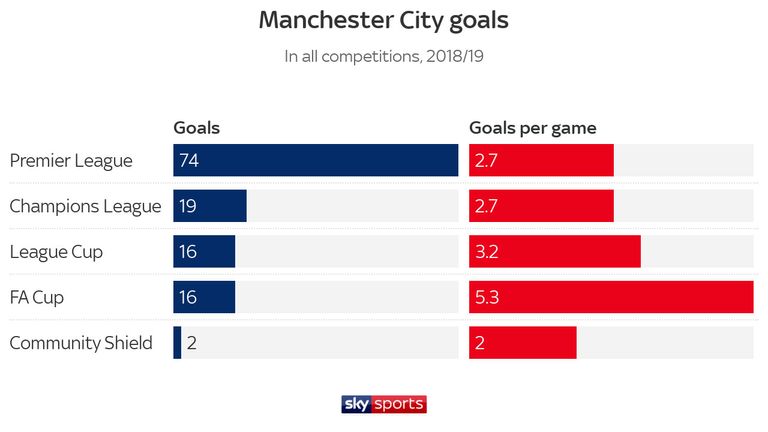 One fifth of City's total has come from Sergio Aguero, who tops the club's scoring chart to date with 24 - ahead of back-up striker Gabriel Jesus (16).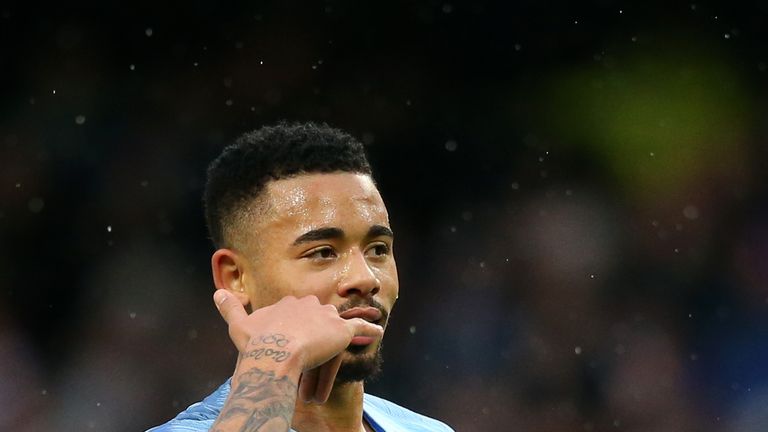 With playmaker Kevin De Bruyne injured for most of the season until December, goal creation has typically come from the wings - with Leroy Sane notching 13 assists to date, ahead of Raheem Sterling (12) and Riyad Mahrez (10).
The graphic below reveals how City's average positions disperse widely in opposition territory, with Fernandinho (No 25) offering protection and Sane (No 19) pushing furthest forward - creating a hotspot of activity down the left.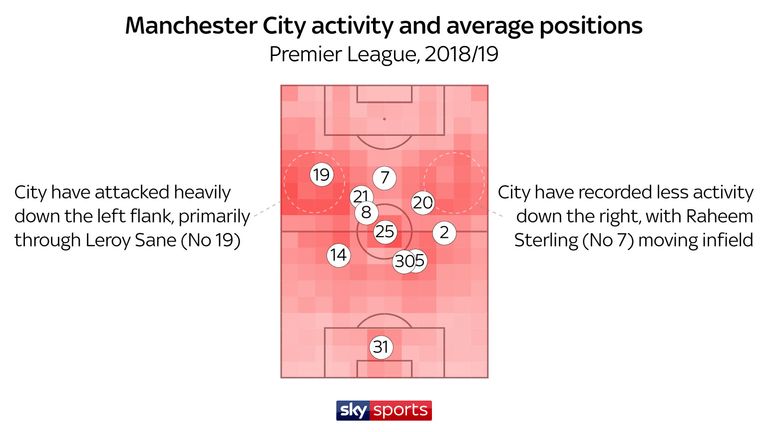 Guardiola's preference to focus down the left flank was plain to see in their last encounter with Chelsea, with his side initiating 52 per cent of their attacks down that third of the pitch.
City's real threat is when they get into crossing positions on either flank, but particularly down that left-hand side.
The graphic below shows City's assists in the Premier League this term, with assists from inside the box or the wings highlighted in red - revealing City's habit of carving chances from the wide left channel and short cut-backs.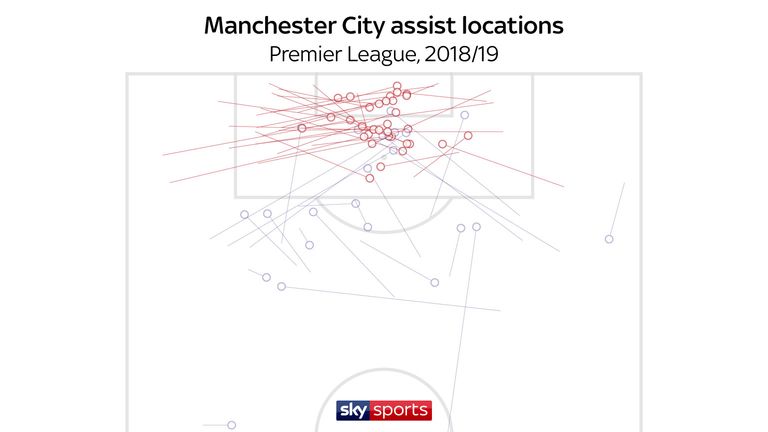 City frequently deploy runners into the opposition's box to outnumber defenders and create space for their customary cut-backs - resulting in an overwhelming majority of goals being scored from in and around the six-yard box.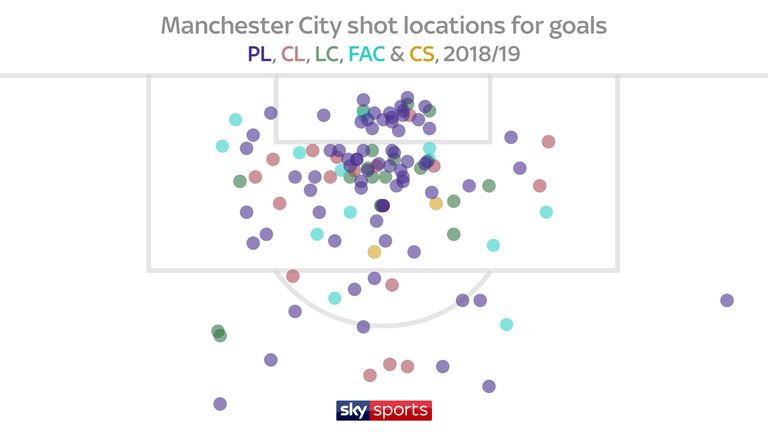 City's frequent dominance of possession and territory clearly takes its toll on opposition teams, with their highest proportion of goals coming in the final 15 minutes of matches this season. That's bad news for Chelsea if they're hanging on late in the game at Wembley this weekend.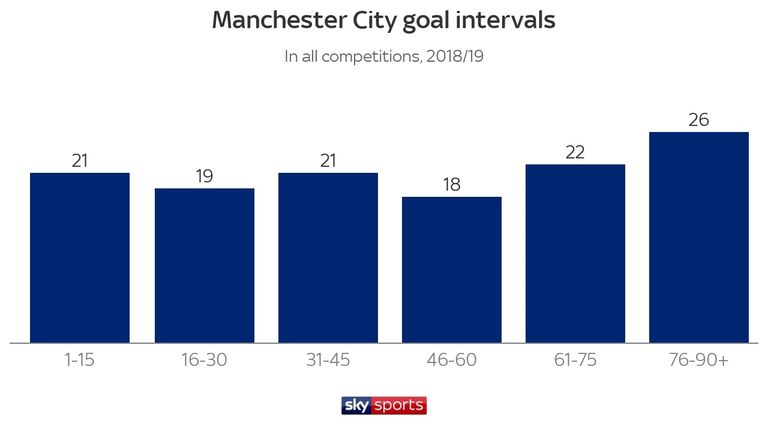 Advanced metrics reveal City typically use 34m of width in possession - more than any other Premier League side - in addition to reclaiming the ball furthest up the pitch and retaining the ball for the longest periods.
Conversely, City constrain opposition to a league-low 25m width in possession.
Maurizio Sarri would have learnt numerous lessons in Manchester two weeks ago, but, crucially, the Italian will be considering whether his criticised formation and style should be changed to contend with City's pacy runners.
During that game, City's opener was created in this manner, as was Aguero's glaring miss that followed, while Sterling won a penalty by cutting in from the left and converting his side's sixth from another customary cut-back.
Chelsea's full-backs will need to track Sterling and Sane and force City to play centrally, while deploying N'Golo Kante in his former defensive role could help disrupt City's central distribution to wide areas.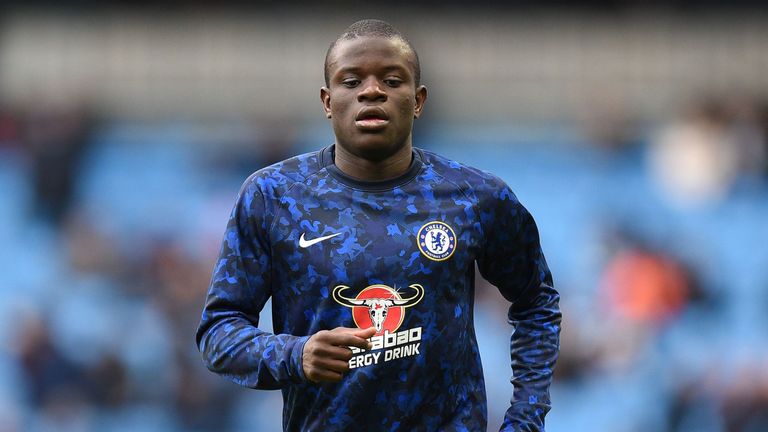 The Blues will need to play their way through City's robust midfield, while Eden Hazard and Pedro could benefit from adopting similar roles to their opposite numbers - stretching City's back four to carve openings for Gonzalo Higuain.
Can the Chelsea boss exact revenge at Wembley to claim his first ever major trophy as a manager, or will Sarri-ball come under even greater scrutiny as City run riot from the wings once again?
If reading on skysports.com, comment below to get involved in the debate, but please adhere to our House Rules. If you wish to report any comment, simply click on the down arrow next to the offending comment and click 'Report'.