Ole Gunnar Solskjaer on Man Utd's Liverpool rivalry
Watch Man Utd vs Liverpool on Renault Super Sunday at 2.05pm on Sky Sports Premier League
Last Updated: 23/02/19 11:46am
In an exclusive interview with Sky Sports, Ole Gunnar Solskjaer reveals what Manchester United's rivalry with Liverpool means to him.
United host Liverpool at Old Trafford on Renault Super Sunday looking to continue their remarkable start under caretaker boss Solskjaer with a victory that could dent the Reds' title hopes.
Patrick Davison sat down with Solskjaer at United's training complex to establish how his personal rivalry has developed from that of a player, to a fan and now a manager.
What does United vs Liverpool mean?
It means a lot. I've had good memories, bad memories and I've been a player and a supporter. As a player it means real focus and concentrate on your performance. When you're a supporter it's all emotion, you cannot wait for the game.
Now I'm a manager, you've got to try and control the temperament of the players, the supporters, everything, which is fantastic. It's the big game, the one you look forward to every year when the fixture list comes out.
How was Sir Alex different in the build-up?
You could sense it. It changed over the years, but he could be angry or happy, he just knew exactly how to get us in the right frame of mind. If we had lost games it would be a great mood to get us ready for the game, if we were flying he was grumbling a bit and more focused. From him, we saw how we were supposed to behave.
Liverpool has always been the one. The rivalry between the clubs, the manager's job description to 'knock them off their perch'. We sensed in him straight away that Liverpool was special, whether that was in the reserves, U18s, first team - it doesn't matter, it was big game for everyone at this club. By their own merits and rights, we've been the two most successful clubs in the country.
That goal in 1999
I had three touches in that game, one to stop it, one to touch it to the side and one to put it through Jamie Carragher's legs. We were behind the whole game, Michael Owen scored early on.
We had so many chances, Roy Keane hit the post, Ryan Giggs had chances and then Dwight Yorke scored. I was thinking it would go to a replay until Jaap Stam threw the ball up, Scholes controlled it, I nicked it off him and I scored.
They were my only three touches in that game, I was strangled more or less in the celebrations, I couldn't breathe at all. I tried to kiss the badge, but everyone was on top of me.
Diego's double
I remember Diego's two goals. Of course, their goalkeeper [Jerzy Dudek] made a few errors. That's maybe the only game I played 90 minutes at Anfield. The crowd was on top of us but Fabian (Barthez) made a few great saves. Giggs, Diego and I celebrated, great memories.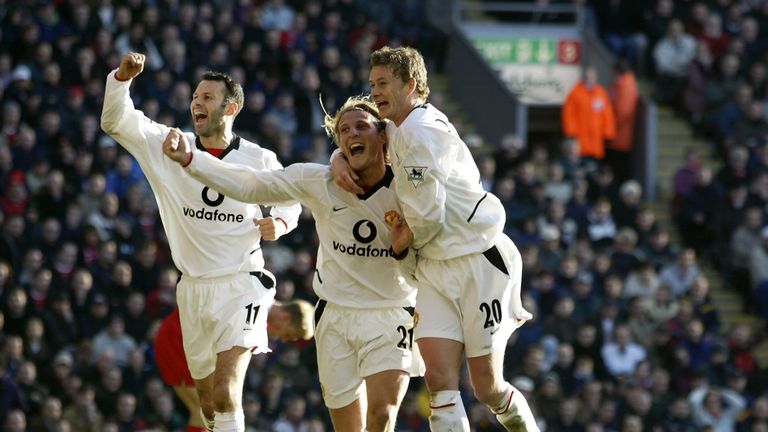 Watching brief
There are not many games I've been over from Norway to watch but I managed to get to see the game in 2015, David (de Gea) was fantastic. In 2014 I was the Cardiff manager so I watched that one, Liverpool were going for the title and they won 3-0 that day.
Ian Rush and Kenny Dalglish were sat in front of me, they had big grins and I wasn't very pleased. I thought I saw some weakness in Liverpool before our game the week after, but they were a good side.
I watched last year's game back at home. That's my TV and that's my daughter's shirt because she's a Rashford fan - how can you not be?
Knocking Liverpool off their perch
It's 20 to 18 [league titles], you never want your rivals to surpass you. But it's not about that for us but as a supporter yes, of course, that is a big thing. As a manager I have to make sure we focus on doing a favour for ourselves, not stopping anyone, we do it for ourselves.
I cannot control what Liverpool, City or Tottenham are doing, I've got to focus all my energy on us. I've got to focus on what I control which is this environment.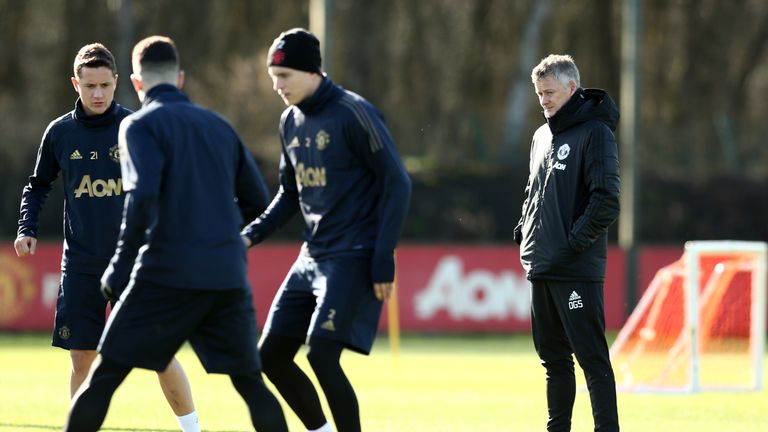 Are Liverpool better than United?
Liverpool are a better team now than when Jurgen (Klopp) took over, he's done a fantastic job. We're behind them and they're doing great but now we have to make sure we move up the table, we find our feet and get this club challenging again. I've got a few months here, I'm going to do whatever I can to make sure we finish as well as we can.
Could Liverpool win clinch job?
That's been said after every single game. That's just how it is at Manchester United, every single week, game, is a test. Every single day is a day you've got to make the most of, you've got to improve.
If one day it's OK to lower your standards, the next day will lower your standards and then you end up too far behind. We are already too far behind so there is no chance I will take my eye off improving the standards.
Watch Man Utd vs Liverpool on Renault Super Sunday at 2.05pm on Sky Sports Premier League