Sol Campbell discusses management barriers in Tackling Racism series
Watch Sol Campbell on 'Tackling Racism' from 7pm on Monday on Sky Sports News
By Sky Sports News
Last Updated: 04/03/19 7:04pm
Sol Campbell is convinced there is widespread unconscious bias across sections of the football media.
Despite winning six major trophies and spending over a decade as an England international, Campbell took over at then-bottom of League Two Macclesfield to launch his managerial career.
The ex-Arsenal and Tottenham centre-back hinted he agrees with recent views expressed by Manchester City forward Raheem Sterling that black footballers are often portrayed in a different light compared to their white counterparts.
"It's how they [the media] report it," Campbell told Dion Dublin in the latest instalment of Sky Sports News' Tackling Racism series, which focuses on the media.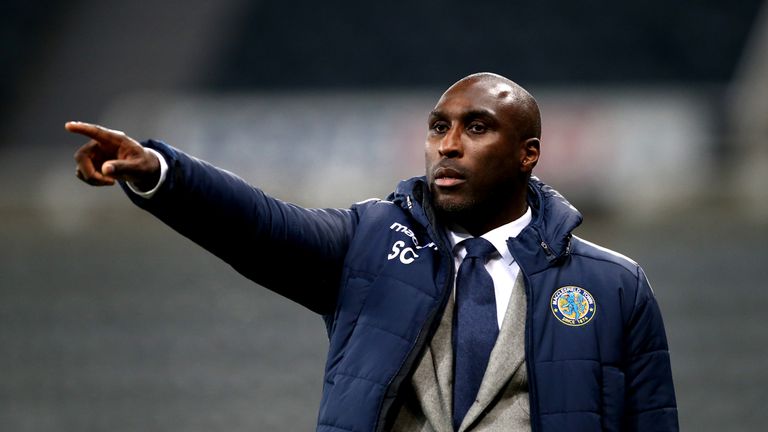 "Sometimes it's like a, not a psychological thing, but maybe it's just something in their head that they're not deliberately doing it, but they are in a way.
"I think they just have to move on. Maybe they say 'oh Sol is inexperienced' but then I have had few friends who've come in and I don't hear 'inexperienced' when they do articles [about them].
"I see he's done this, he's won x, y, z, he's done this, he's been great, scored goals or he's saved goals or whatever but nowhere is there a line about inexperience."
Hear more from Sol Campbell in Tackling Racism: The Media tonight.
Dion Dublin will be part of a panel of guests which includes John Amaechi, Vaishali Bhardwaj, Paul McCarthy and Neil Ashton. It's live from 7pm on Sky Sports Premier League and on Sky Sports News.