Charlie Nicholas delivers his predictions for Thursday's Europa League quarter-final second-leg ties involving Arsenal and Chelsea.
Tottenham pulled off a dramatic away-goals win over Manchester City on Wednesday, while Liverpool cruised past Porto. That came a day after Manchester United crashed out of the Champions League on Tuesday after a 4-0 aggregate thrashing by Barcelona.
Next up, Chelsea and Arsenal compete in the Europa League.
Napoli vs Arsenal (agg 0-2) - Europa League; Thursday, 8pm
I am very nervous, to be honest with you. Napoli could have scored a couple but Arsenal had so many chances to extend their lead at the Emirates. I would abandon the goalkeeper getting it and playing it around at the back. I would go back to front and get the game played higher up the pitch.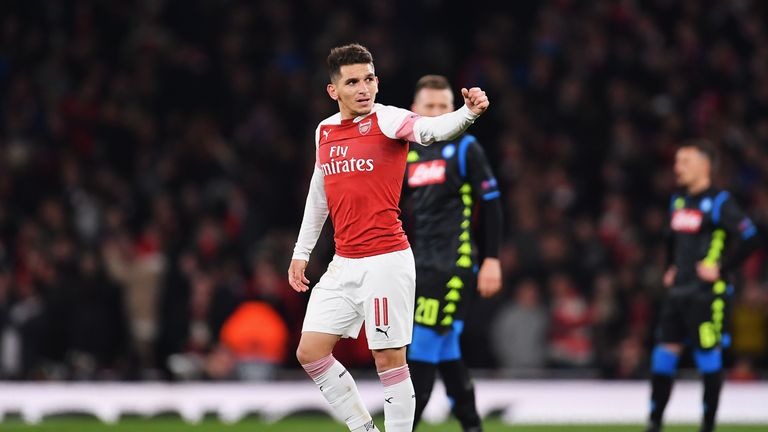 I would keep Lucas Torreira in the team and keep Matteo Guendouzi sitting in front of the back four. If they go with the back three, that is fine too. I would leave Mesut Ozil out, and put Aaron Ramsey and Pierre-Emerick Aubameyang in. I would play Ramsey in front of the holding midfielders, and put Aubameyang and Alexandre Lacazette further up. I think Arsenal have to score in this one - and they will.
CHARLIE PREDICTS: 2-1 (15/2 with Sky Bet)
It will be another rest for five or six Chelsea players, I would imagine. Eden Hazard will get a night off and Olivier Giroud will come in, as well as Pedro. There are enough choices in there. I would keep Ruben Loftus-Cheek and Callum Hudson Odoi in the side, but this will be another comfortable night for Chelsea. Giroud will score again.
CHARLIE PREDICTS: 2-0 (5/1 with Sky Bet)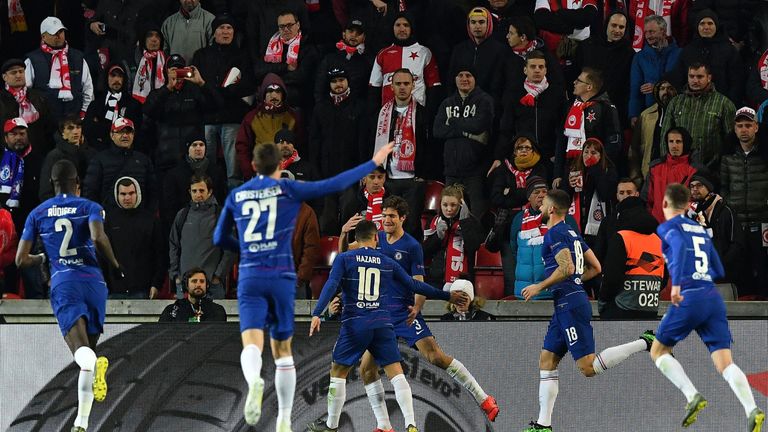 Charlie's earlier European predictions...
Man City vs Tottenham (agg 0-1)
This will be another tight affair. Man City have to score with another couple of goals and see if they can flex their muscles and get something.
I see Raheem Sterling and his pace, it is just brilliant to watch. His goal against Crystal Palace, for example. The ball from Kevin De Bruyne combined with the run inside the man from Sterling was just sensational. I hope for their sake they start Sterling, Leroy Sane and Sergio Aguero once again, as these can damage Tottenham, who will sit in and play on the counter-attack with Lucas Moura's pace.
He scored a great hat-trick at the weekend. It is whether they are good enough to keep the ball. Harry Winks will come back in and play with Moussa Sissoko while Christian Eriksen will play further up.
Sometimes you can force the pass in these games and the key to this game is De Bruyne. He has the determination to find the pass and he is good without the ball as well. Man City will go through - it will go right to the wire, but City are still holding the edge at this moment. Even at the weekend, they conceded to make it 2-1 but had the final push to get another.
CHARLIE PREDICTED: 3-1 RESULT: 4-3 (4-4 on aggregate)
Porto vs Liverpool (agg 0-2)
In reality, Liverpool could make changes to the team in this one, but they do not want to take advantage, especially if they go a goal down. Mohamed Salah is back in form and Sadio Mane scored again at the weekend, while Roberto Firmino has been the best of the attacking players recently. He may not take any chances but he may change the midfield. It will be awkward but Liverpool will get the job done and be comfortable towards the end in this one.
CHARLIE PREDICTED: 1-1 RESULT: 1-4 (1-6 on aggregate)
Barcelona vs Man Utd (agg 1-0)
I think this is just too much for Ole Gunnar Solskjaer. I am amazed they are still in this. Can they go and win at the Nou Camp? They have proved me wrong twice, first at Juventus and secondly against PSG.
They went without Paul Pogba to PSG and brought the kids on, managing to get the job done. He was tactically clever and had to switch the formation. He changed it and it worked a treat. This is different, however. Luis Suarez was good but Lionel Messi was quiet at Old Trafford and they both had a rest at the weekend.
I have never heard Messi come out and make a statement, saying how he wants to return the Champions League to Barcelona, so I expect him to turn up and produce something for the fans. The problem is getting the ball for Manchester United and Barcelona can be ruthless at home. Messi will perform to the level that we are used to and United are not playing well currently.
CHARLIE PREDICTED: 3-1 - RESULT: 3-0 (4-0 on aggregate)
Juventus vs Ajax (agg 1-1)
I still think this is going to be tight. I thought Ajax should have won the first leg but Cristiano Ronaldo turned up yet again. Ajax will not be fazed by the trip to Juventus as they won at the Bernabeu, in emphatic style, against Real Madrid.
However, the know-how of Juventus alongside the firepower of Ronaldo will prove pivotal. Even if he is quiet for an hour he can pop a couple in, so I think Juventus will advance.
CHARLIE PREDICTS: 2-1 - RESULT: 1-2 (2-3 on aggregate)