Sky Bet EFL Goal of the Month winners: Jack Grealish, Jonson Clarke-Harris and Jamie Devitt
Jack Grealish, Jonson Clarke-Harris and Jamie Devitt have won the Sky Bet EFL Goal of the Month awards for March
Last Updated: 18/04/19 11:52pm
Aston Villa midfielder Jack Grealish is the Sky Bet Championship Goal of the Month winner for March, receiving 59 per cent of the public vote.
His strike was an outstanding combination goal as Glenn Whelan floated a deep corner with precision into the arc of Grealish. Cue a perfectly timed volley and a shot thrashed home in an instant against Derby on March 2.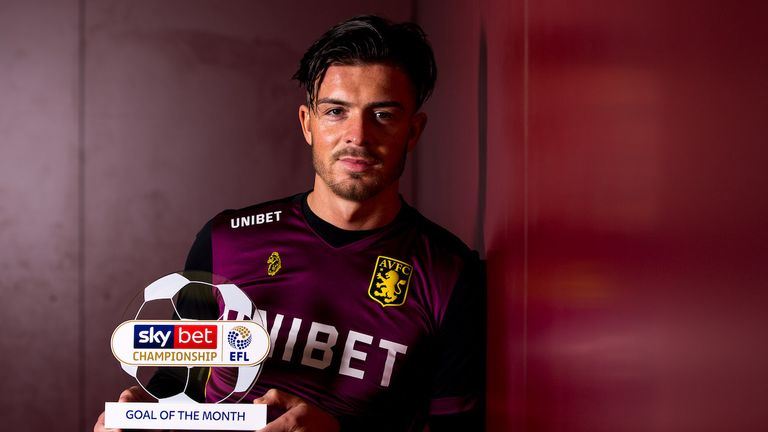 Grealish said: "I'm honoured that supporters have chosen my goal to win Goal of the Month especially considering there was so much competition.
"It's a goal where everything seemed to click - it was a great ball in from Glenn Whelan and I couldn't have wished to hit a sweeter volley. It's definitely one I'll remember for a long time."
Lead Sky Bet EFL Goal of the Month judge and Sky Sports pundit Don Goodman said: "A goal straight off the training ground is always a thrill when it comes off, so don't underestimate the brilliant delivery from Glenn Whelan.
"Still, the technique displayed by Grealish is wonderful and quite rightly is what the goal will be remembered for by everyone, particularly the man himself who may never better this stunner."
Grealish beat off competition from Derby's Mason Bennett and Norwich City's Emi Buendia.
Sky Bet League One: Jonson Clarke-Harris - Plymouth vs BRISTOL ROVERS - March 23
Bristol Rovers striker Jonson Clarke-Harris is the Sky Bet League One Goal of the Month winner for March, receiving 57 per cent of the public vote.
Before he could think about scoring a screamer into the top corner from 25 yards, Clarke-Harris had to use chest control then his tight dribbling skills to work his way into space.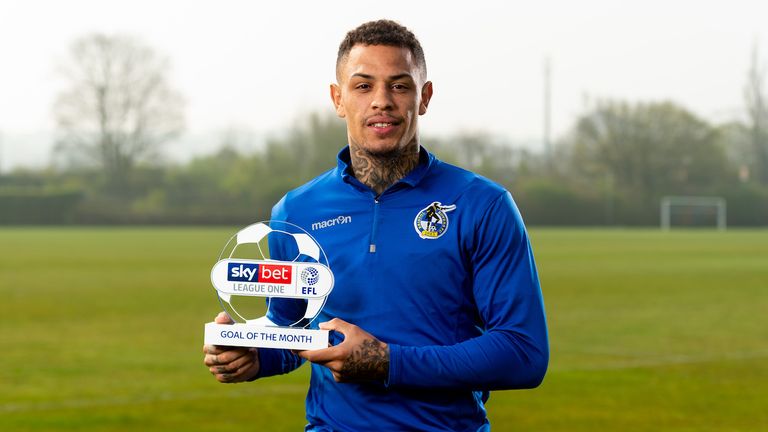 Clarke-Harris said: "Firstly, I would like to thank all the fans who voted. My goal against Gillingham took home the Goal of the Season award at last week's End of Season Awards Dinner, but I actually think the goal against Plymouth was better!
"Even though the goal itself was good, the most important thing for me was that it helped us pick up a point, in what was an important match."
Goodman said: "It's no surprise to see Clarke-Harris picking up this award, given that the panel could've easily made a shortlist consisting entirely of his March goals.
"With the Sky Bet League One Player of the Month award already in the bag, Clarke-Harris now has the Goal of the Month, and by the way he's started April, there may be even more to come."
Clarke-Harris beat off competition from Peterborough's Marcus Maddison and Gillingham's Luke O'Neill.
Sky Bet League Two: Jamie Devitt - CARLISLE vs Cambridge - March 23
Carlisle midfielder Jamie Devitt is the Sky Bet League Two Goal of the Month winner for March, receiving 45 per cent of the public vote.
The key to this strike was Devitt's judgement of when to strike the ball rolling across his path. Leaving it as late as possible, he was able to arrow it into the far corner.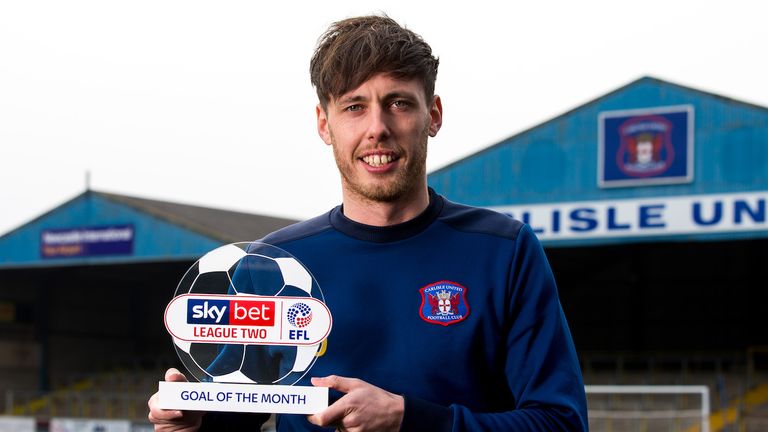 Devitt said: "It was a good run from Callum [O'Hare] so I made sure I got into space when he started to cut back in towards the box.
"He rolled it in front of me and it was on for the shot, so I went for it. It was nice to see it go in. Before the game I'd been talking about goals with my son Mason and it was him who said I had to do the Fortnite dance. It probably didn't look the best but that was for him."
Goodman said: "It's always nice to see a goal from distance. One of the hardest skills in football is to get a pure strike from a pass that is coming across your body.
"Devitt made the slightest of adjustments to his stride, then struck the ball while still on the move, sending it crashing into the Cambridge goal via the crossbar... a technically brilliant goal.''
Devitt beat off competition from Colchester's Frank Nouble and Yeovil's Ryan Seager.