West Ham manager Manuel Pellegrini 'cannot understand' incorrect Lucas Perez offside call
West Ham drew 2-2 against Leicester in the Premier League on Saturday
Last Updated: 20/04/19 6:44pm
A frustrated Manuel Pellegrini said he could not understand how the linesman flagged Lucas Perez for offside when the striker had the ball in the net for a second time against Leicester.
Perez came on as a 78th minute substitute during the 2-2 draw and put West Ham back in front three minutes later. Leicester players had been calling for offside, but replays showed he was onside in the build-up.
However, on the stroke of the 90 minute mark, Perez scored once again, but this time, it was ruled out for offside - although he was once again level - and Pellegrini made his feelings clear on the decision.
"I'm frustrated because we didn't get the result we wanted to have here in our stadium," he told Sky Sports.
"Similar to last week [against Man Utd], we deserved to win, but for different refereeing decisions, we couldn't do it and also because we are conceding two goals.
"It wasn't a tough decision. Last week was a tough decision [for Felipe Anderson's goal also incorrectly ruled out for offside], now it is in front of the linesman and Lucas is one metre in the legal position.
"When it is a difficult decision, I say it is a difficult decision. Last week against Man Utd, that was very difficult for the linesman because it was just one foot and it was the opposite side of him - that mistake you can understand.
"But the mistake today, I cannot understand. With that goal, we would have finished the game."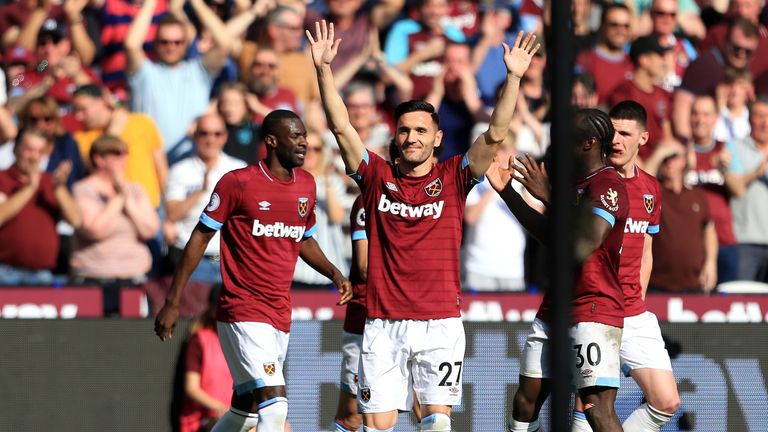 West Ham are now winless in their last four Premier League games, and Pellegrini believes his side were too "distracted" for the Leicester equalisers.
He added: "I think that we played a very good game. Leicester are a team who have very good players, very technical players but they did not have one chance in the first half. We scored a goal and had other chances.
"After that, I think we created enough chances to win the game, but unfortunately, we made too many distractions in their goals - in both goals, we could do better."