Manchester United are nowhere near good enough
United suffer 4-0 humiliation at Everton; Watch Man Utd vs Man City on Wednesday, live on Sky Sports Premier League from 7pm; Kick-off 8pm
Last Updated: 22/04/19 11:08am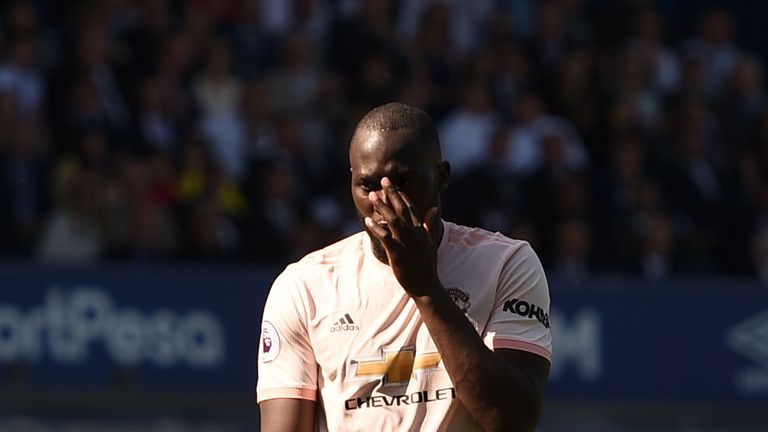 Manchester United's 4-0 defeat to Everton laid bare the scale of the problems facing Ole Gunnar Solskjaer, writes Adam Bate.
Ole Gunnar Solskjaer had talked of a reality check but this was just unreal. Manchester United thrashed 4-0 by Everton at Goodison Park. Humiliated. A fifth consecutive away defeat for the first time in 38 years. The man who was supposed to be harking back to Sir Alex Ferguson's hey day has taken the time machine a little too far back.
The wheels are off for Solskjaer.
Report: Everton thrash woeful Man Utd
Solskjaer apologises to United fans
There was always a suspicion the highs of his first few months in charge were misleading, but this is now more than a correction, more than a regression to the mean. Even Jose Mourinho only conceded four goals in a game once during his two-and-a-half years at the club. As a one-off performance, this was as bad as anything he served up.
Where to begin with the problems? Solskjaer sparked a dramatic upturn in the fortunes of some of the underperforming, and seemingly uninspired, players among the United squad but their form has dipped again. Against Everton, the disappointing efforts of Paul Pogba and the rest were matched by the struggles of those whom United had come to rely on.
What has happened to De Gea?
David de Gea retains his reputation as one of the game's best goalkeepers but reputation is all it is at the moment. The Spaniard has been named in the PFA team of the year in each of the past four season but looks well short of that form. He certainly got nowhere near Gylfi Sigurdsson's long-range effort despite it looking like the sort of shot he would usually eat up.
We know that we have to improve but words mean little: we have to give everything for this club. Thank you for your unconditional support

— David de Gea (@D_DeGea) April 21, 2019
What's usual though? These are strange times. De Gea has conceded eight goals from outside the box in the Premier League this season, most of them under Solskjaer. It's more than the first choice goalkeepers at the top-four clubs have conceded between them from that range. What was once United's strength looks like just another weakness right now.
Lack of urgency without the ball
It's worth mentioning De Gea also happens to have saved more shots from outside the box than any goalkeeper in the Premier League this season too - a clue the protection he is receiving is not what it should be either. For Sigurdsson's goal, the sight of Nemanja Matic ambling alongside him was disconcerting. Where was the desire to stop the shot?
United lacked any kind of intensity and were nowhere near Everton in that regard. They were outrun by four kilometres in the first half and there was nothing approaching a response because they were outrun by four kilometres in the second half too. This was not about talent, this was about the basics of work rate and application that were sorely lacking.
United looked an easy team to play against.
Even since Solskjaer was appointed, United have conceded more shots than any of their top-six rivals with only Chelsea having let in more goals in that time. The Norwegian has coaxed much more from his forwards but despite some fine backs-to-the-wall defensive efforts, that has masked the many flaws in United's back line that never really went away.
Sky Sports pundits blast Man United display
This is now the most goals they have ever conceded in a Premier League season. The most in a top-flight season in 40 years. Still United supporters are seeing the same old names on the team sheet. Chris Smalling lost the header in the build-up the first goal. When Solskjaer decided to take off Phil Jones at half time, he brought on Ashley Young.
Whisper it, but Mourinho had a point. This defence needs an overhaul.
Forwards failing to impress too
If only the defence was the only problem. Having recently gone three hours without a shot on target from open play, it took United until the final five minutes of this game for Anthony Martial to force a save from Jordan Pickford in the Everton goal. Of course, by that point, the game had long since been lost.
Martial really struggled to get into it, while Marcus Rashford also appeared out of sorts - blazing a series of ambitious efforts well over the bar. At least he had a shot. That's more than Romelu Lukaku managed in his 90 minutes on a pitch he knows so well. The home fans ended up jeering the striker's attempts to control the ball late in the game.
Solskjaer did well to restore United's counter-attack but these players continue to look one-dimensional when the defence is set and the onus is on them to craft a passage to goal. The attacking cohesion bears no comparison to the best teams in the Premier League and this was just the most chastening reminder yet of that ongoing failing.
How can they sort out this mess?
Such was the initial turnaround under Solskjaer it was possible to believe the need for change at Old Trafford had been overstated. But perhaps the real deception occurred during that run of eight consecutive wins that marked the start of his reign. The players responded following Mourinho's departure. But maintaining those standards is the key.
This United squad cannot - or will not - do that and it's a problem that has been encountered by a variety of different managers with very different personalities and tactics. For all the money that has been spent, there may be no choice but to go into the market again in the hope of creating a new culture at the club with new characters.
If there is anything positive to come from such a dismal defeat is that it provides that clarity. Solskjaer came in and highlighted what was possible. Now he has highlighted something that could prove just as important in the long run.
The problems at Manchester United are real, they are numerous, and they simply must be addressed.