Danny Higginbotham
Football Expert & Columnist
How can Paul Pogba flourish at Manchester United?
Watch Huddersfield vs Manchester United on Sky Sports Premier League from 1pm on Sunday; Kick-off at 2pm
Last Updated: 06/05/19 11:21am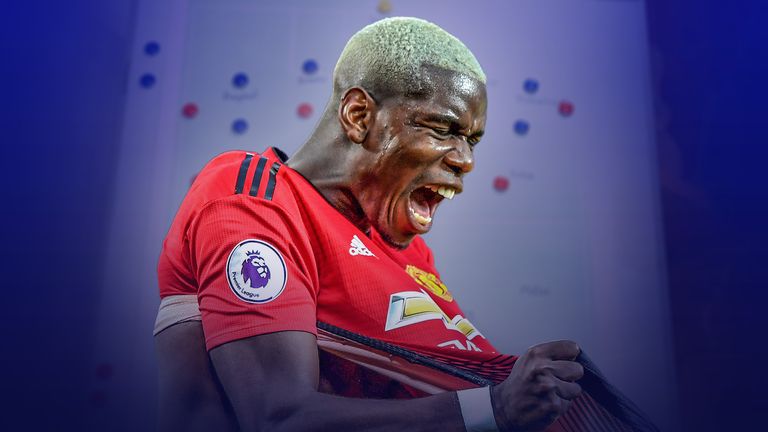 Danny Higginbotham says Paul Pogba has to dispense with his defensive duties if he is to flourish at Manchester United.
Pogba is enjoying the most productive season of his career having directly contributed to 22 Premier League goals this season, scoring 12 times and providing 10 assists.
But nine of the Frenchman's 16 goals in all competitions came during an 11-game spell at the start of Ole Gunnar Solskjaer's reign.
Pogba was named in the PFA Team of the Year - a decision which divided many observers - with his recent performances in United's poor run of seven defeats in nine matches prior to the 1-1 draw with Chelsea coming under strong criticism.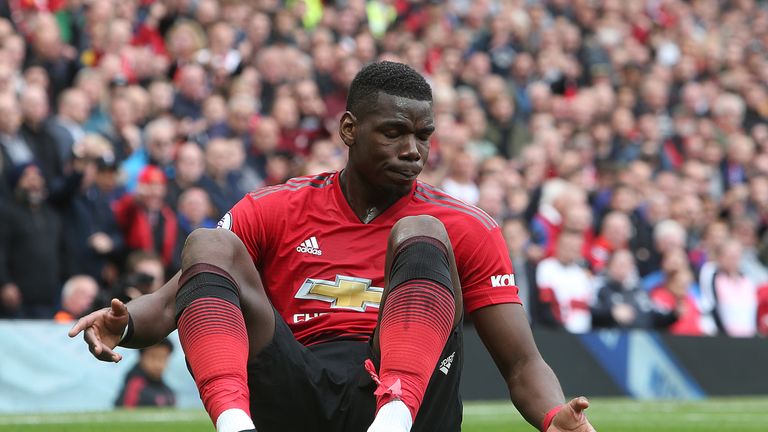 Ahead of their visit to face Huddersfield, live on Sky Sports this Sunday, Higginbotham believes the £89m midfielder should become the focal point of United's team.
'If I'm Solskjaer, I'd build my team around him'
Higginbotham told Match Centre: "When United have the two centre-backs and two defensive midfielders, Pogba has the licence to go forward and they have the width from the full-backs.
"This enables the front four to interchange, to play closer and that's how you get the best out of Paul Pogba. When United have the cover, Pogba doesn't have to worry about what's behind him.
"He can focus on getting into the box and he's at his best when he gets in behind the opposition midfield, because it's a nightmare for defenders as you don't want to come out and mark him.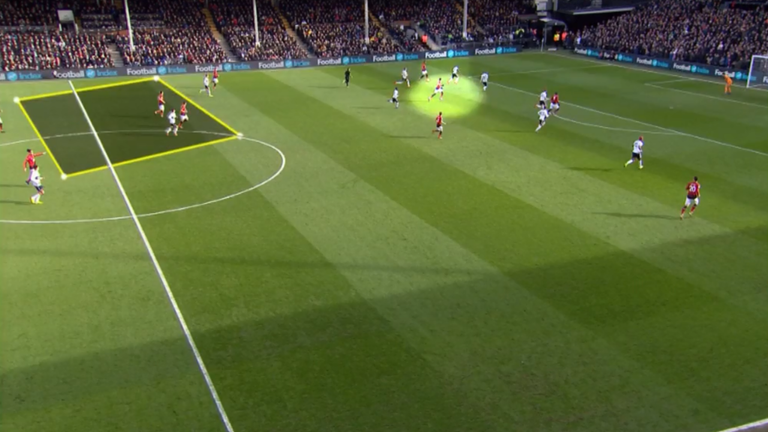 "Without Herrera [in the Manchester City defeat], Pogba played in a deeper role where he hoped he could dictate things. We know he's got a wonderful array of passing, but you want to see him higher up the pitch.
"We know how good he is with the ball at his feet, but the higher up the pitch he gets, the more you're going to get out of him.
"He's been getting a lot of criticism recently, there's no doubt about it, but if I'm Solskjaer, I would love to build the team around this player, because he is a talent.
"In order to get the best out of him, he has to play in his best position. You wouldn't ask your best player to play in an unfavoured position.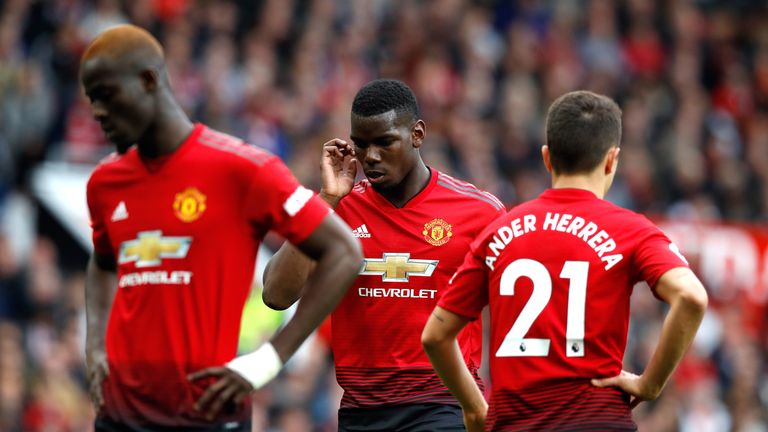 "If you look at all the top teams, all their best players are playing in their best positions in order to reach the best of their capability, and that's how I see it with Paul Pogba."
Higginbotham believes the game has left box-to-box midfielders behind, while very few defensive midfielders provide the same coverage of goals that Pogba has achieved this season, albeit with seven of his strikes coming from the penalty spot.
The Sky Sports pundit believes having Ander Herrera in midfield alongside Nemanja Matic has allowed the 26-year-old to maximise his qualities.
But with Herrera's contract set to expire this summer amid interest from Paris Saint-Germain, Higginbotham says United will have to assess their defensive midfield options should the Spaniard depart.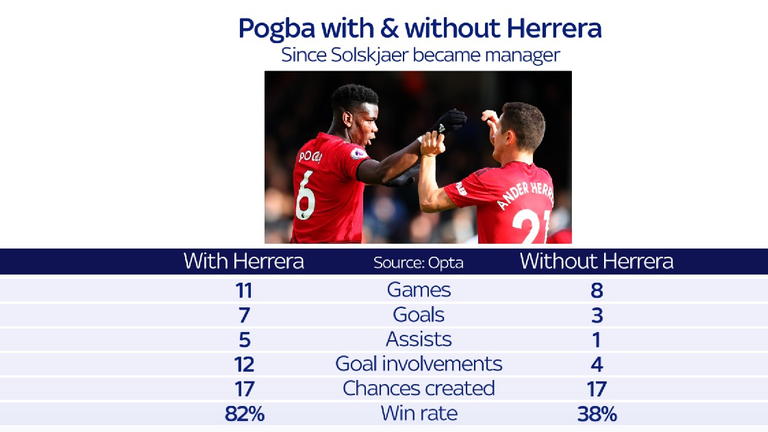 He added: "Without Ander Herrera, Pogba's not the same player.
"When he has the two sitting midfielders - Matic and Herrera to back up the play - he has the licence to go forward, express himself and do what he likes.
"That's the difference, and obviously with Herrera, there's a lot of talk of him going at the end of the season. If that's the case, and Paul Pogba stays at the club, then they need to look at that situation.
"They may think Scott McTominay is someone who can fit that role as he's done outstandingly well."
Is De Gea's contract situation playing on his mind?
David de Gea has committed three errors leading to goals in his last four matches - as many as he had made in his previous 123 club appearances for Manchester United.
It has led to calls for the Spaniard to be dropped by Solskjaer ahead of the visit to Huddersfield, amid suggestions that his future at Old Trafford is playing on his mind.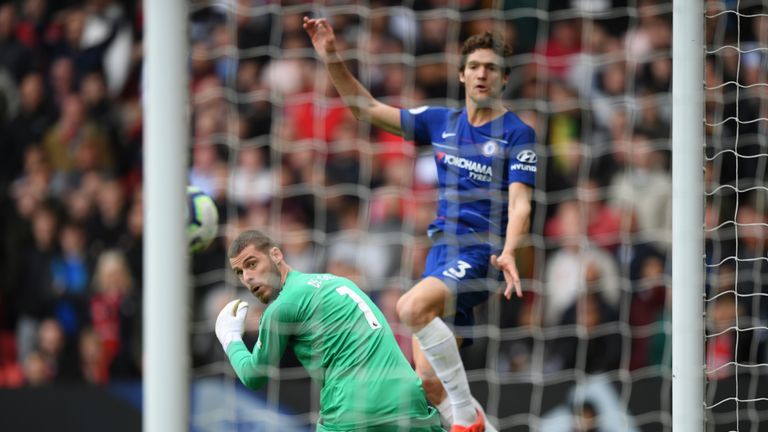 De Gea has one year remaining on his current deal, but former United defender Higginbotham believes the goalkeeper is just going through a bad period of form.
He told Match Centre: "He's having a bad patch. The criticism is out of order. People are always looking for a story that's not there in my opinion.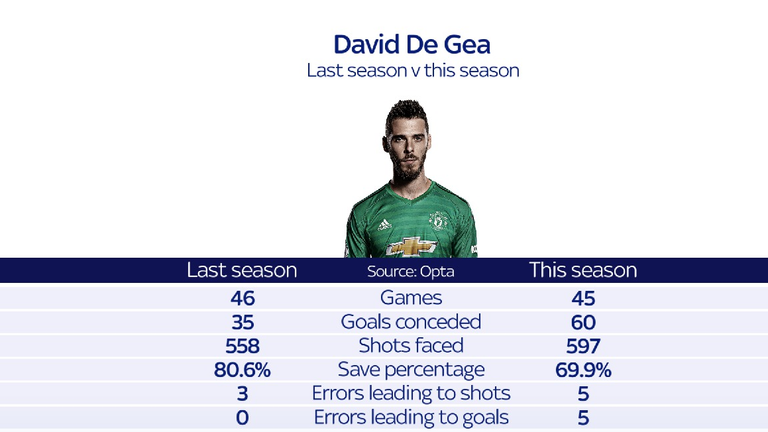 "We see it with so many different players - they go through a bad patch and people say, 'they mustn't be happy at the football club. They might want a new contract etc'.
"When a player goes onto a football pitch, the last thing on their mind is their contract situation. The most important thing on their mind is giving a good performance.
"A collective performance that gives the team the best opportunity to win the game. De Gea is not going onto the pitch thinking about his contract negotiations, and the mistakes are unlike him.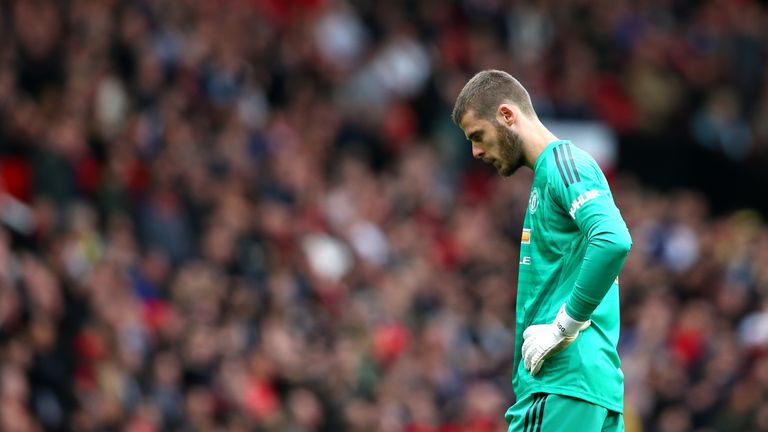 "He's going through a bad spell. If he was a central midfielder, or a winger, we wouldn't be talking like this. It's because he's the last line of defence.
"The more concerning thing is that over the last four or five years, he's got the majority of the Player of the Year awards at Manchester United - and that's not something you want to see.
"He's having a bit of a bad spell at the moment, and because his standards are so high, once he drops below that, everyone starts to question what he's going through.
"He's human and it's got nothing to do with his contract."