Iker Casillas may not play again after heart attack, admits Porto doctor
The 167-time capped Spain international remains in a stable condition in hospital after falling ill on Wednesday morning
By Blake Welton
Last Updated: 03/05/19 4:24pm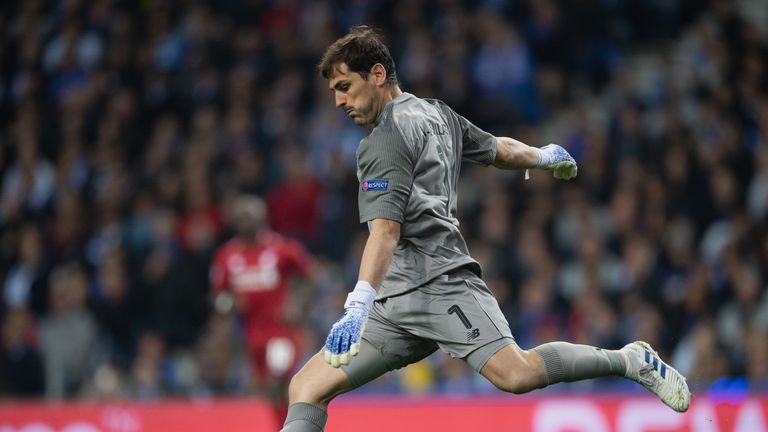 Porto's club doctor believes Iker Casillas will make a full recovery from his heart attack - but says it is too early to tell if he will play professionally again.
The 167-time capped Spain international, who turns 38 later this month, remains in a stable condition in hospital after falling ill during a training session on Wednesday morning.
However, speaking to Porto's official TV channel, club doctor Nelson Puga believes Casillas' playing future depends on a number of factors.
Todo controlado por aquí, un susto grande pero con las fuerzas intactas. Muchísimas gracias a todos por los mensajes y el cariño 😃💪🏼 pic.twitter.com/i3TXsELUGD

— Iker Casillas (@IkerCasillas) May 1, 2019
"It will depend on the medication that he will need to take, on the evaluation of the physical demands of his profession, and also on his will to keep playing," Puga said.
"Only after carefully taking all that into consideration will it be possible to decide whether he will continue, and whether he wants to continue."
Casillas said on Thursday everything was "under control" and despite "a big scare" he was still feeling strong.
Puga said "luckily" the heart attack was diagnosed quickly after Casillas arrived at the hospital, and the goalkeeper was not expected to sustain any long-term damage.
"He is stable and accompanied by his family with his characteristic good humour and calmness," added Puga.
"He is now starting to take the first steps to a perfect recovery and we are almost certain he will do that."
Messages of support to the goalkeeper came from clubs and players across the world - including those from Real Madrid and former team-mates Sergio Ramos and Gareth Bale, as well as current Real goalkeeper Thibaut Courtois.
Porto club president Jorge Nuno Pinto da Costa said everyone at Porto now carries extra motivation to keep winning matches with the defending champions trailing Benfica by two points with two games left in the Portuguese league.
Casillas recently had his contract with Porto extended until the end of the 2019-20 season, with an option for another one-year extension.
He joined the Portuguese club in 2015 after 16 seasons with Real Madrid, during which time he helped to win five La Liga titles and three Champions League trophies.