Jurgen Klopp: This is just the first step for Liverpool
Liverpool beat Wolves 2-0 but are pipped to the title by Manchester City by just one point; 97 points not enough for the title
By Gerard Brand at Anfield
Last Updated: 13/05/19 8:21am
Jurgen Klopp insists Liverpool's record-breaking season is just the "first step" for his team after they were pipped to the Premier League title by Manchester City.
Liverpool beat Wolves 2-0 at Anfield on Sunday, but City's 4-1 win at Brighton meant Klopp's side finished just a point short with a record tally of 97 points for a second-place side.
Before last season, no team had recorded more points than Chelsea's 95 under Jose Mourinho in 2004/05.
The German insists Liverpool could not have done more to win the title, as attention turns to their Champions League final against Tottenham on June 1 in Madrid.
Klopp told Sky Sports: "People might say we could have done this or that but not really, I don't think [we could have done any more]. City were lucky in moments, we were lucky in moments. It was about staying in the race and believing and that's what we did.
"When your opponent is City, it's difficult. They couldn't get rid of us and we couldn't get rid of them. Being second in the Premier League is not exactly what I wanted but we have to see it as the first step for this team. We have three weeks to prepare for the Champions League final - let's give it a go."
Klopp also referenced how this side is more or less the same as last season's, insisting that the quality of football on show gives him hope for the future.
PL pts compared to 17/18 (exc. promoted teams)
Man City ⬇️2
Liverpool ⬆️22
Chelsea ⬆️2
Tottenham ⬇️6
Arsenal ⬆️7
Man Utd ⬇️15
Everton ⬆️5
Leicester ⬆️5
West Ham ⬆️10
Watford ⬆️9
C.Palace ⬆️5
Newcastle ⬆️1
Bournemouth ⬆️1
Burnley ⬇️14
Southampton ⬆️3
Brighton ⬇️4
Huddersfield ⬇️21

— Sky Sports Statto (@SkySportsStatto) May 12, 2019
"I know in England people talk a lot about signings but the team that played today played the last couple of weeks were together last year apart from Alisson. Of course we brought new players in but the majority are the same and they made crazy steps. We closed the gap from 25 points.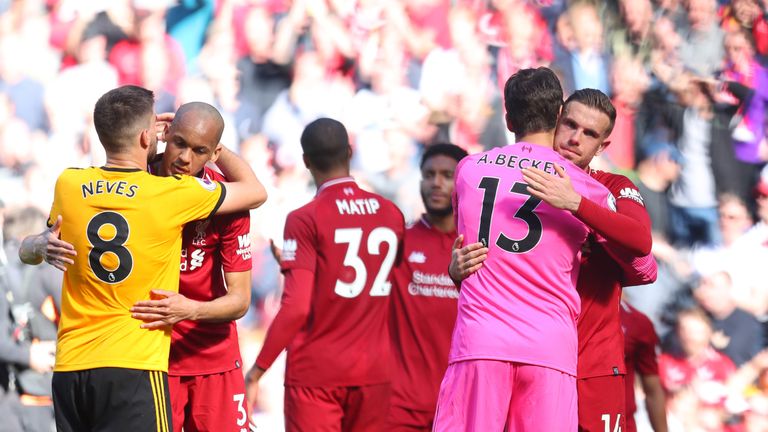 "This team is at a wonderful age group and we will go again and develop. People really enjoyed the ride, that's a very important thing. If you play rubbish football and win something at the end of the season, that's good for the future to look back on and say you won something, but this team is outstanding. How we improved and always used the next step.
"Congratulations to Manchester City. They played a good season as well. In the last two years they have won 198 points. Not bad! All my respect and congratulations."
In his post-match press conference, Klopp was in a reflective mood, but joked that it would take too long to discuss the positives of his Liverpool side, and says there is more to come.
"If I sit here and talk about all the positive things in this team, we'd be here until an hour before the Champions League final starts. That's the time. It's not the moment for that."
He added: "We decide how much we enjoy that season, nobody else, and I enjoyed it a lot. Not the final second of it, but all the rest. This team is not a finished article, but we go again, 100 per cent."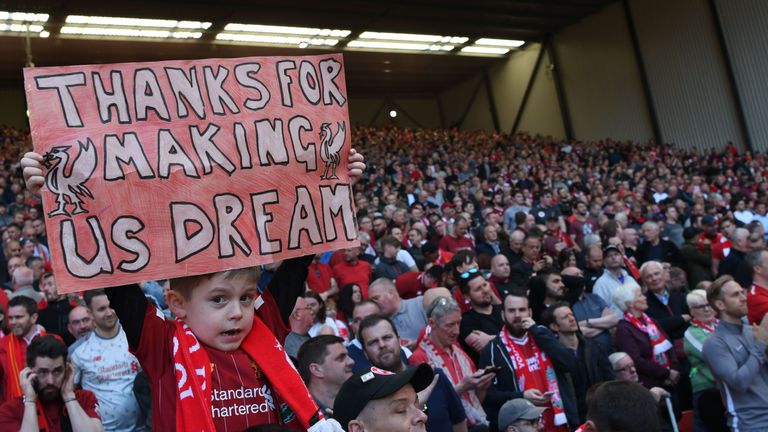 Klopp also said that he had been unaware until after the game that Brighton had taken the lead against City, instead thinking they had equalised.
"After the game during the interview someone told me, I thought it was the equaliser for Brighton, I had no idea they'd gone 1-0 up."
With City becoming the first time to retain the Premier League title for a decade, Klopp says it will take near-perfection again to topple Pep Guardiola's side next season.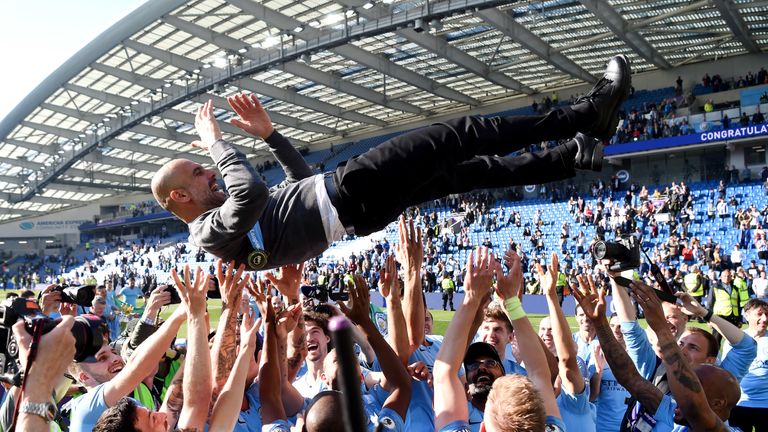 "As long as City is around, with the quality and the financial power they have, no team will pass them easily, that is clear. So we need to be very, very close to perfection to win the Premier League.
"But we have made unbelievable steps, and I really expect more to come."
Liverpool could not have done more to win this Premier League title and this team can grow.
Liverpool were brilliant. That brilliance will not be rewarded with a trophy but that should not mean that it is not rewarded with high praise, writes Adam Bate.
What's next?
Liverpool now go to Madrid for the Champions League final against Tottenham on June 1, kick-off at 8pm. Here's how you can follow the match on Sky Sports.