Heung-Min Son has completed his three-week basic military training in South Korea, finishing in the top five out of 157 people in his class.
The Tottenham forward, who entered the Marine Corps training camp on the southern island of Jeju on April 20, also finished with a perfect record in shooting.
Son's graduation ceremony was closed to the public, due to social distancing rules in place in South Korea to combat coronavirus, but dozens of fans were still waiting outside for the 27-year-old.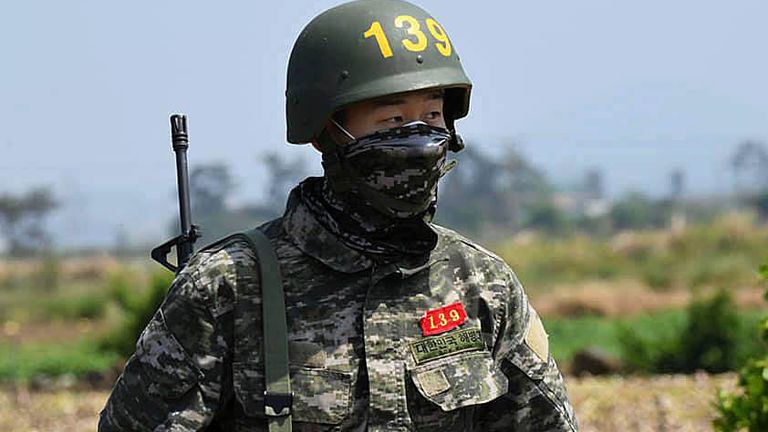 He earned exemption from the full 21 months of military service by helping South Korea to win football gold in the Asian Games in 2018.
Son must still complete some community service obligations by 2023 in order to fully complete his military duties.
He decided to carry out his military training while the Premier League is suspended due to coronavirus.
Son will return to London next week, but will have to quarantine for two weeks, as per government guidelines. It will be his third separate lockdown since the coronavirus pandemic began, and could impinge on a potential return to training.
With the Premier League's 'Project Restart' hoping to see the top-flight resume in early June, that could mean a return to group training later this month, which Son could miss.
However, the pandemic has had its benefits for Son, who was set to miss the rest of the season through injury had it not been suspended.
The South Korea international suffered a broken arm in February and returned home for an operation, with boss Jose Mourinho expecting him out for the rest of the campaign.
🇰🇷 Heung-Min Son has completed his mandatory military service in South Korea. He is due to return to London next week.

Congratulations, Sonny. See you soon! #THFC ⚪️ #COYS pic.twitter.com/ldacJRm4j8

— Tottenham Hotspur (at 🏡) (@SpursOfficial) May 8, 2020
Tottenham players have returned to training at their Hotspur Way base but under strict conditions including staggered shifts for the first-team squad.
Only one member of the squad has been allowed on each pitch at any time, and players have been instructed to travel to the base on their own, with no lifts allowed.
All activity must be conducted with social distancing measures in place and there are restrictions on the numbers allowed at the training centre each day.
The Premier League is targeting a return to training in small groups from May 18, though several club doctors have expressed reservations about the league's Project Restart proposal.
The government is strongly considering allowing clubs to then step up training in early June with a view to playing behind closed doors matches later that month.
Project Restart protocols state all players and staff must be tested twice in one week prior to entering the training ground for small group training and the Premier League is looking to organise their own drive-through testing centres, away from club's training grounds.
Clubs will meet again on Monday, a day after the UK government gives an update on lockdown restrictions.
Spurs boss Jose Mourinho, who has been delivering food to the local community, wants to finish the 2019/20 campaign when football is deemed safe to return.
"If we play the remaining nine matches this season it will be good for every one of us," he told Sky Sports in an exclusive interview.
"It will be good for football, for the Premier League.
"If we play football behind closed doors I'd like to think that football is never behind closed doors. With cameras, it means that millions and millions are watching. So if one day we walk into this empty stadium, it will not be empty, not at all."