Drinking alcohol in seats at football grounds, banned since 1985, could be reinstated as part of a fan-led review into the game.
While the specific details are yet to be revealed, former sports minister and current Conservative MP Tracey Crouch is set to publish her independent review into football, with a key recommendation being changes to how alcohol is consumed within stadiums, according to The Times newspaper.
Currently, drinking alcohol is permitted in the concourses of grounds in the Football League but not in seats, meaning fans can drink before the match and quickly at half-time.
Crouch, who has been battling cancer, admitted the timing of the recommendation against the backdrop of the scenes at Wembley for the Euro 2020 final in July is not ideal, but feels the moment has come to review how alcohol is viewed as part of the match-going experience.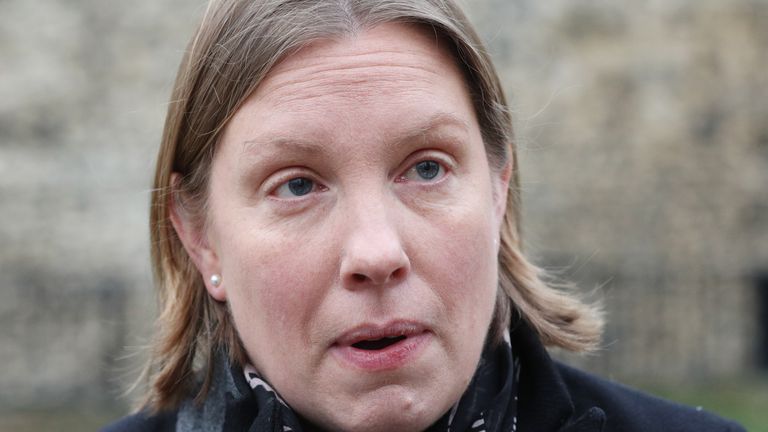 "Our view on alcohol and football is outdated," she told The Times. "It's not helped when you see scenes like we did at Wembley. But that's why I would pilot it first. Let's get the data. My view is not some kind of altruistic view that fans should be able to drink at football. It's also about allowing clubs to be able to sustain themselves.
"We can look at things like an independent regulator as part of this process. But football has to take a bit of responsibility for itself and sustain itself better.
"We kettle people into drinking quickly at half-time. And that is the unhealthy aspect of the football fan's relationship with alcohol. They drink a lot in a short space of time. So my recommendation is to pilot this and not have to down a pint at half-time."
Crouch will push for a pilot on serving alcohol at clubs in the National League and League Two with a view to extending it across the professional game, thus protecting income of clubs lower down the footballing pyramid.
"Take a club like Dulwich Hamlet, which is in National League South," Crouch added. "It's revenue is generated through its refreshments. If it gets promoted to the National League Premier [which operates under the alcohol ban], it effectively stops generating that revenue during a game. They said openly in evidence to us that they cannot afford to get promoted because of the rules around alcohol.
"Lots of clubs generate a lot of their income through their bars and I think it's time to look at this issue again. We do have this bizarre situation where you can go to Headingley and drink as a cricket fan, but go to Elland Road and you can't drink as a football fan."
The fan-led review, chaired by Crouch, was established amid the controversy that followed the collapsed European Super League project earlier this year, while the Duke of Cambridge has shown his support for grassroots football fans hoping to save the "heart and soul" of their clubs.
Orient give their backing to scheme
A League Two chief executive has given his backing to a proposed pilot which would end the "crazy" ban on allowing fans to drink alcohol in their seat.
Leyton Orient CEO Danny Macklin said it was way past time that adult responsibility to drink sensibly and safely was conferred on football fans, as it is on those who watch other sports.
"It's something we're keen to see trialled. The reality is it will help improve the fan experience," he told the PA news agency.
"At the moment we have a lot of fans that rush into the Breyer Group Stadium at 10 to three after a few pints in the local establishments, rush to get in and often miss the first couple of minutes.
"This is an opportunity for us to create much-needed additional revenue, not just us at Leyton Orient but every club would be able to benefit from that.
"There will be fans who will say it creates a load of rowdy behaviour, the reality is we will make sure that's policed in the same way as someone who's going to have four or five pints in the local pub. This will be an opportunity to get people into the stadiums earlier, potentially keeping them there a little bit longer after the game, and allow them to be adults.
"I come from the world of cricket and it seems crazy that the same person can enjoy a nice cold pint on a hot summer's day at the cricket but they can't do that two weeks later at a football stadium."
The EFL is understood to have been advocating for this change for some time, and Macklin highlighted the potentially huge financial upside to clubs who until recently had been starved of matchday revenue during the coronavirus pandemic.
"We average (attendances of) 5,500. If 1,000 people bought an additional pint at £3.50 you can do the maths. Three and a half thousand pounds, 20-odd times a year, that adds up."
Since the possibility of a pilot was reported, some social media users have expressed concern about additional cups and bottles being thrown onto the pitch, sometimes in the direction of players.
Macklin, who said the club would likely keep an area of their family areas alcohol-free, added: "It's a tribal game, we know that, and there is sometimes the banter that overspills, but only rarely.
"If someone is foolish enough to throw a plastic beer cup, they're just as likely to throw a soft drink bottle, and that would probably cause more damage because the liquid would stay in the bottle.
"The majority of this will be in PET recyclable plastic bottles rather than as a plastic pint glass to avoid that euphoria moment when you score in the 90th minute and you've got beer stains all over your nice jacket."
The Football Supporters' Association gave its support to the pilot, and said in a statement: "We have long campaigned for the review of alcohol laws in football stadiums. Fans can be criminalised for drinking a pint in sight of the pitch at their team's ground, yet if that stadium holds a music concert or rugby match no such laws apply - that's clearly unfair."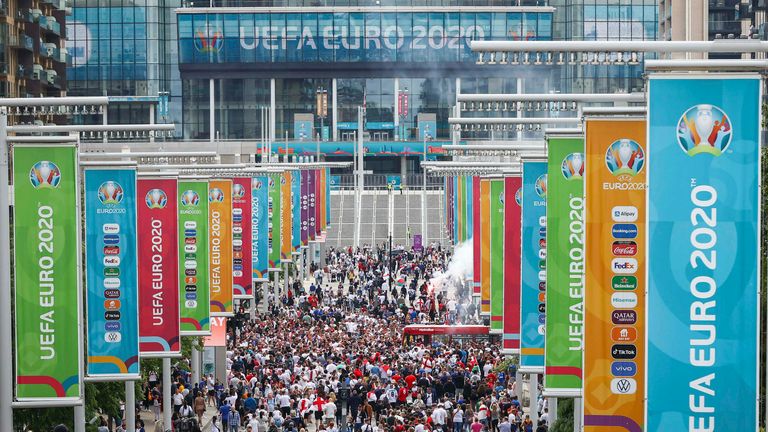 'Irresponsible' says police chief
UK's football policing lead Chief Constable Mark Roberts has criticised any potential move allowing alcohol to be consumed in the stands.
The National Police Chiefs' Council Football Policing lead says it would contribute to a growing disorder in the sport and pointed to the alarming scenes at the Euro 2020 final at Wembley, where ticketless fans stormed the gates and gained access to the stadium.
Roberts said: "Unfortunately we have seen that alcohol often plays a significant part in violent and disorderly behaviour at football.
"Anyone who frequents the night time economy will know that unfortunately the UK often has an unhealthy relationship with drink and drugs, and so whilst this isn't a problem unique to football there is a clear correlation in and around football between alcohol and poor behaviour.
"Other sports simply don't see the violence and criminal behaviour from their supporters that football does, albeit a minority, but we have seen growing concerns in cricket, horse racing and rugby around alcohol and behaviour which
have led to some venues taking counter measures.
"Since the Euro 2020 final and the return of fans to stadiums we have seen concerning levels of disorder at matches.
"Sadly this builds on disorder witnessed over recent seasons. In particular we have seen assaults on stewards and hate crime and it would be irresponsible to fuel this by allowing greater alcohol consumption during games.
"I would welcome contact from Tracey Crouch MP so we can discuss her views and again explain the challenges these proposed changes would bring to policing and safety staff at football."