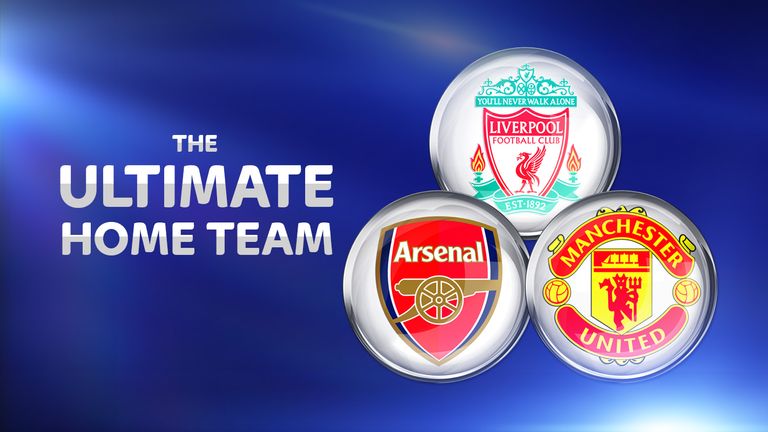 Liverpool have won the highest percentage of home games in Football League history, a new Sky Sports study has found.
The Reds have won 61.58 per cent – and only lost 16.09 per cent – of their 2,207 league home games since 1893/94.
That puts them top of the table in England, according to Sky Sports' analysis of all 190,096 professional games since the Football League was founded 127 years ago. Only the 92 clubs that were in England's top four tiers last season were included in the results.
Manchester United are the second-strongest home team, winning 61.43 per cent of their home fixtures since 1892/93, while Arsenal finished third with a 59.27 per cent record.
Other notable strong home teams include Reading – who are sixth in the all-time standings after winning 55.18 per cent of their 1,908 home games over the past 102 years – and Leeds. The Yorkshire club may currently play in the Championship but they have the eighth-best home record in England, with a 55.04 per cent win percentage.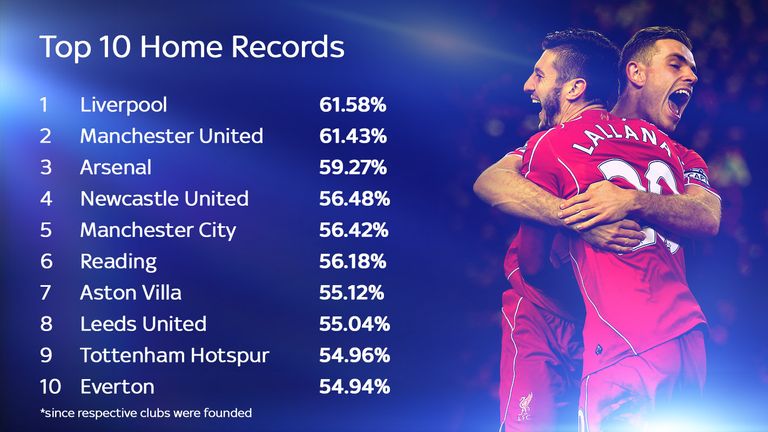 Worst home form
The worst home record went to current League Two side AFC Wimbledon with 35.87 per cent. The club was founded in 2002 – after Wimbledon FC moved to Milton Keynes and were renamed MK Dons – and have only had four seasons in the Football League to date. 
Morecambe (36.41 per cent) and Fleetwood Town (37.68 per cent) finished 91st and 90th in the all-time table, respectively.
Crystal Palace have the worst home record of current top-flight teams with a 48.64 home win rate since 1920/21.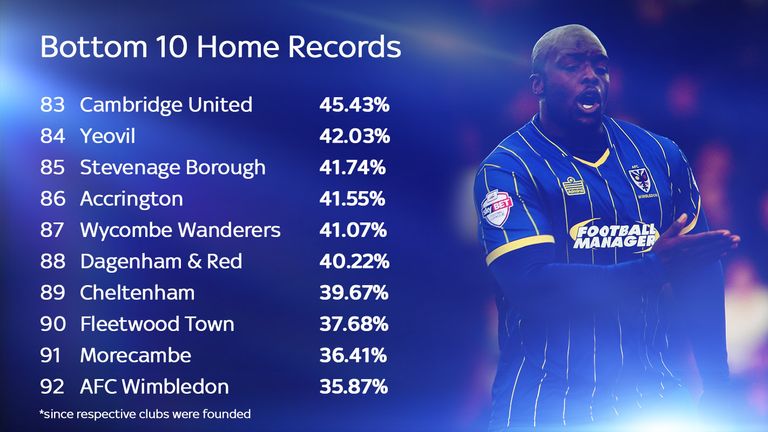 *Records for MK Dons include Wimbledon FC results
Home form in 2014/15
Despite Liverpool's home dominance over the last 121 years, the Reds only achieved a 52.63 home win percentage last season.
Premier League champions Chelsea secured an incredible 78.95 per cent, winning 15 of their 19 home games on their way to lifting the title.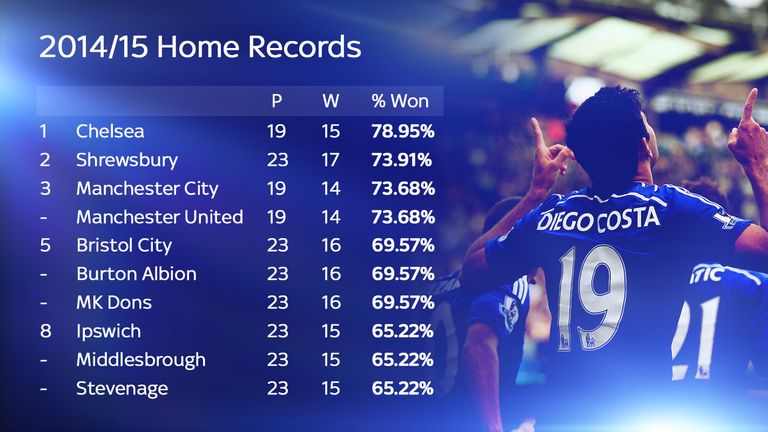 The red and blue sides of Manchester were the only other top-flight clubs to appear in last season's top 10 – both winning 14 home fixtures.
League Two runners-up Shrewsbury Town recorded the second-highest home win percentage with 73.91 per cent, while League One champions Bristol City and League Two champions Burton Albion drew fifth, both winning 16 of their 23 home games.
However, it was a year to forget for Wigan supporters, who saw just three wins at home all season as their side slumped to relegation from the Championship. 
Blackpool, Sunderland and Burnley fans didn't fare much better – those three managed just four wins each on their own turf in 2014/15.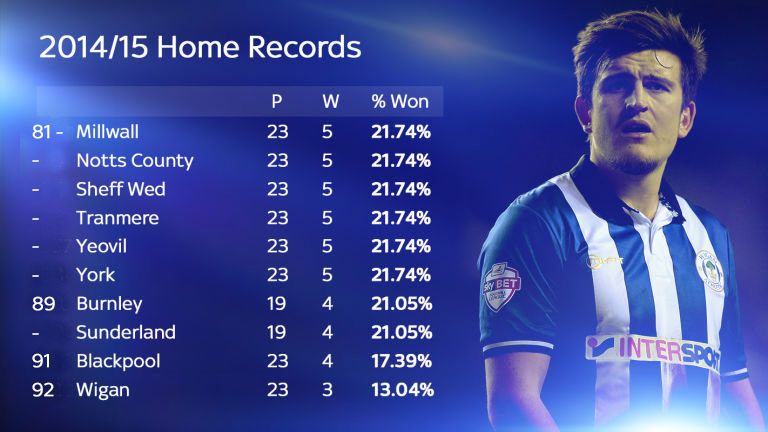 Record home wins
When it comes to the most emphatic home wins, the honour goes to Stockport County who thumped Halifax Town 13-0 on January 6, 1934 and Newcastle United, who hammered Newport County by the same scoreline on October 5, 1946. 
In recent top-tier history, Chelsea beat Wigan Athletic 8-0 in 2009/10 to win the Premier League title in style. The Blues also blitzed Aston Villa 8-0 in 2012/13, when Fernando Torres got on the scoresheet under the management of Rafael Benitez and David Luiz scored a trademark free-kick. 
The most goals scored in total in one game is 17, achieved on Boxing Day in 1935, when Tranmere Rovers beat Oldham Athletic 13-4 at Prenton Park.
Home advantage exists – but it's in decline
The study also proves that home advantage exists – with teams winning 51 per cent of home games on average since 1888/89, with 24 per cent going to the visitors. However, there has been a steady decline in home wins over the last 127 years – dropping from its 65 per cent peak in 1895, which held 480 games across two divisions, to its 2013 low of 42 per cent, which held 2,036 games across four divisions.
Even in 1950, when the number of games per season rose from 1,848 to 2,028, the home side won 53 per cent of games – a percentage which has tailed off gradually on average over the last 65 years.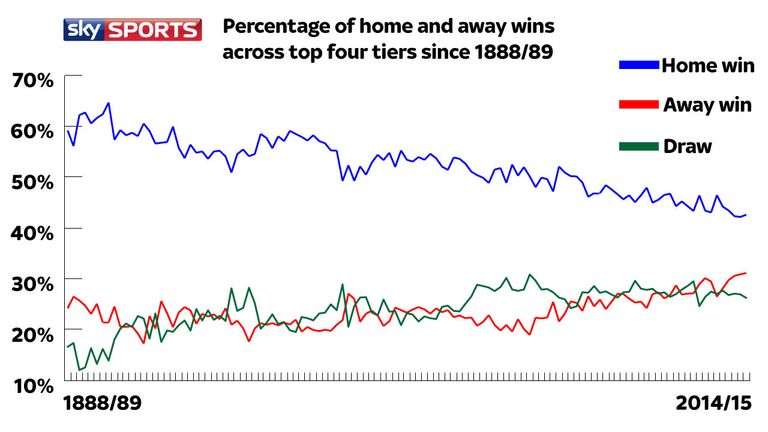 The rise of away wins
Last season produced the highest share of away wins since the Football League was founded in 1888. Nearly one-third of all games across England's top four tiers (31 per cent) ended as away wins in 2014/15.
The results were a stark contrast to those recorded in 1901/02 or 1923/24 – in both seasons the visitors were victorious in a mere 17 per cent of games.
Why has home advantage declined over the years? Let us know your thoughts on Twitter @SkySports, using the hashtag #UltimateHomeTeam or on Facebook.