Who is the Premier League's best goalscorer from outside the box?
By Peter Smith
Last Updated: 03/10/17 8:06am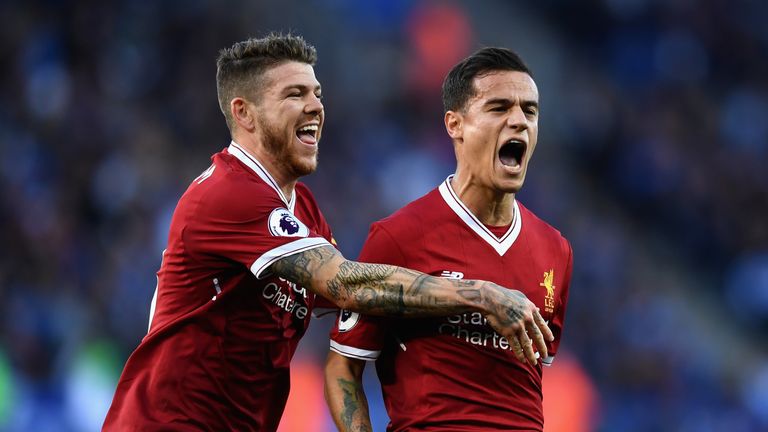 Is Philippe Coutinho the Premier Legaue's best goalscorer from outside the box?
The Liverpool midfielder whipped in another superb long-range effort in his side's 1-1 draw at Newcastle on Sunday, which underlined why he remains so valuable to Jurgen Klopp's side.
His strike at St James' Park was his 17th goal from beyond the 18-yard line since he joined Liverpool in 2013. No Premier League player has scored that many in that time.
Coutinho's nearest rivals in terms of goals from outside the box since his Premier League debut are Manchester City's Yaya Toure and Tottenham's Christian Eriksen, who have both scored 14. Harry Kane, Wayne Rooney and Gylfi Sigurdsson are next on the list with 11.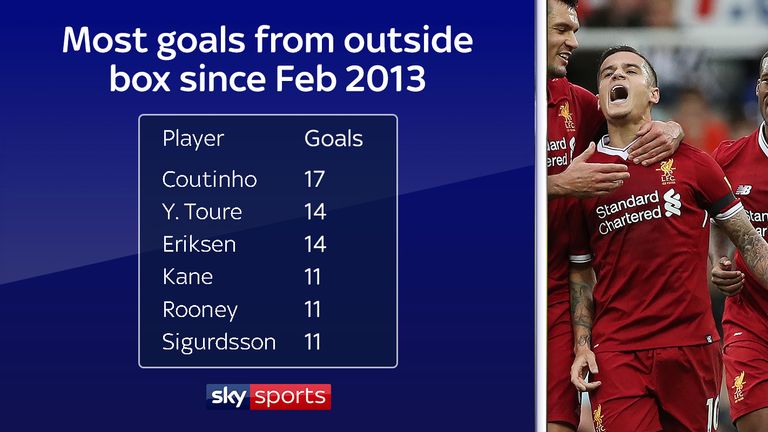 So does that make the Brazil international the best shooter from range? It's not quite that simple because Coutinho takes a high number of shots from distance.
In fact, Coutinho ranks mid-table when it comes to conversion rates by players who have scored at least five goals from outside of the box over the past five Premier League seasons.
Coutinho has taken 284 long-range shots, meaning he has a conversion rate of 5.99 per cent.
In comparison, Toure (7.49 per cent), Kevin De Bruyne (7.22 per cent) and Kane (6.67 per cent) have found the net with a higher percentage of their efforts.
However, all four of those players are some way off the top of the table when it comes to converting shots from outside the box.
Perhaps surprisingly, Coutinho's Liverpool team-mate Divock Origi - who is currently out on loan at Wolfsburg - has the best success rate, having scored five of his 20 shots from beyond the penalty area (25 per cent).
Swansea's Jordan Ayew (13.89 per cent), Manchester United's Juan Mata (9.68 per cent) and Chelsea's Pedro (9.43 per cent) have also proven to be dangerous from far out, while Gareth Bale, in a reminder of his threat before he left Spurs for Real Madrid, is fifth on the list, having scored with nine of his 98 shots from outside the box (9.18 per cent) in 2012/13, his final season in the Premier League.
Top Premier League shooters from long range - since August 2012
| Player | Shots from outside box | Goals from outside box | Conversion % |
| --- | --- | --- | --- |
| Divock Origi | 20 | 5 | 25 |
| Jordan Ayew | 36 | 5 | 13.89 |
| Juan Mata | 93 | 9 | 9.68 |
| Pedro | 53 | 5 | 9.43 |
| Gareth Bale | 98 | 9 | 9.18 |
| Xherdan Shaqiri | 66 | 6 | 9.09 |
| Robin van Persie | 60 | 5 | 8.33 |
| Luis Suarez | 145 | 12 | 8.28 |
| Sergio Aguero | 134 | 11 | 8.21 |
| Christian Benteke | 64 | 5 | 7.81 |
| Jordan Henderson | 104 | 8 | 7.69 |
| James Milner | 80 | 6 | 7.5 |
| Yaya Toure | 187 | 14 | 7.49 |
| Stephane Sessegnon | 83 | 6 | 7.23 |
| Kevin De Bruyne | 97 | 7 | 7.22 |
| Harry Kane | 165 | 11 | 6.67 |
| Robert Snodgrass | 105 | 7 | 6.67 |
| Loic Remy | 76 | 5 | 6.58 |
| Frank Lampard | 97 | 6 | 6.19 |
| Willian | 116 | 7 | 6.03 |
| Philippe Coutinho | 284 | 17 | 5.99 |
| Alexis Sanchez | 152 | 9 | 5.92 |
| Eden Hazard | 122 | 7 | 5.74 |
| Wayne Rooney | 197 | 11 | 5.58 |
| Kevin Mirallas | 151 | 8 | 5.3 |
| Christian Eriksen | 270 | 14 | 5.19 |
| Adam Lallana | 97 | 5 | 5.15 |
| Gylfi Sigurdsson | 234 | 11 | 4.7 |
| Daniel Sturridge | 117 | 5 | 4.27 |
| Oscar | 142 | 6 | 4.23 |
| Andros Townsend | 168 | 7 | 4.17 |
| Yohan Cabaye | 171 | 7 | 4.09 |
| Jason Puncheon | 173 | 7 | 4.05 |
| Aleksandar Kolarov | 126 | 5 | 3.97 |
| Ross Barkley | 202 | 8 | 3.96 |
| Jonjo Shelvey | 183 | 7 | 3.83 |
| Steven Gerrard | 132 | 5 | 3.79 |
| Craig Gardner | 133 | 5 | 3.76 |
| Romelu Lukaku | 155 | 5 | 3.23 |
| Charlie Adam | 191 | 5 | 2.62 |