Liverpool demolished Maribor 7-0 in the Champions League on Tuesday and will be looking to maintain that lethal form when they travel to Wembley this weekend.
However, eight games into the Premier League season and Liverpool sit in eighth with just three wins and have some catching up to do, after finishing fourth last term.
So how do we assess the club's progress under the German since his opener against Spurs in 2015? We take a look at the changes he's made, in personnel and tactics, and determine whether Liverpool are any closer to their first Premier League title...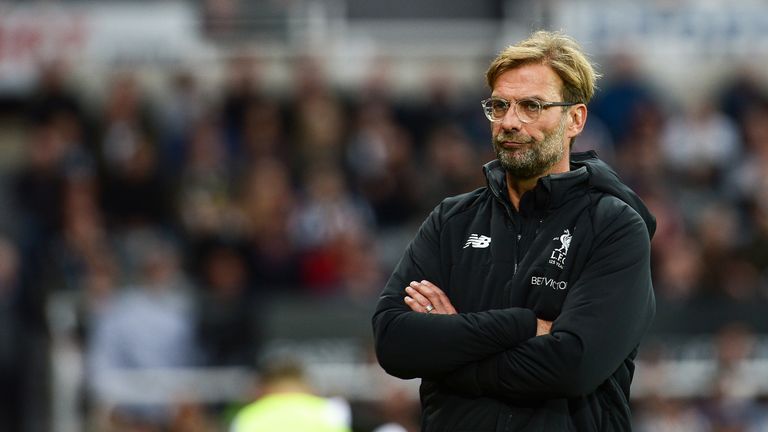 I don't want to describe myself. I'm a very normal guy from the Black Forest. I'm the normal one, maybe.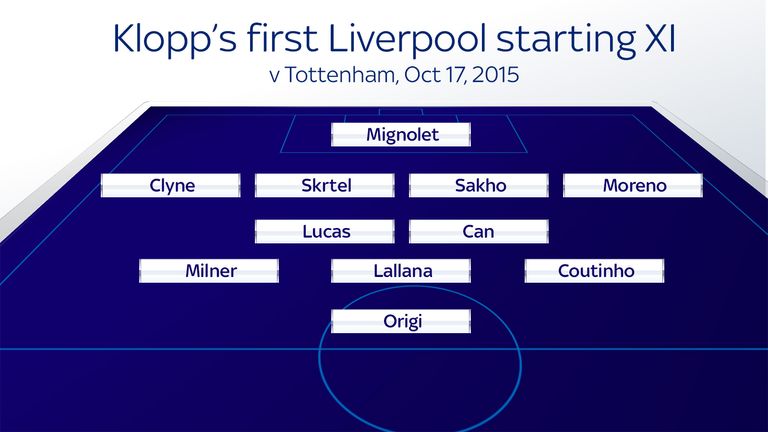 Only four Liverpool players that started against Spurs two years ago are likely to start this Sunday - and each of those have been out of favour or linked with moves away from the club during the interim.
Simon Mignolet remains Klopp's first-choice, despite being temporarily ousted by Loris Karius, while Alberto Moreno has been preferred over James Milner at left-back this season after losing his spot to the Englishman last year.

Barcelona failed to prise Philippe Coutinho away from Anfield in the summer, while Emre Can has entered the final year of his contract and looks likely to leave on a free at the end of the season.
Adam Lallana and Nathaniel Clyne also featured in Klopp's first line-up and would be likely starters on Sunday if they were fit, but both are yet to make an appearance this season due to hamstring and back injuries, respectively.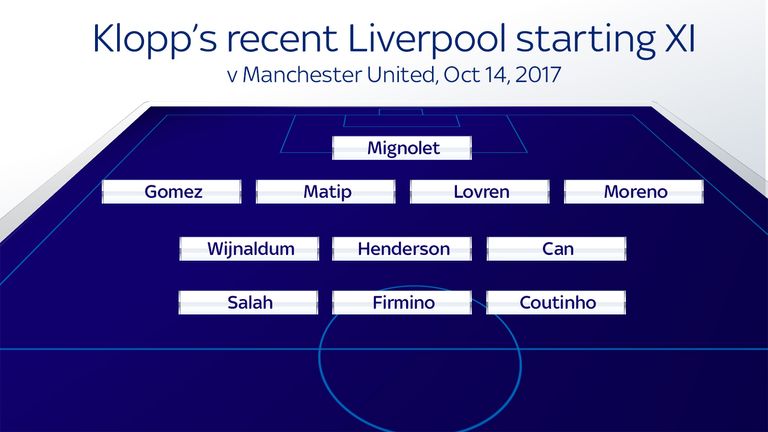 Initially, Klopp deployed a 4-2-3-1 formation at Liverpool, having used the system at his former club Borussia Dortmund, but proceeded to use 4-3-3 in equal measure and experimented with several different systems during his first term.
In 2016/17, Klopp favoured the now familiar 4-3-3 formation in 35 out of 38 games and the system has been used in every game so far this term.
PITCH ACTIVITY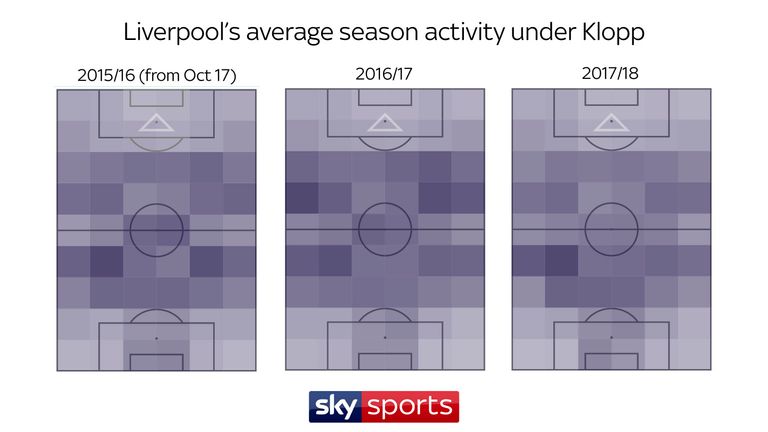 In terms of Liverpool's average activity on the pitch, very little has changed during Klopp's three seasons.
Liverpool's 4-3-3 formation creates diamond-like concentrations of activity - narrower than most other sides and there is a clear concentration in the left side of their own half.
In each of Klopp's seasons in charge, his first-choice left-back has been among the top three when it comes to most touches by a Liverpool player across the campaign, with Milner topping that metric last time around.
Further up the pitch, the likes of Sadio Mane and Mohamed Salah typically dart from wide into central locations - instead of running the flanks towards the byline.
TRANSFER ACTIVITY
Klopp's attacking transfer targets are usually athletic, fast and skilful, having signed Alex Oxlade-Chamberlain, Divock Origi, Dominic Solanke, Gini Wijnaldum, Salah and Mane.
Defensive signings include Joel Matip, Ragnar Klavan, Andy Roberston, Marko Grujic and Karius.
Liverpool squad transfer fees (Klopp signings in bold)
| | |
| --- | --- |
| Alex Oxlade-Chamberlain | £40m |
| Mohamed Salah | £39.5m |
| Sadio Mane | £36m |
| Roberto Firmino | £29m |
| Georginio Wijnaldum | £25m |
| Adam Lallana | £25m |
| Jordan Henderson | £20m |
| Dejan Lovren | £20m |
| Nathaniel Clyne | £12.5m |
| Daniel Sturridge | £12m |
| Alberto Moreno | £12m |
| Emre Can | £10m |
| Andy Robertson | £10m |
| Simon Mignolet | £9m |
| Philippe Coutinho | £8.5m |
| Marko Grujic | £5.1m |
| Loris Karius | £4.7m |
| Ragnar Klavan | £4.2m |
| Joe Gomez | £3.5m |
| James Milner | 0 |
| Joel Matip | 0 |
| Dominic Solanke | 0 |
| Trent Alexander-Arnold | 0 |
Notable outgoings include Lucas Leiva, Mamadou Sakho, Martin Skrtel, Christian Benteke, Jordan Ibe, Kolo Toure and Joe Allen.
MOST USED PLAYERS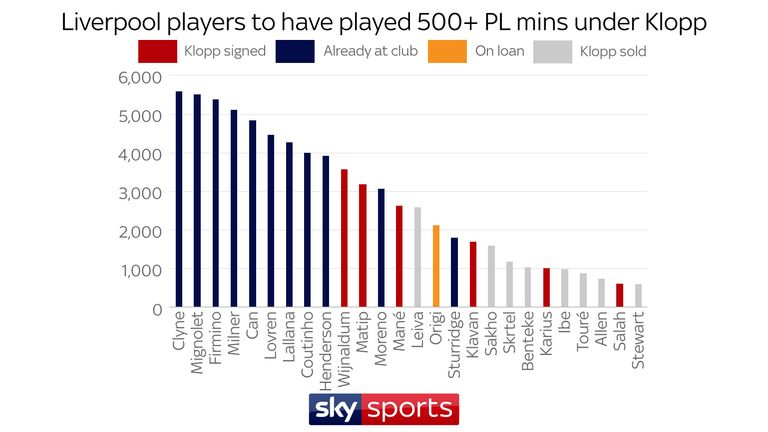 Despite not playing a minute so far this term, Clyne has been Klopp's most used player in the Premier League to date, clocking 5,574 minutes.
The next most used players include eight that were already at the club when Klopp joined: Mignolet, Roberto Firmino, Milner, Can, Lovren, Lallana, Coutinho and Jordan Henderson.
LEAGUE POSITION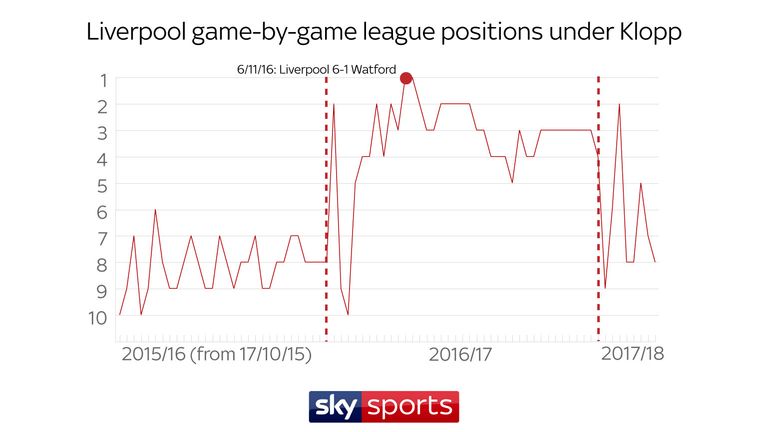 Liverpool were 10th in the league after Klopp's first game in charge - the lowest position under his tenure to date - matching that lowly position again after matchday three last season.
The German maintained a fairly consistent standing during his first season, typically hovering between seventh and ninth before finishing in eighth.
Liverpool topped the Premier League in November last year after a 6-1 goal rout against Watford, but were toppled two weeks later and, after a poor start to 2017, have failed to reach the league summit since.
RUNNING
Under Klopp, Liverpool have become synonymous with high-tempo pressing and have consistently recorded league-leading running stats, matched only by Pep Guardiola's Manchester City.
However, Liverpool's running stats have been on the decline in recent weeks and they recorded the fewest kilometres covered (103km) under Klopp during a 1-1 draw with Newcastle this month and fewest sprints (385) against United at the weekend.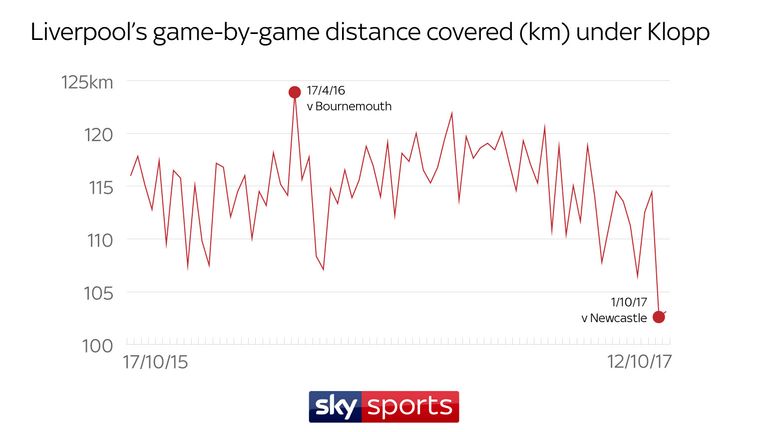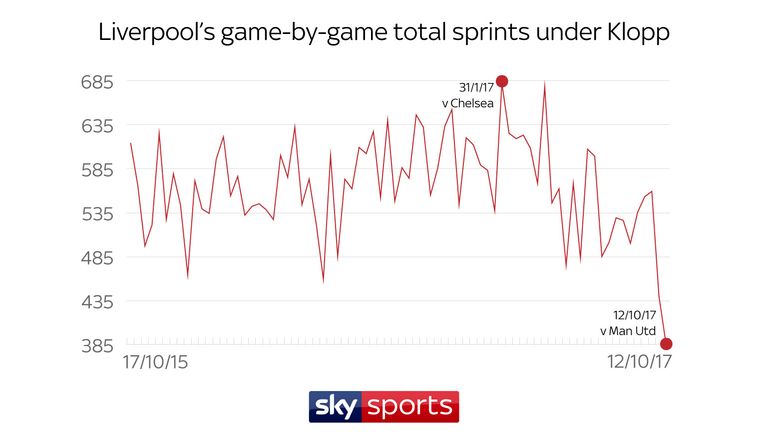 Those numbers are a stark contrast to 124km covered against Bournemouth in April last year and 685 sprints at Chelsea in January this year.
EXPECTED GOALS (xG)
Opta provide a measure of expected goals, known as 'xG', which determines how many goals a team should score and concede, based on the quality of chances during a game.
Expected goals (xG) key points
A shot from 8 yards has a higher xG value than a shot from 18 yards
A shot taken by the foot has a higher xG value than a header
A shot directly in front of goal has a higher xG value than a shot from a tight angle
Using that metric, Liverpool's goalscoring typically exceeded xG last season, meaning they scored more goals than expected - but that trend has reversed this term.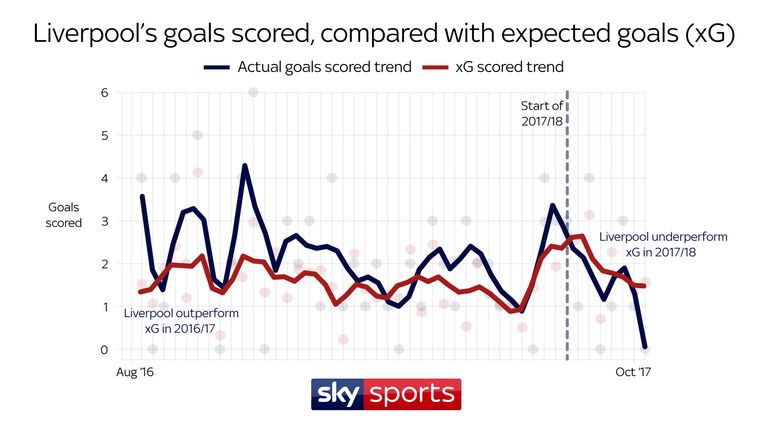 Defensively, the Reds have consistently conceded more than they should, supporting widespread criticism of weaknesses at the back.
CHANGE IN STATS
In terms of statistical changes during Klopp's reign, Liverpool currently have 30 per cent more shots on target than they did in 2015/16 and there appears to have been a clear instruction for Mignolet to attack crosses with punches (+67 per cent) and initiate fast breaks with throws (+41 per cent).
Stats in notable decline include goals from outside the box (-42 per cent) and through balls (-32 per cent), while a raft of defensive stats including interceptions (-31 per cent), tackles (-29 per cent) and blocked crosses (-29 per cent) have also declined.
In the Premier League, Liverpool showed improvement last season as Klopp's style and new signings took effect.
This season, the so-called 'fab four' of Salah, Firmino, Coutinho and Mane have had limited playing time as a quartet due to injuries, suspensions and transfer-related absence, but Mane should be back next month, in addition to Lallana.
Klopp has imposed a unique, fluid style during his time at Liverpool and made effective attacking signings - but defensive frailties will need to be addressed if the German has genuine title-winning ambitions.
Watch Tottenham v Liverpool live on Sky Sports Premier League from 3.30pm on Sunday